We have backpacked all over the world and witnessed many tragic events in the wonderful underwater world – and most are due to human actions. It broke my heart that so many sea turtles couldn't dive because of their plastic-filled stomachs, eventually drying out or starved to death. Our marine ecosystem has seen many serious threats, one of which is the fragile living conditions for sea turtles.
Text & Photo | Sylvia Wu
---
In May 2016, my boyfriend Henry and I went to Sipadan, a diving mecca in Malaysia. We stayed with Scuba Junkie, who did a great job in marine conservation; people who came here to enjoy diving, also gained valuable marine knowledge. Local residents had the habit of stealing and eating sea turtle eggs, so Scuba Junkie offered to buy the stolen eggs then set up a turtle hatchery to protect them until they hatched and could be released! Back then, I had no idea that this journey would be so profound in my life that it changed our mindset and perspective, making us see more possibilities.
The first time we set foot on El Nido in the Philippines, it was just to check it out, but we never thought that we couldn't take our eyes off this otherworldly place, especially Nacpan Beach! We chose to move there and found that the three-kilometre dreamy beach was an ideal breeding ground that turtles came back to every year. The turtles coming ashore looked especially magnificent in the night light, yet they did not scare off the ignorance and greed of humans. The locals living in the small fishing village would eat and sell turtle eggs, and I was nearly furious when I first learned about it. However, later on I began to understand – the local fishermen generally have a low income, and a nest of about 100 turtle eggs can not only keep their family fed, but also add to their income. It seemed to be a matter of course that the turtle eggs were to be stolen and eaten year after year. As a foreigner, I tossed and turned for a few nights with regret and pain, recalling the former trip to Sipadan. Although I was a layman in this field, I believed that things could be changed so we decided to build a 'sea turtle conservation hatchery' at Nacpan Beach to pass on the marine conservation concept to the locals and hopefully make life better for both the people and the sea creatures.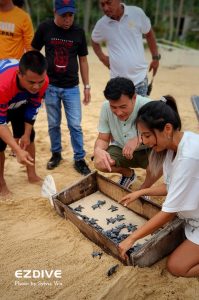 According to research, only one baby turtle survives out of 1000 hatched eggs. We initially followed Scuba Junkie's model of purchasing turtle eggs from the locals, but we found that the eggs could not hatch if they were shaken and that meant that the eggs were declared dead if they were handled by unprofessional and crude hands. We have since adopted a different approach – when we are informed of the eggs' location, we will send out a professional team to relocate them to the hatchery, and only when they are safe and sound, will we pay.
We have thus changed our collecting method, but that is still not enough. We invested more money to advise and educate fishermen who are familiar with sea turtles. We visited local residents door-to-door to talk to them about marine conservation and attended elementary schools to plant the sea turtle conservation concept into their education system. In addition, when we relocated the conservation hatchery for the third time, we tended to integrate an educational function into the site, designing billboards with information about sea turtle conservation.
In order to provide a home for the baby turtles, we started a beach restaurant and bar, allowing us to cover various tedious expenses of sea turtle conservation with the profits. Of course, I never thought that, in 2019, God would give us such a big challenge: COVID-19 closed the whole island and, without tourists, our bar had no income at all, which directly led to a funding crisis. Yet the mother turtles will not stop breeding; when the season comes, they return to this island to give birth to the next generation.
Worse still, the founders of neighbouring turtle conservation hatcheries, stricken by the pandemic, have reportedly returned to their home countries, causing many locals to lose their jobs, which in turn has led to the poaching of turtle eggs… I was anxious that our five years of conservation efforts would be destroyed; after all, no animal protection groups and charities can operate without money.
So in the 2020 breeding season, we initiated our 'Baby Turtle Adoption Rescue Programme' for people who were willing to help turtles through this difficult time. I was worried about being criticized at first, and had no idea if it would be successful, but this was the only workable solution. In a short time, we were able to raise enough money to help the baby turtles during the pandemic. At that moment, I felt that I was not alone in the conservation journey because there were many people who sincerely and kindly supported me.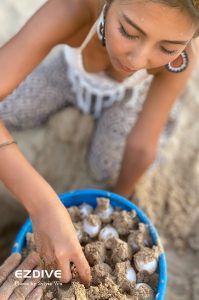 From writing to Scuba Junkie's turtle conservationist for advice to inviting Philippine ecological conservationist Jamie Dichaves to guide us… we started from scratch and developed into the largest turtle conservation hatchery in Palawan, Philippines. It took seven years, hatching 35660 eggs to date and changing the local turtle eggs poaching culture.
We hope that our Nacpan Turtle Hatchery will allow all visitors to enjoy and relax in the blue ocean, as well as learn about sea turtles and marine conservation. With just a small change in daily habits, we can all pay more attention to the ocean and care for life!
For more information, please visit: nacpanbeachturtle.com.