What is the meaning of artivism? Artivism is the combination of two words: activism and artist. In this issue, we meet two ocean artivists, Janina Rossiter and Janet Ormond, who both use different artistic methods to raise people's awareness on how to protect the ocean.
Text | Mandy Wu
Art | Janet Ormond & Janina Rossiter
---
Janina Rossiter
Drawing with Dots to Protect the Ocean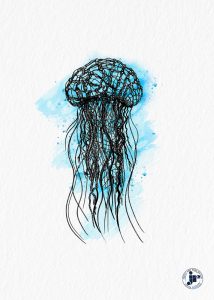 A visit to the Paris Aquarium and a photo by Justin Hofman (Seahorse with a cotton bud) changed everything for Janina Rossiter and became the reasons why she wrote 1, 2, 3, Who's Cleaning the Sea? She realised she had to go on a mission to help protect our oceans and to raise awareness of their problems.
At the time, she was working on a counting picture book for children: the book connected numbers to sea creatures. Janina often went to the aquarium to do research. On one visit with her family, the aquarium was putting on a show about plastic pollution. They asked the children if they would volunteer to help clean up the plastic in the sea. Her daughter raised her hand. Janina was very touched that her daughter wanted to help protect sea creatures. When she came home, she started to research ocean pollution and was shocked to the core; shocked by how we managed recycling issues over past decades, how we keep producing more and more plastics and how toxins from plastic pollution are affecting us.
After the publication of 1, 2, 3, Who's Cleaning the Sea? which focusses on ocean pollution, she felt quite helpless. She wanted to make an impact but telling people about the book and that they should check it out felt self-promoting, something she wasn't very comfortable with. Janina is quite shy but felt that through her activism work she could maybe make her voice heard. She started going to schools to raise awareness of environmental issues and help NGOs through her artwork.
Janina uses an art technique that simulates the feel of being by the water or the ocean. Alcohol ink art and fluid art are the mediums that let her achieve this feeling. She loves to work with transparency, creating images with different shades to give more depth to her paintings. The contrast she creates between rich blue and black and white, using a stippling technique, emphasises her sea creature artwork.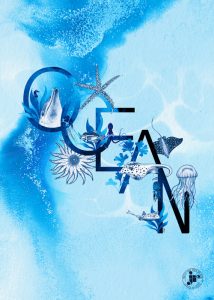 When it comes to fluid art and alcohol inks the artwork can be done pretty quickly. She has an idea and simply lets the paint flow. It has to be quick as the paint needs to stay wet before the artwork is finished. The fluid artwork is done with acrylics and a pouring medium that takes up to three days to dry. It's very important that no-one touches it during this time. The stippling art technique can take up to 20 hours. A sea creature, for example, takes 6-10 hours.
When speaking of the most challenging things she has overcome as an artivist, Janina says that she struggles a lot with finding enough time for everything. I asked, "Can you be a full time artivist and live off it?" and she replied, maybe one day, but at the moment, it's a side activity. She works full time as a graphic designer, freelancing for many different clients. She shifted her focus to work for brands that want to have a positive impact on our planet. On top of that, she is a mother of two that she wants to make her voice heard as an artivist. The balancing act of finding enough time for all these important topics in her life that take time is challenging.
 
Where does your inspiration come from?
This really depends, but with environmental issues we tend to read a lot in the media and my artwork is often a reaction to the current state of our oceans. This often triggers an emotion or a feeling that I have to express due to a situation I have experienced or an event that happened or I read about. A lot of my inspiration comes from environmental documentaries, filmmakers and wildlife photographers.
What results do you hope your work has on people?
I like to create artwork that has a little twist to it. First, it looks like a beautiful image but when you look closer you see something isn't quite as it's supposed to be. I do this because I want to put people on a journey, where they see my artwork and think "why did she illustrate this like that?' So it triggers an emotion and curiousity, making them want to find out more. Once they do that, they are hopefully concerned and get the feeling of needing to act upon that subject. With so many pollution issues in this world, I often ask myself why everyone doesn't just do more. But blaming people or telling people off doesn't work in my opinion. People need to discover for themselves that they care and want to protect what they care for. I hope that through my art I can spark an emotion that will lead to bigger things.
---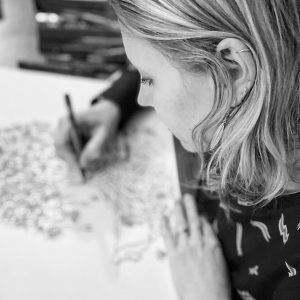 Instagram: janinarossiter
Janet Ormond
Turning Ocean Plastic Pollution into Beautiful Art Work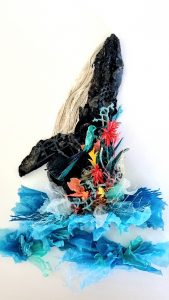 Having grown up either on the ocean sailing with her family as a young child in Brazil or on one of Cape Town's beautiful beaches, Janet Ormond has a real love for the sea.
Janet studied art at the College of Cape Town. After school she worked in boat based tourism for 10 years and has run her successful craft business since then as well as establishing herself as an environmental artivist.
In 2018 Janet started to wonder what she could do with the plastic pollution, she was collecting on a daily basis off our beaches. Coming from an artist background, the idea of using the trash as a medium really resonated with her and she evolved to create environmental art focusing on using beach plastic to make her pieces.
All Janet's work is made entirely from plastic that she collects off the beaches of Southern Africa. The most frequently picked up items are drink bottle tops, earbuds, lollipop sticks, chip packets and sweet wrappers.
And after spending many hours on the beach collecting trash, she then comes home and sorts what she thinks can be used later; it is then washed with collected rainwater. Once dry, it is then sorted into colours and taken to her studio. Only then can she begin her creative process.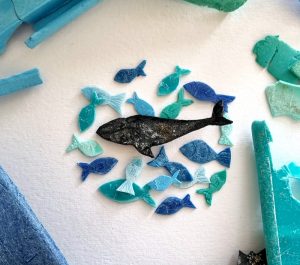 From sea life to flora, Janet's work is a reflection of her deep concern for our planet and our collective responsibility to preserve its beauty and resources.
While she creates these small pieces of art out of such a large problem, she hopes that by creating something beautiful it will not only bring joy from something tragic but also make people reflect on their daily lives and their impact on the planet. We can all make a difference.
What's your favourite art work? Could you explain the story behind it?
That is a hard one, but I do have a couple. I created a fauna and flora piece called "The Source", which was part of a series called Source to Sea. It outlined the journey of plastic to our oceans. The piece symbolized the beautiful biodiversity that surrounded the start or 'source' of the river and how important it is to protect these areas in nature.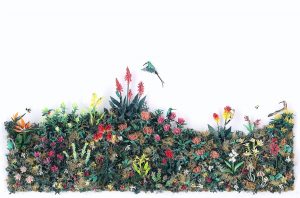 Tell me about the most challenging things you've had to overcome as an artivist.
The biggest challenge for me as an artivist is being constantly aware of the problem I am dealing with. There is no off button. My heart is constantly being broken and it's often completely overwhelming. But, ironically, creating art with this devastating material, ocean pollution, does bring me joy, so I am frequently full of mixed emotions.
What concerns you most about the future of our oceans?
The most concerning thing to me is the continuous production and use of single use plastic in the world. Without reducing the use of this we will just continue to increase the problem. It is a fact that we cannot recycle it all and only a very small percentage is recycled; the rest goes to landfill or doesn't make it there at all. In countries like South Africa, where infrastructure is a problem, things like waste management cannot even begin to accommodate the levels of plastic, we are faced with.
---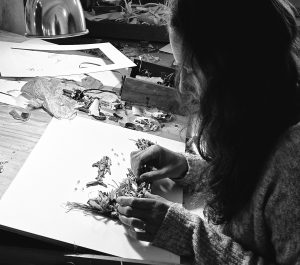 Instagram: janetormond_art
At EZDIVE, we share the concerns of people like Janet and Janina, so would encourage all our readers to become activists on behalf of our oceans. No matter, whether you can or can't do this as an artivist, there are many simple ways to care for our oceans and so the planet: reduce your use of plastics, ensure you recycle when you can and, check your sunscreen to make sure it's reef-friendly.