Welcome to EZDIVE #100!
Since our launch in 2006 EZDIVE has published a grand total of 100 issues. What a wonderful journey it has been from the publication of our first issue until today. We are also excited that being '100' came with a new year.
To coincide, freediver Harry shares his dive journey to reach 100m on a single breath, plus we've invited our contributing writers to share their favourite dive spots for a map.
And, of course, there's always our destination features for inspiration. Want to get up close and personal with a grey seal? Follow Richard to the Farne Islands. Then we turn to Asia as Brooke takes us to the Raja Ampat, often dubbed "the last paradise on Earth"; and Beth and Shaun's first dive trip since the outbreak is to the Maldives. Speaking of the Maldives, Reefscapers are using their hand-made coral frames to rehabilitate the coral there in the hope that future generations will be able to see the beauty of the reefs for themselves.
In 2023, let EZDIVE continue to bring you more exciting and adventurous dive experiences on paper.
Executive Editor
Mandy Wu
---
CONTENT
---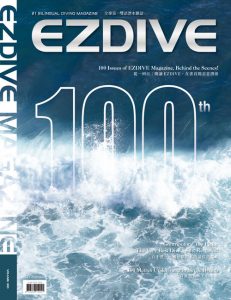 ---
EZDIVE 100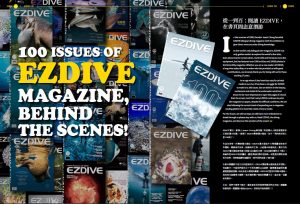 100 Issues of EZDIVE Magazine, Behind the Scenes!
---
ENVIRONMENT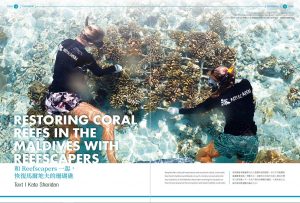 Restoring Coral Reefs in the Maldives with Reefscapers
By Kate Sheridan
---
MARINE LIFE
The Dwarf Minke Whale Small in Size, Huge in Character
By Vanessa Mignon
---
DESTINATION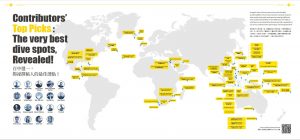 Contributors' Top Picks: The Very Best Dive Spots, Revealed!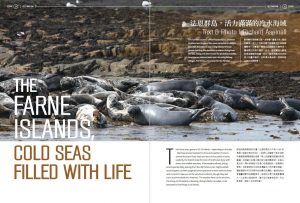 The Farne Islands, Cold Seas Filled with Life
By Richard Aspinall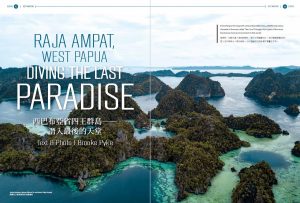 Raja Ampat, West Papua – Diving the Last Paradise
By Brooke Pyke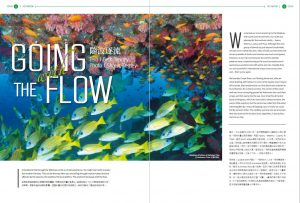 Going with the Flow
By Beth Tierney
---
FREEDIVING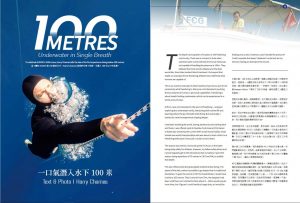 100 Metres Underwater in Single Breath
By Harry Chamas
---
WORKSHOP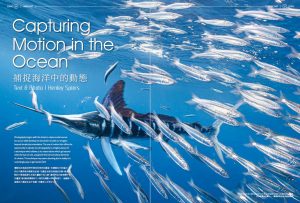 Capturing Motion in the Ocean
By Henley Spiers
---
SPECIAL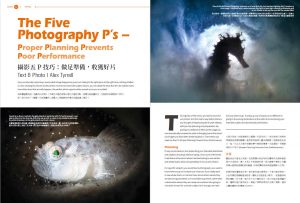 The Five Photography P's – Proper Planning Prevents Poor Performance
By Alex Tyrrell
---
TRAINING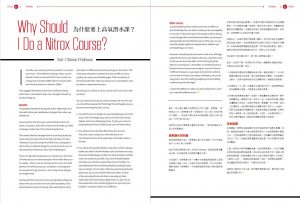 Why Should I Do a Nitrox Course?
By Simon Pridmore
---
DIVING SAFETY
Calling the Dive
By DAN China
---
PORTFOLIO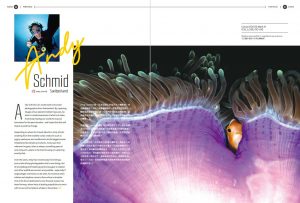 Andy Schmid, Switzerland
---
EZDIVE Digital Magazine
EZDIVE is the world's first bilingual diving magazine and the largest Chinese diving portal in Asia Pacific! Distributed to 18 countries with nearly 89,000 members.
EZDIVE is the most subscribed magazine for diving professionals and divers. Since 2006, EZDIVE has built a great reputation as the only bilingual diving magazine in Asia. EZDIVE provides divers the most desirable contents including the hottest and latest gear introduction, environmental issues, interesting marine life, and of course, the diving destination.
EZDIVE is now officially online for subscription! There are nine apps you can choose:
Dooland
183 Read
Magzter

www.magzter.com/publishers/EZDIVE
Hami Bookstore
bookstore.emome.net/Stores/index/1/11E000/new/0100335750
books.com.tw
www.books.com.tw/web/sys_melist/mebook/MAG0014090
Pubu
HyRead
ebook.hyread.com.tw/Template/store/magazineSubscribe.jsp?jid=845
Rakuten Kobo
www.kobo.com/tw/zh/search?query=ezdive
MyBook
mybook.taiwanmobile.com/search/q/EZDIVE
You can also download the apps in both Android and iOS app stores. (Please note there might be a regional limitation.)
---
EZDIVE Print Magazine
gogoscuba E-Commerce
Single Issue
One to Three years subscription (Six Issues per year)
Shopee
Single Issue
One to Three years subscription (Six Issues per year)
Weidian