As letters come and go, I notice that more and more of our contributors are either diving or on their way to dive abroad. The recovery of tourism is a welcome one, and in this issue we continue to bring you exciting dive sites, including Hawaii with its diverse island scenery, the Red Sea with its year-round diving and abundant marine life and, if you have dreams of swimming with sharks, then Fiji is the place to be on your next trip!
Continuing from where we left off in the last issue, Alex continues with some great advanced blackwater photography tips, while Simon shows you how to choose the right dive computer for you. Meanwhile, Harry offers you five options for freediving around the world with different underwater profiles.
The final issue of 2022 concludes with an icy Canada cover. Let's leave the pandemic behind and move on to a new year!
Executive Editor
Mandy Wu
---
CONTENT
---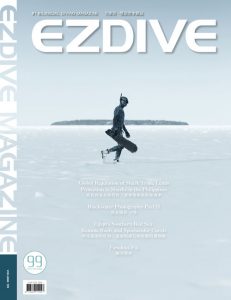 COVER STORY
Freediver, Andrew Ryzebol, walks across the snow covered ice sheets of Georgian Bay, Canada. This large body of freshwater is attached to Lake Huron. In the winter a large part of it freezes, forming beautiful ice sheets. We often walk across the ice to our desired dive location where we then drill a hole in the ice and dive. The conditions are cold but the diving is beautiful, offering clear blue water underneath the frozen surface. It takes dedication, and a comfort with discomfort to enjoy this environment, but the views are worth it.
By Geoff Coombs
---
BOOK CLUB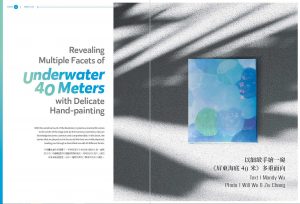 Revealing Multiple Facets of Underwater 40 Meters with Delicate Hand-painting
By Mandy Wu
---
GEAR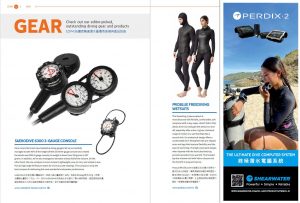 ---
ENVIRONMENT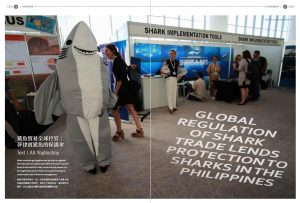 Global Regulation of Shark Trade Lends Protection to Philippine Sharks
By AA Yaptinchay
---
MARINE LIFE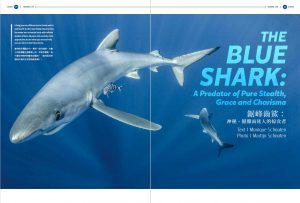 The Blue Shark: A Predator of Pure Stealth, Grace and Charisma
By Monique Schouten
---
DESTINATION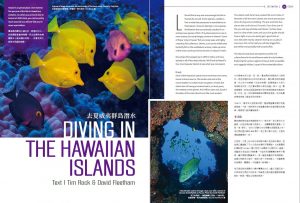 Diving in the Hawaiian Islands
By Tim Rock & David Fleetham
Egypt's Southern Red Sea: Remote Reefs and Spectacular Corals
By Richard Aspinall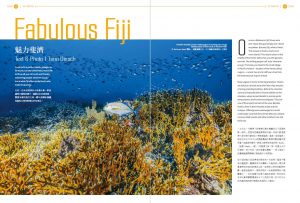 Fabulous Fiji
By Timo Dersch
---
FREEDIVING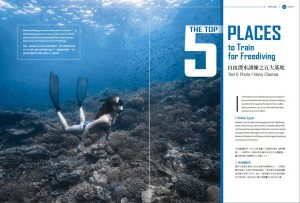 The Top 5 Places to Train for Freediving
By Harry Chamas
---
WORKSHOP
Blackwater Photography Part II
By Alex Tyrrell
---
TRAINING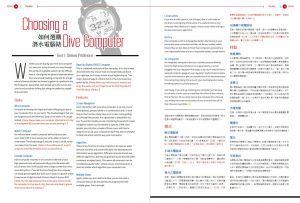 Choosing a Dive Computer
By Simon Pridmore
---
DIVING SAFETY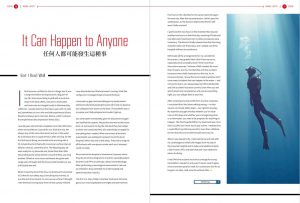 It Can Happen to Anyone
By Brad Wall
---
PORTFOLIO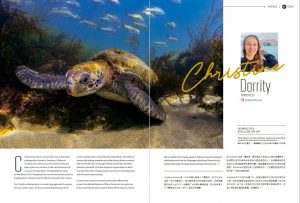 Christine Dorrity, America
---
EZDIVE Digital Magazine
EZDIVE is the world's first bilingual diving magazine and the largest Chinese diving portal in Asia Pacific! Distributed to 18 countries with nearly 89,000 members.
EZDIVE is the most subscribed magazine for diving professionals and divers. Since 2006, EZDIVE has built a great reputation as the only bilingual diving magazine in Asia. EZDIVE provides divers the most desirable contents including the hottest and latest gear introduction, environmental issues, interesting marine life, and of course, the diving destination.
EZDIVE is now officially online for subscription! There are nine apps you can choose:
Dooland
183 Read
Magzter

www.magzter.com/publishers/EZDIVE
Hami Bookstore
bookstore.emome.net/Stores/index/1/11E000/new/0100335750
books.com.tw
www.books.com.tw/web/sys_melist/mebook/MAG0014090
Pubu
HyRead
ebook.hyread.com.tw/Template/store/magazineSubscribe.jsp?jid=845
Rakuten Kobo
www.kobo.com/tw/zh/search?query=ezdive
MyBook
mybook.taiwanmobile.com/search/q/EZDIVE
You can also download the apps in both Android and iOS app stores. (Please note there might be a regional limitation.)
---
EZDIVE Print Magazine
gogoscuba E-Commerce
Single Issue
One to Three years subscription (Six Issues per year)
Shopee
Single Issue
One to Three years subscription (Six Issues per year)
Weidian