At the age of 14, Jade Hoksbergen faced a difficult transition in her life. Her affair with painting quickly blossomed as her artistic ambitions were recognised and encouraged by her father. Later, she became inspired by diving to become an underwater photographer. This is her first interview about her artistic world.
Text | Jade Hoksbergen and Vita Liu
Images | Jade Hoksbergen
Q & A
To you, what's the relationship between art, life and death?
To me, art is life. It sounds dramatic, but in a strange way, art has given me back my life. When I was 13, I was pulled out of school suddenly and sent to France facing challenges with my mental health. I went through counselling, which didn't seem to help until I first started painting my emotions. That was the first step towards my recovery. I'd never been able to explain what was inside my head – it's like trying to explain a colour to someone who is blind. For me, art became a way of understanding myself.
Does being an artist help you in photography? For example, the lighting, colour and composition.
Definitely. In photography, it is as if the artist in me teams up with nature in order to produce an image that is aesthetically pleasing. Of course, a lot of trial-and-error and experimentation goes on, and that's part of the fun, but I think I've had relative success in underwater photography because of my appreciation and eye for colour. I never ignore a subject that might be 'too average' or 'too common.' It can make all the difference if an ordinary subject is situated in a beautifully colourful setting — you can make the ordinary extraordinary. I am also not afraid of unconventional compositions. I photograph a subject in a very similar fashion to the way I paint. Often, I will exclude a portion of the subject deliberately from the frame.
I believe that as an artist, you can't sit around waiting for inspiration to come; instead, you've got to chase it.
Do diving experiences inspire you artistically?
Yes! The ocean is home to a life so diverse. I try to absorb it all whenever I'm under the sea. I believe that as an artist, you can't sit around waiting for inspiration to come; instead, you've got to chase it. Diving gives me that, because life underwater is so rich and unique. My first blackwater dive springs to mind – submersing under the cover of darkness to witness larval and juvenile fish, usually found in the depths, rising to the surface to feed on microscopic plankton. On that first dive, I saw pyrosomes glowing in their hues of electric blue. I saw a larval lionfish and a larval scorpionfish. All of it looked so… out of this world! So much resembled the creatures I was making up on my canvases. This was hugely inspiring.
Life is beyond our control but everyone wants to control it. Are you in control when you are diving?
The ocean is wild, unpredictable, anything but tame. There are aspects to the sport within our control, such as technique and execution, but so much is beyond our control — like the magical encounters that might await you.
There is something incredibly humbling and nourishing about diving as it is a discipline where we are completely enveloped by nature. We are visitors in the ocean so I almost feel it's an escape from being human — from the constant buzz and busy-ness. We know we are not completely in control, and we can be okay with that.
What are the reasons you started painting the Ocean Series?
I didn't set out to create an 'Ocean Series,' rather it began organically, side by side with my diving. Over time, I noticed the subjects I was painting evolved and became more fish-like. I started painting prolifically in 2009 and, although the subjects look more like monsters, back then they were intended to be self-portraits. By 2014, there was a shift with these self-portraits becoming more like fish. Perhaps because they are still self-portraits and my existence was getting increasingly intertwined with the sea.
Never did I think I had it in me to become a selling-artist, but the way I see it today, my job is to create work that sparks conversation. I have never experienced freedom like I do when submerged underneath the waves and painting brings me to a similar mind-space. I have promised myself to always paint with freedom. I believe that shows, and can transport viewers to a similar place and hopefully create a momentary feeling of peace and escape for them.
Is there anything you would like to advocate through the series?
Looking back, the relentless pursuit of perfection and the pressure I've always placed on myself is what led to my mental health deteriorating. My art is incredibly healing for me – I welcome the imperfection, the creative mess, and embrace the spontaneity of the process. In Japan, there is a philosophy called 'wabi-sabi' about appreciating beauty that is imperfect, impermanent and incomplete. In my art, colours don't always sit cleanly within lines, shapes are incomplete… embracing imperfection is freeing.
All this serves as a constant reminder that a perfect human being doesn't exist, simply because no two people, let alone the world, could possibly agree on what a perfect human being is.
Besides fish portraits what other marine creatures you would like to paint?
I'm not sure, we will have to wait and see, but I recently saw a photo of a 'smooth hand-fish,' a fish that has gone extinct, and that was very inspiring.
What I enjoy most is making up my own fish. My favourite ones to paint have been the anglerfish although they weren't intended to be anglerfish originally. I used to paint abstract self-portraits featuring really long tongues and long filamented lines and bulbs coming out of the head. When I started drawing fish, I continued using those symbols which eventually came to resemble the lure of an anglerfish – and the name just stuck.
I recently created paintings of seahorses, quite a departure from my usual subject. Teeth are important symbols in my work, so it was outside of my comfort zone to create a creature with no teeth. But it did give rise to a new symbol which I will continue to use in my new works — a shining heart, which reflects my optimistic belief in humanity and the power of love, things we really need to cling to, especially when bearing in mind the current climate.
For me, painting is about putting your soul to paper.
Who's your favourite painter/artist? How does he/she inspire you? (your husband? Ha-ha)
Picasso and Jean Michel Basquiat are easily my artistic idols, aside from my husband (Henley Spiers) of course… Ha-ha! Both Basquiat and Picasso were said to be prodigiously talented at a young age. Their work shows impulsive and intuitive approaches to painting. I am attracted to the distortions that delivers so much energy to their work — it's chaotic, contemporary, almost musical. Their work revolutionised the art world, and needless to say, mine.
For me, painting is about putting your soul to paper, and Picasso and Basquiat did just that.
///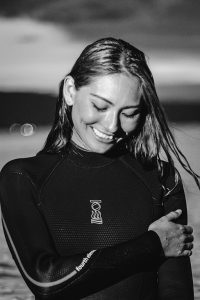 Jade Hoksbergen is a French-Taiwanese painter and underwater photographer currently based in Exeter, UK. Jade spent her late childhood growing up in the Philippines where she first learnt to scuba dive. With a husband passionate about photography and an inclination for visual arts, Jade took up underwater photography in 2016 whilst living in Saint Lucia. In 2017, she was awarded in the Underwater Photographer of the Year Contest. Launching her art commercially for the first time this year, Jade's art has already sold to over 13 countries.
Instagram: @myjaded.artstyle