Beth Tierney, an EZDIVE field editor, has always loved glass as an artistic medium so started taking a few courses to test the water. After she stumbled upon a second-hand kiln, she quickly became addicted to waking each day with the prospect of opening it to see what had happened inside. Beth is continually exploring how to manipulate the glass or, more to the point, let it manipulate and inspire her.
Text | Beth Tierney and Mandy Wu
Art | Beth Tierney
Photo | Shaun Tierney
Q & A
You kicked off your career as a graphic designer and now you are a glass artist – from the intangible to tangible; how did you start to devote yourself to glass art?
It all started way back at school, where I specialized in art and particularly in graphic styles. I was also drawn to glass as a medium and, in particular, to stained glass – all those incredible, breath-taking cathedral windows with light streaming through, casting prisms of colour onto every surface. What's not to love? However, a more practical career path took precedence and I trained as a graphic designer, working in advertising for many years.
After I met my husband, we took a gap year to travel and spent long periods exploring tropical waters. This motivated us to learn to dive and spawned second careers for us both as dive journalists, which we were able to run alongside our other work. Years later, my design career changed along with the ever-developing digital world. I felt the natural beauty of our planet was being lost in translation (computerisation!) so my grand plan of becoming a hands-on artist kicked in. I finally made the big step about seven years ago.
The criteria for working as a glass artist seems high. Is the material easy to control during making?
I trained in various disciplines of glass art, but found my forté in fusing, or kiln-formed glass. This is the process of shaping glass in a kiln using heat and gravity. I often describe it as grilling cheese on toast, or cooking a pizza. At its simplest, you cut up the glass, make a pattern and then "cook" it until it becomes a single mass. It sounds simple but no, it's not easy to control at all!
I found early on there was a massive amount of science that I needed to learn. It was all so different to my design education and life in front of a screen. The types of glass, the colours, the chemicals, heating and cooling… So many technical elements have to be considered, especially as almost every item goes into the kiln for at least 24 hours. You have no idea precisely what the result will be until you open the lid. Sometimes it's wonderful, sometimes not.
How do you see art in your daily life and what is your creation routine like?
Art as a concept has always been my normal, whether admiring the colours of a beautiful flower or seeing the shape of a fish in the clouds. Now, everything I see makes me think, "can I do that in glass?" When and if I think it can, I'm at the desk drawing and planning, then it's into the studio to cut, assemble and load the kiln. Once that is under way, I am free to do other things with my day – like thinking about actually diving or pondering how to recreate a dive experience in glass. Then, the next morning, it's a mad rush down to open the kiln and see what has occurred overnight! And so the circle starts again.
Do you reckon there's any advantage in representing the oceanic world via fused glass?
Yes. No. Sometimes. Mostly! The colours and shapes of everything I have ever seen underwater are highly influential. Heating glass makes it fluid, and that fluidity can express oceans and reefs sympathetically, mimicking the movement of water in way we rarely see it. But recreating this alien environment isn't a quick or easy process; each step in a complex piece can take days yet emerge from the kiln a long way from how I saw it in my mind. It's like the glass has a mind of its own and will simply refuse to be manipulated. However, when it works, I feel I have created a whole new world for those who have never dived so perhaps don't recognise the importance of our oceans.
How do diving experiences affect your art?
Whenever we are underwater, floating about, totally immersed in the weightlessness of this other world, the smallest vision can click in my brain, triggering the creative process. Next, I have to rush over to Shaun and get him to photograph it (you can imagine the weird hand signals that go on!) so I don't lose that idea as soon as I see another potential piece of glass in the making.
Where does your inspiration come from?
As much of my working life has been dedicated to the marine world, my head and heart still travel under the water even when I can't. Yet, a land-based image can trigger an idea for an experimental work. Wandering a rocky beach on Christmas Island, Shaun took an amazing photo capturing reflections of the sky and rainforest in a tiny rock pool. His image was so captivating he challenged me to see if I could recreate it in glass. It's now the sculpture that I am perhaps most proud of. I walk past it most days and still feel I could trail my
fingers through the water.
Ideas can come from almost anywhere… sometimes it will be a thought buried deep in my brain, or just looking out the window. There are many incidences, objects and other artists in various genres that make me smile. For me, art has to do that, and that instinctive response from someone that sees my work means a lot.
My time spent in advertising is another influence. Being there was all about working to a brief or request from a client and often restricted by time or budget. I realised early on that restriction can be beneficial as it challenges me to think differently. There are people who want a lovely piece of glass, but feel they need to consider cost versus usability. Consequently, I started making practical items like vases and dishes or door panels to provide privacy but still look beautiful. I listen to what people think and research trends through the eyes of total strangers.
What's your favourite art work?
The next piece I make! Seriously, so many ideas go through my head and even more never go beyond the idea stage. The ones that do end up as a drawing are taped to my wall until the inspiration can become a reality. Famed British sculptor, Bridget McCrum once said, "If I haven't made something every day, it wasn't a very good day." She made me smile and it's why I feel I will probably never make one item that becomes my absolute favourite.
You are also a diving journalist, what's the difference between recording dives through text or through art?
Becoming a dive journalist was all about sharing the experiences that Shaun and I had as travellers, both photographically and through the stories we could tell about diving in places that people hardly knew existed when we first travelled. A dive article or book is all about what we saw then and what we would like others to enjoy now.
Taking those moments in time and recreating them in art, is often more about how I would like the marine world to be – perfect, happy and permanent.
///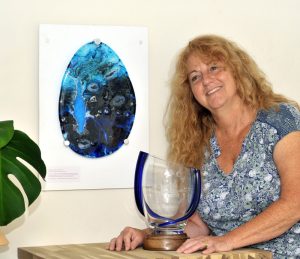 Beth and Shaun Tierney did a round-the-world trek spending long spells in the tropics, floating over vivid coral reefs and wishing they were down below with the divers way back in the 80s. A few years went by as they became PADI Master Scuba Divers and increasingly involved in the diving world as a photojournalist team. Their editorial work covers land and dive travel, marine biology and conservation and has become increasingly focussed on dive travel books. Over the years, they have been lucky enough
to return to many of the places first visited as well as exploring new destinations for many international dive magazines, newspapers and on the Internet.
www.facebook.com/seethroughsand