Wandering through the jellyfish colonies of Alaska is a breathtaking sight, so let's welcome June with Tony Cheng's underwater photos. In addition, in this issue of EZDIVE, you'll explore Kimbe Bay, Baja California and Exmouth Navy Pier, which is considered one of the top 10 shore diving spots in the world.
Alex will show you how to troubleshoot problems without being surprised when you're shooting underwater. Also, Monique Schouten, a shark dive guide, will supply tips on how to enjoy a shark dive when you're ready!
The two ocean artivists, Janet and Janina, use different materials to raise people's awareness for the ocean. Even so, don't think that the threshold for marine conservation is too high. Check your sunscreen before you go out to make sure it's reef-friendly – this simple act is a way to care for the ocean!
Executive Editor
Mandy Wu
---
CONTENT
---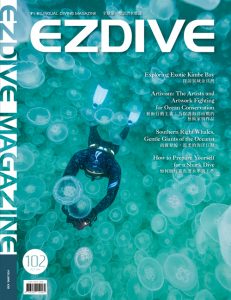 COVER STORY
One of the highlights of Alaska's diving scene is the swarm of jellyfish known locally as the 'Jellyfish Bloom.' Each summer, Fidalgo Harbour in Prince William Sound, Alaska has some of the clearest water in the region so divers visiting the area have an uninterrupted view of this spectacular natural sight. The moon jellyfish can number in the tens of thousands so, before a dive, weather conditions are studied and an aerial camera used to find the moving group of jellyfish. This will often extend from the surface to 20 metres below the sea floor, resembling giant transparent towers.
By Tony Cheng
---
BOOK CLUB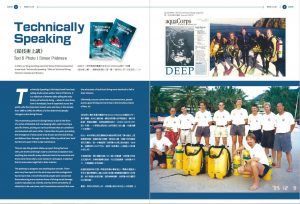 Technically Speaking
By Simon Pridmore
---
GEAR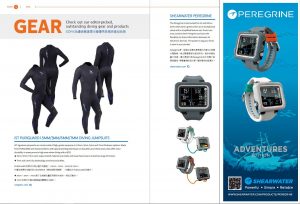 ---
ENVIRONMENT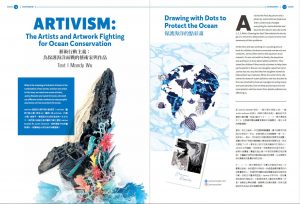 Artivism: The Artists and Artwork Fighting for Ocean Conservation
By Janet Ormond, Janina Rossiter, Mandy Wu
---
MARINE LIFE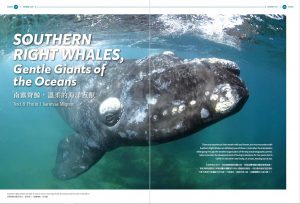 Southern Right Whales, Gentle Giants of the Oceans
By Vanessa Mignon
---
DESTINATION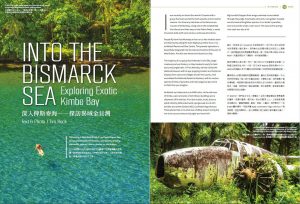 Into the Bismarck Sea – Exploring Exotic Kimbe Bay
By Tim Rock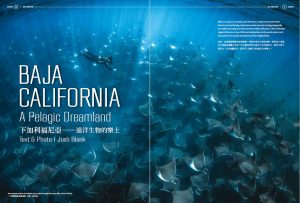 Baja California – A Pelagic Dreamland
By Josh Blank
Diving the Exmouth Navy Pier – One of the World's Top 10 Shore Dives
By Brooke Pyke
---
FREEDIVING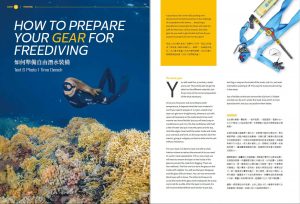 How to Prepare Your Gear for Freediving
By Timo Dersch
---
WORKSHOP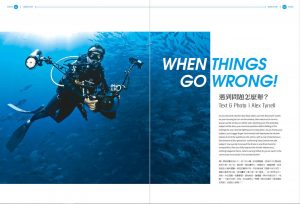 When Things Go Wrong!
By Alex Tyrrell
---
SPECIAL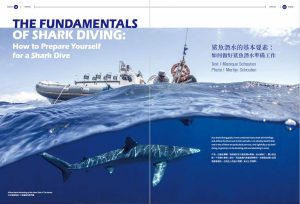 The Fundamentals of Shark Diving: How to Prepare Yourself for a Shark Dive
By Monique Schouten
---
TRAINING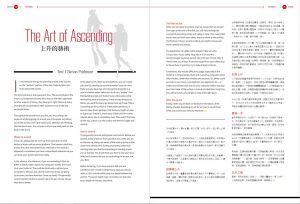 The Art of Ascending
By Simon Pridmore
---
DIVING SAFETY
Rescue Skill Modifications
By Haley Davis
---
PORTFOLIO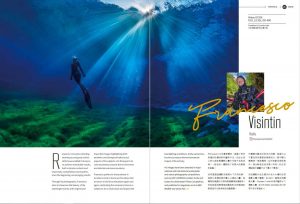 Francesco Visintin, Italy
---
EZDIVE Digital Magazine
EZDIVE is the world's first bilingual diving magazine and the largest Chinese diving portal in Asia Pacific! Distributed to 18 countries with nearly 89,000 members.
EZDIVE is the most subscribed magazine for diving professionals and divers. Since 2006, EZDIVE has built a great reputation as the only bilingual diving magazine in Asia. EZDIVE provides divers the most desirable contents including the hottest and latest gear introduction, environmental issues, interesting marine life, and of course, the diving destination.
EZDIVE is now officially online for subscription! There are nine apps you can choose:
Dooland
183 Read
Magzter

www.magzter.com/publishers/EZDIVE
Hami Bookstore
bookstore.emome.net/Stores/index/1/11E000/new/0100335750
books.com.tw
www.books.com.tw/web/sys_melist/mebook/MAG0014090
Pubu
HyRead
ebook.hyread.com.tw/Template/store/magazineSubscribe.jsp?jid=845
Rakuten Kobo
www.kobo.com/tw/zh/search?query=ezdive
momo
You can also download the apps in both Android and iOS app stores. (Please note there might be a regional limitation.)
---
EZDIVE Print Magazine
gogoscuba E-Commerce
Single Issue
One to Three years subscription (Six Issues per year)
Shopee
Single Issue
One to Three years subscription (Six Issues per year)
Weidian