Revisiting the Philippines, one of those countries where the natural beauty pulls us back time and again.
Photo and Text by Beth and Shaun Tierney
We have spent many trips diving the beautiful Philippine islands. So when we decided to go again, choosing which dive resort to visit – or indeed revisit – had our heads going in circles. Was this one the best? Which had the most macro; where will we get the best photos?
In the end, the solution is obvious – get on a liveaboard and let a floating hotel take us on a circular tour around the largest island in the Visayas. The bonus of diving this way was that we would see each and every highlight of the area, from the tiniest of creatures to enormous schools of fish. And talking of enormous fish, there were plenty of those!
Our trip started a short distance from Mactan International Airport and we were soon sailing southwards on the first stage of our circular route, to the large island of Bohol. Cabilao Island sits just off the west coast of Bohol and is ringed by white sand beaches and the prettiest shallow water reefs. That first backwards roll was everything we recalled of this region – a classic tropical vista of soft corals with dancing anthias and every critter from ghost pipefish to orang-utan crabs.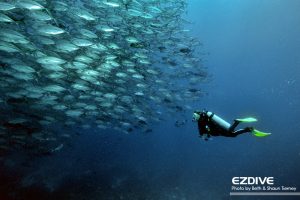 Balicasag and Panglao, our next stops, were a little further south but still close to Bohol. In fact, tiny Panglao is linked to Bohol by a causeway. This once sleepy little island is now a lively dive region as the variety of sites are endless. We swam through a blue hole in the reef top in the morning then across a submerged plateau with prolific sea snakes later that day. When we returned to nearby Balicasag Island, it seemed nothing had changed. It's a protected marine reserve surrounded by a pure white, sandy beach and fringed by a narrow reef that drops suddenly to substantial depths. There were massive schools of jacks or barracuda on almost every dive. These pelagic fish circle the island so when they were missing at one site, they were waiting for us at the next. We saw green turtles on every dive!
We knew we would be traveling a little further south, but the boat diverted westwards to the bottom tip of Cebu. Depending on conditions, a stop is often made at Oslob for one of the trip highlights – diving with whalesharks. There is some controversy surrounding this practice, as local fishermen feed them to entice them inside their bay. While this isn't natural, it aims to ensure the whalesharks are protected. They can return to a safe haven, grow and hopefully reproduce. We had been granted permission to dive early so were kitted up and ready to enter at dawn. The first few minutes were mesmerising with just our group in the water with 6 or 7 young whalesharks slowly wending their way between us to reach fishing boats above. It wasn't long before the snorkelers arrived too and it all got a bit manic – any time in the water here is shared with a huge number of others. Even so, as event, it was quite special.
Negros Oriental was the next stop on this circular route with two prime dive areas – the renowned macro destination,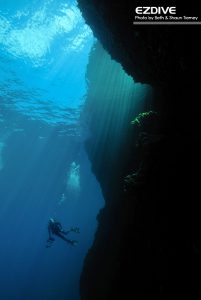 Dauin and Apo Island, the first and most successful marine sanctuary in the region. Dauin's shallow coastal bays tend to dark sand and there are several small, community-run sanctuaries. The corals are small, but this is probably one of the best macro destinations you will ever explore. Think of a critter, mention it to the divemaster and off you go to see it. The list is endless, but our favourite this trip was the Starry blenny.
After admiring all the little guys, it was time for a change of pace. A short sail offshore took us to Apo Island, an early experiment in marine rejuvenation. It was a strong contrast to the coast with pristine reefs of hard and soft corals dotted with massive barrel sponges, turtles and banded seasnakes. Out in the blue, the massive schools of jacks and barracuda are attracted to the island by the sometimes strong currents.
I was time to head north again. We sailed past Oslob, wishing we could stop for another visit, but the schedule meant we had to enter the channel between Cebu and Negros. This entire stretch of water is rimmed by pretty coral clad walls but the dives around the town of Moaboal are perhaps best known – especially as this is where you might see the famed sardine run. Many years back, we encountered them around Pescador Island, but in recent times they have migrated towards the coast at Panagsama Beach. We were curious that the countless numbers of tiny sardines had deserted crystal clear waters for a new home in the murkier shallows. The assumption is that there is more plankton for them to feed on and feed they did, dancing and rushing around creating fascinating ribbons of silvery light.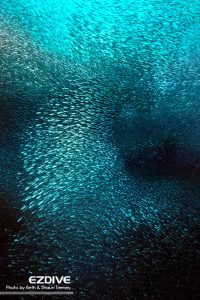 The last major destination on our ring route was Malapascua. Sitting just above the northern most tip, its dive reputation was made on the Monad Shoals where thresher sharks are said visit every dawn. It was our first time to this area and we were unsure about the 5 a.m. start to the day, entering at sunrise and then dropping instantly to 28 metres. Once there, we – and many other divers – lined up on a plateau to await the sharks. It took quite some time, but we did get a glimpse of these graceful predators, but not so close that we could take photos. It obviously wasn't our day to be lucky.
It was close to the end of the cruise so to finish we headed over to Chocolate and Gato Islands. Both small islands were surprisingly lush with rich coral reefs plus Gato Island is dissected at depth by a tunnel. We swam beneath the entire island exiting on the far side to a wealth of small creatures including some unusual nudibranchs. Our night dive here was particularly exciting with cuttlefish and Spanish Dancers and a glimpse of a tiny bamboo shark hiding in a crevice.
The next morning, we sailed south again to complete our circle at Mactan Airport. It was sad to finish the trip but, looked back over our days, we knew the decision to take this tour had definitely been the right one. How could it have been anything else when we saw both whalesharks and pygmy seahorses?