With year-round manta rays and whale sharks, the world's largest jellyfish lake and peerless coral walls, the Derawan Archipelago might just be the best dive destination you've never experienced.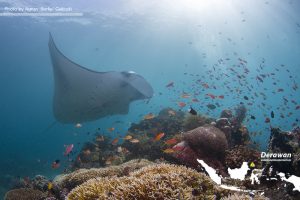 By Aaron 'Bertie' Gekoski
Following the success of Scubazoo's online dive show, Borneo from Below, we're starting production on a new series about Indonesia's top dive hot spots. Our first season will be at the Derawan Archipelago, a smattering of tropical islands off the coast of Kalimantan, north-eastern Borneo.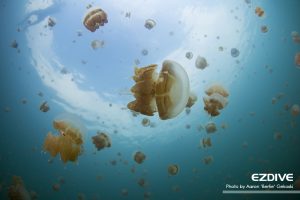 Derawan is what some might call, remote. To get there with our 200 kg of kit, director Will Foster-Grundy, cameraman Chris Tan and I must first take plane, overnight coach, a well-refrigerated ferry (icy aircon), then navigate a school of grabby baggage handlers and suspicious immigration officials, before spending two nights waiting for our boat transfer to Scuba Junkie, Derawan, one of only a handle of dive centres on the island.
Best known for their resorts on Mabul Island and in Komodo National Park, Scuba Junkie is one of Southeast Asia's most successful and environmentally-conscious dive operators.  It started Derawan last year representing a giant stride of faith for owners Ric and Tino. Running a resort in such distant climbs is not without its challenges and risks. Do they know something the rest of us don't?
The resort is tasteful but basic, comprising eight jetty-lined cabins that culminate in a two-storey dive centre/lounge offering irresistible views over the Celebes Sea. Scuba Junkie doesn't have an onsite restaurant, but customers have a number of local eateries close by.
Diving beneath the surface
A utopian bubble of colors and activity, life on Derawan is a metaphor for the region's coral reefs. But if it's macro you're after, the diving just off Scuba Junkie's jetty offers opportunities to see the holy grail of miniature critters, particularly with local guide Fadly at your disposal.
Fadly found us all the creatures requested for our episode on super macro diving: tiger shrimp, Shaun the sheep nudibranch, and hairy shrimp – animals so small, you blink and they're gone. After surfacing we spent time with Derawan's larger residents – giant green turtles – that munch seagrass right in front of our bedroom.
Just 45 minutes by boat, a visit to the tiny island of Sangalaki is all about one thing: manta rays. Sangalaki is one of only a handful of places where mantas can be seen year-round. Whilst it's not peak season for them during our trip, we still see up to 10 mantas on and between dives: filter-feeding, cleaning or pirouetting above our heads. Few gr eater pleasures exist than watching mantas go about their business.
A little further afield, Maratua Island is a small slice of paradise. On one trip there we see pilot whales and dolphins, who – much to the delight of customers – play right off the bow of the boat. Diving on steep walls produces encounters with eagle rays and a leopard shark. During surface intervals we visit perfect slithers of beaches, where guides Fadly and Adie scale trees to collect coconuts for guests.
If Harry Potter did lakes
While Maratua offers pleasant enough diving, it's not our favourite dive spot in the region: step up, Kakaban. Around two million years ago, Kakaban was a simple lagoon. During this period, some underwater rocks fidgeted and rose, creating a vast five km2 lake surrounded by jungle. Its name means 'hug' in the local dialect.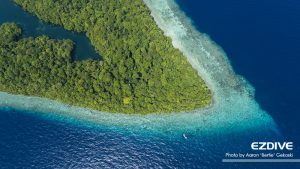 With a lack of predators, four species of jellyfish proliferated in the lake and supposedly lost their sting over time, in turn creating a unique tourist experience. With the recent closure of a similar attraction in Palau, Kakaban is now one of the only places on the planet where visitors can swim among scores of harmless jellyfish.
It's a meditative experience mixing with millions of Medusozoa. Time stops as you simply float, and watch. Snapping out of our jelly-induced trance, we explore the mangroves lining the lake, which are encrusted with psychedelic sponges of dazzling beauty. Just beneath them, upside-down jellyfish – small disks of goo resembling spacecraft – nestle into beds of seaweed.
It is here that I dispel two myths about the jellyfish. 1. They are stingless (my face swells up after getting too close to an upside-down jellyfish) and 2. They have no predators – anemones seem to adore devouring them. Whilst we only spend surface intervals here, it would be easy to whittle away days exploring a destination that is touched by magic.
If Kakaban's interior brings out your inner yogi, its exterior will quickly pop your Zen. Barracuda Point is the island's other draw card; a hard core, often raging dive site of currents, drop offs, giant schools of fish, and sublime coral gardens. Scuba Junkie's Ric likens it to Sipadan, without the tourists.
The best – and also most difficult – time to dive here is usually during a new moon, when it should only be attempted by experienced divers. This is when currents are at their liveliest and pulse with schools of jackfish and barracuda. After being swept along a sloping wall, divers are confronted with a unnerving sheer drop, with current that can propel you out into the blue, or down into the abyss.
When the conditions behave, you turn a sharp corner and end on a truly magnificent coral wall. On one occasion, we are even visited by a baby whale shark. And best of all, there are no other divers to chase and harass it. After all, nothing ruins a good dive site like boatful of tourists.
Just a little further along from Barracuda Point – and right off the jetty to Jellyfish Lake – is Kakabanana, named after the colorful banana nudibranchs often found there. While we don't find any of these yellow and black sea slugs, Kakabanana is quite unlike any site I've ever dived.
The 180-degree oceanic walls resemble canvases that children have thrown buckets of paint over. Green, orange and blue fingers of sponge, spill out among barrel sponges and bright purple dendronephthya. On one occasion, I take the rare step of tucking the camera between my legs and simply taking in this perfect mess, awe and confusion pumping through my nitrogen-soaked veins. We might as well have been on another planet.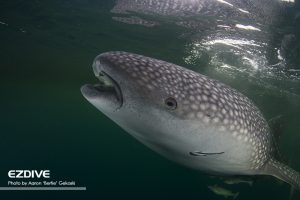 Whale shark feeding
One morning, Scuba Junkie's managers Jordan and Theresa help Will and I hire a boat to visit Talisayan, a small fishing village harbouring a large secret: whale sharks. We get our transfer at 5am on glassy flat waters, back towards the Borneo mainland.
It doesn't take long for our captain to receive a call: whale sharks have been spotted around the floating fishing platforms, known as bagangs. We turn up to the surreal scene of fishermen pouring buckets of baitfish into the giant gaping mouths of sharks up to 9m in length.
Quickly kitting up, desperately willing the whale sharks to hang around, we jump into the water. Thankfully, the sharks – replete with dozens of remora – continue feeding unperturbed, as we do our best to avoid the flurry of dim-witted aquatic battering rams. The frenetic scene offers stark contrast to the elegance and grace of Sangalaki's manta rays.
Afterwards we speak to the fishermen and learn of their symbiotic relationship with the sharks. Even when customers aren't there, they will sometimes offer them left over fish, and regularly swim with them. They have become rather fond of their massive spotty friends. We learn the sharks aren't killed as the meat has no value.
"There's a lot of potential to turn Talisayan into an eco-tourism hot spot. Thankfully the government and local scientists are currently working on the best ways to do this," said my old mate, world-leading whale shark expert, Dr Simon Pierce. With proper regulation and a strict code of conduct, this experience could benefit all parties in the long run: the whale sharks, fishermen, and tourists.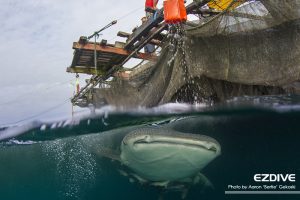 Although there are concerns about the industry, we leave elated, with packed memories and memory cards. Dive journalists are often conflicted when writing about destinations like the Derawan Archipelago: protect its status as a diving secret, or shout from the rooftops about how good it is? I'll opt for the latter. It might be a little difficult to get to, but Derawan has everything. Just make sure you get there before the crowds do.
All episodes of Indonesia from Below will be broadcast on www.scubazoo.tv. Please also like their Facebook page for regular updates: http://facebook.com/scubazoo.tv/
Getting there
Tarakan has an airport called Juwata Airport, located 3.5 km from the city. The airport has domestic flight routes to Balikpapan, Jakarta, Surabaya, Denpasar and Makassar, as well as an international route to Tawau, Malaysia.
Visa
Citizens from Mainland China can get visa on arrival. Citizens from 11 countries and territories including HK SAR, Macau SAR, Maalaysia, Philippines, Thailand and Singapore are eligible for a "Visa Free" facility.
Language
Bahasa Indonesia is spoken, with little English spoken on the island
Currency
$1 = IDR13,300 (Indonesian rupiah)
Electricity
Take adapters with you as requirements differ depending on lodge/dive operator
Dive Operator
www.sangalakidiveresort.com
www.derawandivelodge.com