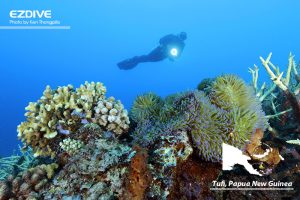 The amazing macro life I saw on my first dive on the Tufi Resort house reef had a feeling of muck diving magic. I was only diving to check out my scuba gear and camera equipment but, right under the jetty I saw juvenile batfish, butterfly nudibranchs and 'nemo' clownfish.  
Text & Photo by Ken Thongpila
Tufi Resort is located near a small town called Tufi on the south eastern peninsula of Cape Nelson, Oro Province in Papua New Guinea. Situated on drowned river valleys, locally referred to as 'fjords', these have a unique reef system with many uncharted reefs offering stunning marine biodiversity. The clear visibility, calm and protected water in the fjords is the perfect place for macro photography with muck diving right by the resort house reef jetty and also just a few minutes by boat.
It has always been a dream to dive in a remote area like Papua New Guinea, which has a reputation as a diving paradise with pristine water, untouched and healthy reefs. It gave me unique experiences to discover what Papua New Guinea can offer, unlike other destinations I had been to.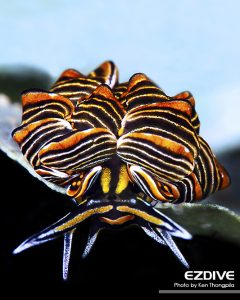 I decided to go diving in Tufi then Kimbe Bay and Kavieng to Milne Bay as these four famous locations have nice, comfortable resorts with good diving operators. I started at the Tufi Dive Resort, just less than four hours flight from Sydney to Port Moresby before a transit to Tufi on a domestic flight with PNG Air.
The journey was not as smooth as planned. My internal flight to Tufi was cancelled so I had to stay overnight in the capital. I called the resort to let them know and they told me the surprising news that I would fly in a small private charter aircraft the next day with another four customers. It was an amazing experience as the plane flew low like a tourist sight-seeing plane, and I could see the beautiful landscape all the including the resort area and the reefs where I would be diving.
After landing, we were picked up by car and taken to the resort, five minutes away. It is a beautiful boutique resort up on a hill, with breathtaking panoramic views. Each bungalow has a verandah overlooking the Coral Sea or Tufi Fjord, and all rooms have insect screens, 24 hour electricity, air-conditioning, hot water, bedroom with ensuite, bar fridge, coffee and tea making facilities. The meals here were very delicious and great to have such nice food after each dive.
The resort diving operator is 150 metres from the resort on a lower area with a good solid concrete jetty, convenient for diving, either by boat or the shore. All the shore facilities are well set up and comfortable, as is the diving boat with shower and toilet facilities – vey useful as some of the dive sites can be more than an hour's ride away.
Diving in Tufi
Tufi diving is a unique experience with a wide variety of fiords, unchartered reefs and World War II wrecks. The visibility is ofetn more than 30 metres and the water temperature between 26 – 29°C all year.
The diving routine was two dives in the morning and one in the afternoon. The boat left around 8.30am and was back
around lunch time, then around 3pm for the afternoon dive. The shore dive or house reef dive is available anytime with your buddy or dive guide, and a night dive can be arranged at the house reef jetty, where the macro or muck diving was amazing. The term "muck diving" apparently originated in PNG. It was my unforgettable check-out dive that led me to want to find out more about macro diving.
The house reef jetty amazed me every time I dived there. It is right in front of the dive shop so you gear up at the pontoon jetty, step into the water and start discovering. You find many critters that have made their homes between 3 – 20 metres so it was one of the easiest dives in Tufi.  Some areas reveal historic dumped garbage like beer and coca cola bottles from WW2, but there is also hard coral and a sandy bottom. At night, the site had transformed into something I didn't recognise during the day. A few different species of small fish, juvenile sweet lips, juvenile batfish, gobies, blennies, mandarinfish, ghost pipe fish, electric clam and especially the butterfly nudibranch can be found here.
Another macro dive site that I liked was 'Minor's Reef', one of Tufi's most popular macro dive sites. There is a nice wall dive and it is easy to spot the large bright yellow, Notodoris Minor nudibranchs. These large nudibranchs are a great subject to photograph. I also saw a manta ray cruising around.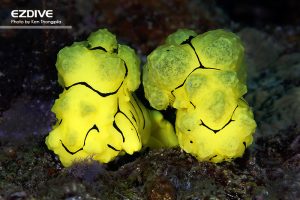 I always do some research for every diving destination I go to, but I never expect anything too much as I don't want to be disappointed if I don't see what I should. However, macro diving in Tufi was full of surprises and challenged my underwater photography skills especially the fish. Most of the fish have not seen many divers or photogrgraphers so were not familiar with us. To photograph them I needed to appoach very slowly and my buoyancy needed to be perfect and stable, more than it usually needs to be, so they didn't swim away.
Getting there
Direct flights to Port Moresby: under 4 hours from Sydney or Brisbane with Qantas or Air Niugini and under 7 hours direct flight from Singapore with Air Niugini. Port Moresby to Tufi with Air PNG takes 50 minutes with only 2 flights per week.
Visa
All visitors to Papua New Guinea are required to have an entry visa (currently a 30-day tourist visa) a return ticket.
Language
Papua New Guinea has over 800 languages but the official national language is English. Pidgin English (Tok Pisin) and Hiri Motu are commonly used.
Currency
Papua New Guinean kina. US$1 = 3.3 kina, RMB2 = 1 kina. Credit cards are accepted at the resort only.
Electricity
The power plugs and sockets are of type I, two flat metal pins shaped like a "V" same as Australia. The standard voltage is 240v and the standard frequency is 50 Hz.
Dive Operator
Tufi Resort – www.tufidive.com