Can you imagine losing yourself in paradise, surrounded with beautiful land marks, crystal clear water and healthy coral reefs? Well, Tawali will give you just that feeling.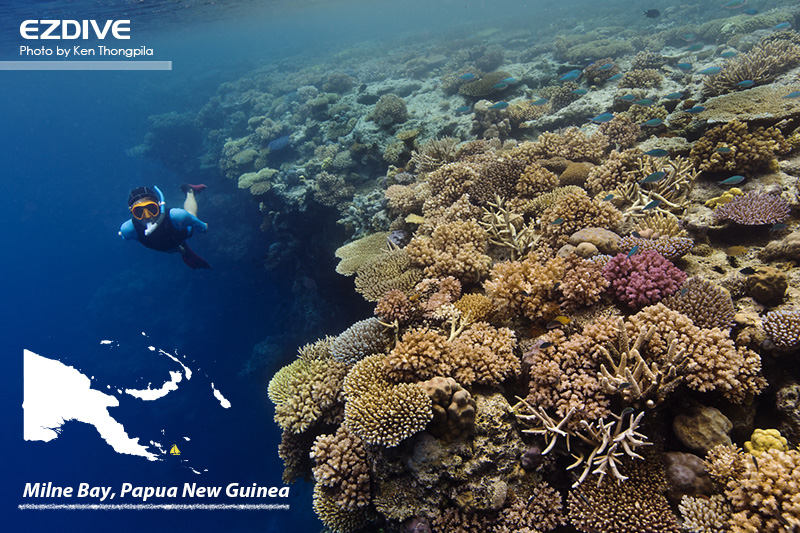 Text & Photo by Ken Thongpila
Tawali Resort is located in Milne Bay, in Milne Bay Province, lying on the far eastern tip of Papua New Guinea. More than 35 kilometres long and over 15 kilometres wide, Milne Bay is a sheltered deep-water harbour, surrounded by heavily wooded areas. The resort was built on a limestone bluff, three metres above the water and amongst local fishing villages, which can be accessed only by boat.
It was always my dream to go diving and photographing in Papua New Guinea. I wanted to feel submerged and connected with a place that only a few people visit, giving me a feeling unlike so many other places I have been.
Tawali is in a great location, surrounded with beautiful and healthy coral reefs and pristine water conditions. Its position is on the northern coast and, as that provides shelter from the south-east winds most of the time, you are able to scuba dive all year round. The very best time to visit is from October through March, when visibility is best and the sea is relatively calm. Strong winds in February make getting to most dive sites a challenge. The water temperature averages around 27-30ºC.
My journey began in Sydney, flying to Port Moresby then a short wait before a pleasant flight to Alotau Airport in Milne Bay. I arrived not feeling too tired. The resort organised a car to pick me up and it took about 90 minutes to the pier where I boarded a boat for the 20 minute trip to the resort.
All Tawali rooms are bungalow style with insect screens, air-conditioning, hot water, bedroom with ensuite, bar fridge, coffee and tea making facilities. The meals were buffet style for breakfast, lunch and dinner so it was great to have very nice meals and a good selection after each dive.
The resort diving operator organised everything and when it was time to go diving, I just walked down to the pier, which was about 50 metres from the main resort area. The resort has three diving boats — two small boats suitable for a maximum of 6 people and a larger boat for a group of about 10-15 people. The boats were comfortable to sit on or walk around when travelling to the dive site, and also had shower and toilet facilities.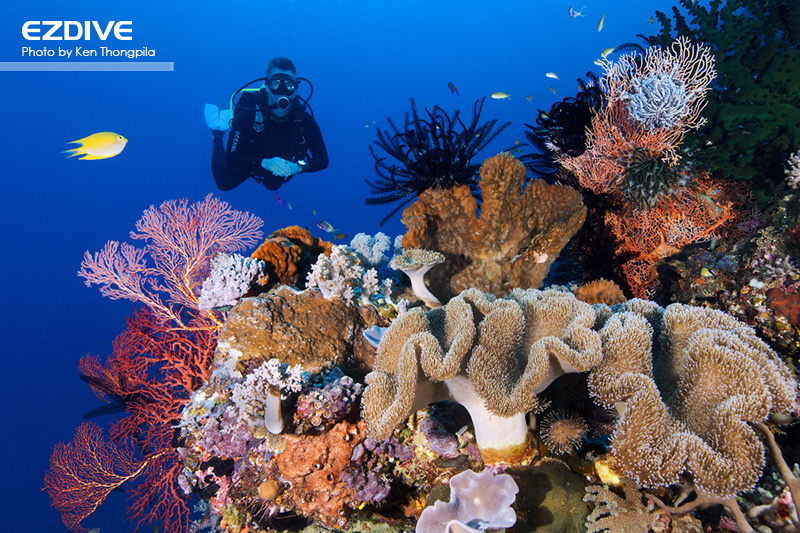 Diving in Tawali
The diving here is one of the best all-round scuba diving locations in Papua New Guinea with beautiful dive sites for wide angle photography surrounded by colourful coral reefs. These were perfect for reefscape style photos with or without a model. However, I was very lucky to have guides Thomas and Nozaki to model for me, which added a nice touch to my photos.
My favourite wide angle dive sites were Deacon's Reef and Coral Garden. Both are located on the north coast and only a 10-15 minute boat ride from the resort.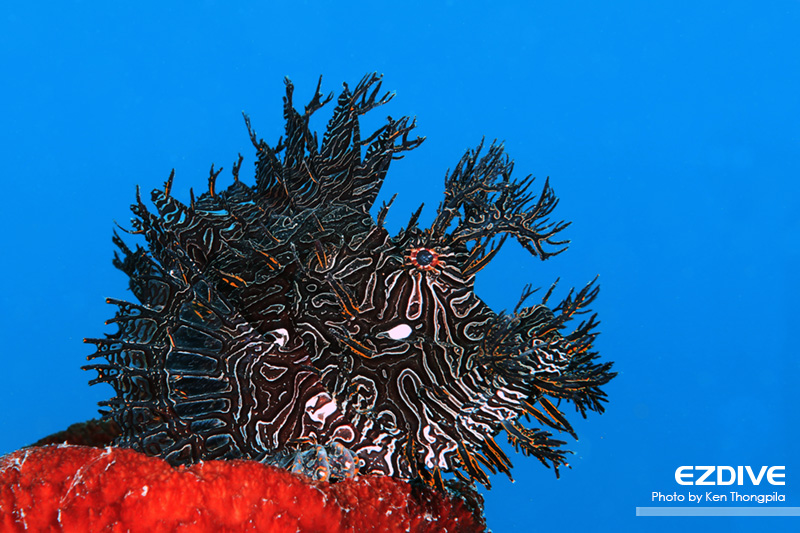 Coral Garden dive site has a wonderful collection of hard corals, some mixed with soft coral and some other hard corals stacked on top of each other forming many different layers with complex colours and details for photo opportunities. Also, towards the end of the dive and in shallow water, there are many more hard corals, creating perfect mirror photo opportunities when the sun comes out.
Deacon's Reef dive site is under a jungle canopy where gorgonians grow only feet away from the rainforest. This is a truly beautiful reef mixed with hard and soft corals, rays of sunlight shining through the trees and lots of swim-throughs along the reef. This site has some very big sea fans and large whip corals that contrast with the crystal clear blue water.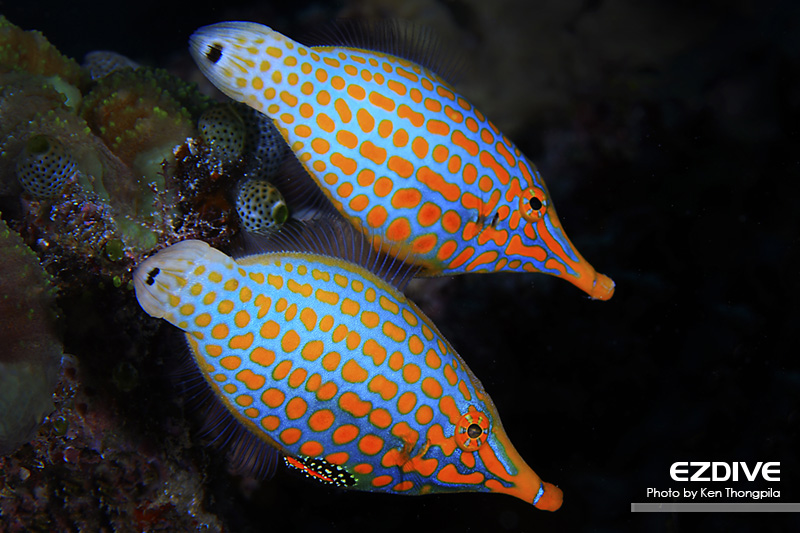 For macro photography, Lawadi Beach is regarded as having some of the best muck diving in the world. This site is a 15-20 minute boat ride from the resort and is located in front of a 400-500 metre long pebble beach. The seabed shelves off at approximately 15-20 degrees to about six meters then drops abruptly on a 45-50 degree slope to more than 100 meters.
The critters that can be found here include lionfish, octopus, cuttlefish, ghost pipefish and frogfish. I also saw Harlequin shrimp, whip coral gobies and a variety of nudibranchs, including one of my favourites, the Butterfly nudibranch (Cyerce Nigra).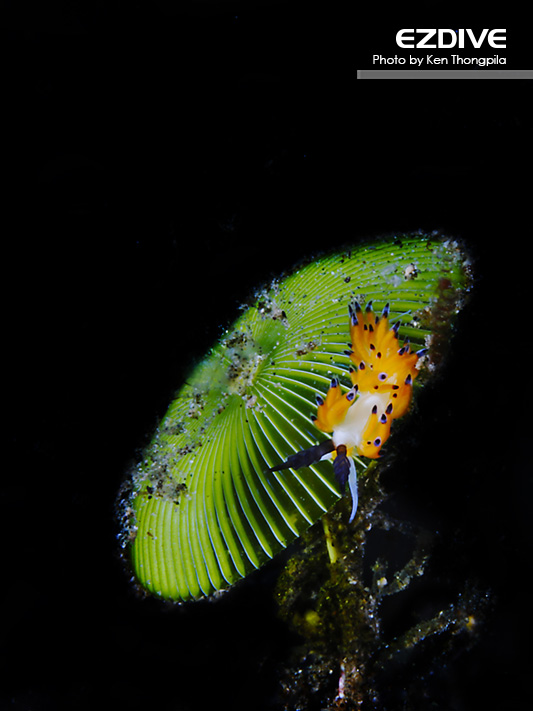 I also did several black water dives. About 200 metres in front of the resort a drop off falls to about 100 metres. This was a good site for the black water dives. I saw some different deep-water critters that I haven't seen before and some juvenile creatures that came to play in the light.
I really enjoyed diving in Tawali.  Being able to choose equally between good macro or wide angle dive sites makes this place very special, plus diving with Nozaki, one of the best guides and a great macro spotter, was a real treat. Both she and Thomas were wonderful — they followed me around and were ready to model whenever I needed. The comfort of the dive sites being close to the resort, the crystal clear visibility and variety of critters are all things I will remember from Tawali.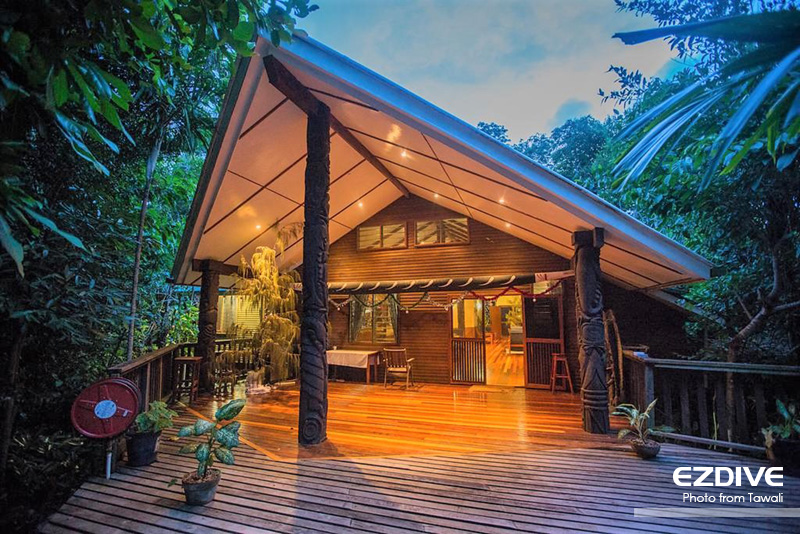 Getting there:
Direct flights are less than 4 hours from Sydney or Brisbane with Qantas or Air Niugini. Direct flights from Singapore with Air Niugini take under 7 hours. Transfers include a 70 minute flight with Air Niugini or Air PNG , then 90 minutes by car and 20 minutes by boat.
Visa:
All visitors to Papua New Guinea need have an entry visa (currently 30-day for tourists) and must have a return ticket.
Language:
Papua New Guinea has over 800 languages and most people speak at least two. The official national language is English however pidgin English (Tok Pisin) and Hiri Motu are also commonly used.
Currency:
Papua New Guinean kina: US$1 = 3.3 kina, RMB2 = 1 kina. Credit cards are accepted at the resort only.
Electricity
The power plugs and sockets are of type I, two flat metal pins shaped live a "V"  as in Australia. The standard voltage is 240 V and the standard frequency is 50 Hz.
Dive Operator
Tawali Dive Resort – www.tawali.com