Simon Pridmore has been a columnist for EZDIVE for quite some time, he writes all sorts of diving skills for the readers and shares his knowledge and experiences. We are very thrilled to see his latest book 'Dive into Taiwan' got launched in year 2020.
Text and Photo | Simon Pridmore and Kyo Liu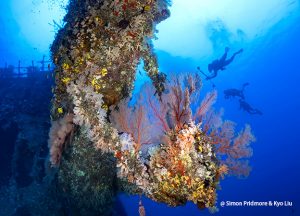 Taiwan is a Pacific island – actually several islands: a big one and some smaller satellites – surrounded by warm tropical seas. It is easily accessible, has excellent transportation and is a first-world society with outgoing, friendly, laid-back people.
Especially in the south and on several of the outlying islands, there is some very good scuba diving and also a network of dive centres and resorts with first-class professional staff and equipment. They provide services for a young generation of Taiwanese, who are driving development in the sport with considerable enthusiasm.
Yet, when divers elsewhere in the world think about diving destinations, Taiwan is rarely even a blip on their radar screen. Very few people outside Taiwan have ever thought to enquire about the diving there, and very few people inside Taiwan have ever thought to tell anyone about it.
However, in Dive into Taiwan, Simon Pridmore unveils the underwater secrets of these islands and guides you around expertly, making sure you travel easily, dine well and appreciate the unique culture and traditions of Taiwan as well as its marine treasures. This is the first English-language guide to diving the reefs and wrecks of hitherto unknown locations such as Penghu, Xiaoliuqiu, Hengchun, Lanyu (Orchid Island), Green Island and Taiwan's Northeast Coast and places them firmly on the international diving map. Authoritative, well written and beautifully illustrated by Taiwanese photographer Kyo Liu's superb underwater images, Dive into Taiwan opens the door to a new and exciting destination for travelling divers.
He really wants you to dive not only into the waters, but the people, the food, the lifestyle…
Recommendation
'In this book, Simon Pridmore takes the reader beyond the beaches and into the waters of six regions of excellent and exciting diving and snorkelling that the Taiwanese have enjoyed for some time – while the rest of the world has not had much of a clue. The beauty of this book is that the author intends it to be an immersive experience in more ways than one. He really wants you to dive not only into the waters, but the people, the food, the lifestyle… the entire Taiwan experience. I am well up for the challenge and I think many others will find they are as well. This is a refreshing format and, I am guessing, could well be the first in a series of entertaining and informational dive guides.'
Tim Rock
Author of Lonely Planet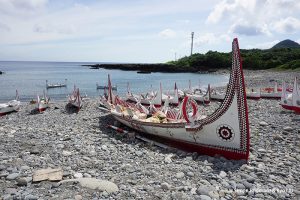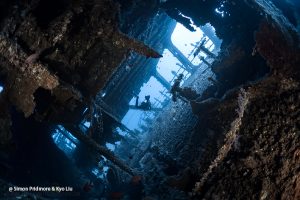 About Authors
Simon Pridmore is a best-selling author of scuba diving books, travel books and, as you might expect, scuba diving travel books. Originally from the UK, Simon has lived in Asia for over 30 years.
Kyo Liu is a well-known underwater photographer and diving instructor. He is an expert on Taiwan's dive sites and, through his lens, he aims to show people the beauty of the seas around Taiwan.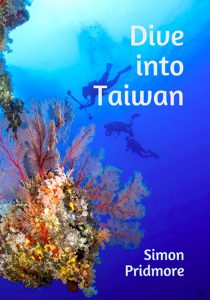 Bookstore
Dive into Taiwan is available via Amazon, Apple, Kobo and other online bookshops worldwide. Here are a few links so you can find out more and have a 'look inside' preview.