At one point in time, whale watching in Tonga became a yearly schedule for me. Last year alone, I spent 36 days there. In 1978, The Kingdom of Tonga issued a whaling ban, and implemented rigorous management of whaling ships and whale guide licenses. In 2014, the safety and comfort created by Tongan national protection made me abandon my Sri Lankan whale watching plan reducing unnecessary interference caused by disorderly management.
Text | Xiao Ai, Lin Qing
Photo | Mina, Zhi Yao, Chen Danping, Lin Qing
Tonga, a small island nation in the South Pacific, is one of the world's best known humpback whale watching sites. Whale photography is provided on three islands, with the Vava'u Islands the most popular. Every year, from July to October, female whales, accompanied by males, migrate from Antarctica to give birth. They will only return when the babies have grown old enough for the journey home. This means September is the best season: the babies grow older, the mothers become less vigilant, and interaction with divers increases accordingly.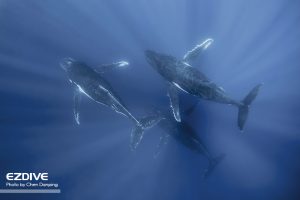 Multiple shooting scenarios can be encountered underwater, such as a mother and baby together, sometimes with an escort or a single male, as well as the 'Heat Run' when they are courting. If you are lucky, you may also meet pilot whales, whale sharks or tiger sharks and occasionally even mola mola. The mothers teach their babies to distinguish between a friend and an enemy. At this time, the babies are not heavy enough to achieve neutral buoyancy, so they usually hide under their mother's belly; the mothers, at intervals, will guide them out of water to breathe. These are the intimate pictures we can often take. If you learn more about whales beforehand, it will be a lot easier to capture great moments in your journey.
On the surface, you may witness spectacular whale jumps and tail slaps. The tail of the whale is called a fluke and, like human fingerprints, each fluke is unique, equivalent to a whale 'ID' in scientists' eyes.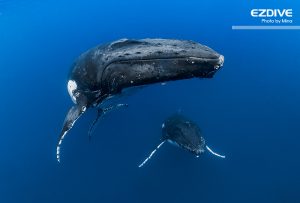 The Captain is the absolute control centre on the whale watching boats. From searching and finding their position to timing an entry, an experienced captain can make everything turn out just right. Under his command, the whale guide leads divers to approach the whale, then maintains order while ensuring everyone's safety. The whale watching industry in Tonga has developed for almost 30 years, and everything here is quite established. Yet in recent years, with whale watching becoming increasingly popular, more and more violations have occurred.
My sincerest hope here is: don't turn Tonga into another Trincomalee.
Daily encounters do not guarantee wonderful photos. There are various influencing factors. The most decisive one is experience accumulation, but luck also plays its own role. Sometimes when good luck is unstoppable, the whales might appear just in front of you; for photographers who are here for the first time, be sure to get ready in advance. My shutter speed is usually set to over 1/320 second because a safe shutter speed is critical. Choose shutter priority mode, as the exposure parameters need to be adjusted according to light and angle changes. Set your ISO as high as possible, for example 400, so that the aperture can be narrowed down, but this may cause some pixelation in your image. The lens on my camera is a 15mm fisheye so, when the whale is very close, the frame can hold more content. But as the chance of getting close to a whale is still relatively small, a 16-35mm lens has more advantages. Please remember: whale shooting requires a quiet mind.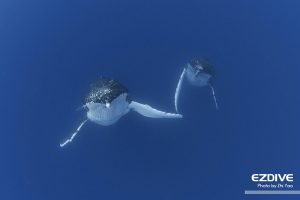 On The Vava'u Islands, the most popular place to eat must be the Panda Restaurant. For Chinese visitors, the authentic Chaozhou cuisine here is simply top-class. The owners are two brothers from Chaozhou who speak fluent English and Tongan. The younger brother is also a talented photography enthusiast. Their experience epitomizes the entrepreneurial story of Chaozhou people. During the whale watching season, the restaurant often attracts world-class photographers. I met my idol Paul Nicklen here.
Tonga, known as the 'Pearl of Oceania' is the place where the sun casts its first rays on the earth each day. It is beautiful, natural and passionate. Let the whales surprise every diver!
Getting there
From Hong Kong via Fiji to Vava'u International Airport. Most flights require passengers to stay overnight in Fiji; or transfer in Australia or New Zealand, then fly onwards.
Visa
Many nationalities, including Chinese citizens, can travel to Tonga with a valid passport, a return or onward ticket and sufficient financial support. A one-month tourist visa is issued on arrival.
Language
English and Tongan.
Currency
The legal currency is Pa'anga. 1 USD=2.3 Pa'anga
Diving Level
When a whale appears, divers need to descend quickly at the command of the captain and the dive guide. It is recommended that divers who come to watch the whales attain high freediving and snorkeling levels. If you are not a free diver, snorkeling is a good choice, except you can't dive with whales.
Diving Equipment
The water temperature ranges from 24-26℃ so a 2-3mm wetsuit is recommended. You can wear a normal swimsuit or bikini on sunny days but it can be cold on the boat, especially on cloudy days. Bring a raincoat or a jacket.
Whale Watching Rules
Whale watching rules are stringent, and everyone should comply with the captain and dive guide's requirements. Only 4 people (except for the dive guide) can enter the water at a time; you cannot jump off the boat alone. If several boats are waiting for whales, they must queue then set sail within a certain period (usually 7 hours; the dock staff will record the time). When watching the humpback whales, do not approach any that are jumping out of water. You may be scratched by the barnacles on their fins or get crushed. Keep a safe distance of at least 5 meters from the big fins and tail, preferably in front of the whale's head where it can see you. Generally, diving is not allowed when mother and baby whales are together, unless approved by the guide. When the Heat Run occurs, you should dive as quickly as possible because males can be rampaging when chasing females. It is safer to stay on the edges or outside of their routes. For non-freedivers, snorkeling is an advisable method.