In 1785, English poet William Cowper penned the phrase "Variety's the very spice of life, That gives it all its flavour."  Spices, quite literally, put many Indonesian islands on the map when European spice traders reached them in the 16th century.  Now, savvy scuba divers are the modern day explorers who know there's no better spice than the variety of marine life and adventures found along Indonesia's Forgotten Islands.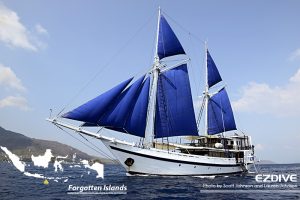 By Scott Johnson and Lauren Johnson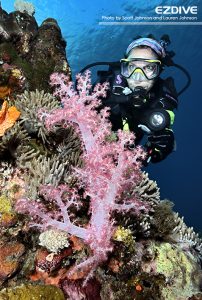 The Republic of Indonesia, the fourth largest country in the world, comprises more than 17,500 islands in Southeast Asia.  A lonely and loosely defined collection of 1,000+ islands and islets that arc 1,000 kilometers between the Indonesian provinces of East Nusa Tenggara (Nusa Tenggara Timur) in the Lesser Sunda Islands to southern Maluku (Moluccas) in the Barat Daya, Leti, Sermata, Babar, Tanimbar, Aru and Kai Islands are called the Forgotten Islands.  Since less than 1% of all Indonesians live among these archipelagos and only a handful of tourists arrive in any given year, relatively few people have known, much less had the chance to forget, about the Forgotten Islands.  Perhaps a collective name change might be in order.
This entire area is encircled by the Indonesian Throughflow (ITF), which is a current that moves prodigious volumes of warmer, less saline Pacific Ocean water in the northeast to the Indian Ocean in the southwest.  The ITF is so massive that it impacts global weather patterns and bathes the Forgotten Islands with nutrients and larvae from distant spawning grounds.  This continuous infusion of food and species has created one of the most biodiverse and dynamic marine habitats in the world.  More than 2,000 species of fish, 260 species of coral and 16 species of mammals, including whales, dolphin and dugongs, are found here.
Off the Beaten Path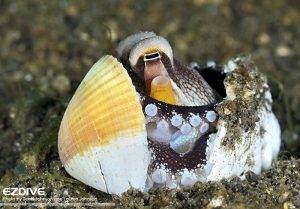 The Forgotten Islands are, by any reasonable standard, remote.  Getting to one island can be challenging.  Forget about trying tohop across the disparate province locations unless you have an endless amount of time, money and patience.  Liveaboards are really the only game in town when it comes to sampling the diving over such distances.  And, even then, a 10 to 12 night itinerary merely provides a taste of the diving delights awaiting eager guests.
Lauren Johnson (my wife and colleague) and I first learned about the Forgotten Islands during a Komodo National Park charter.  The Komodo voyage was such pleasure that I asked Michel Hendrix, the Indo Aggressor's cruise director, about other Indo Aggressor destinations.  Hendrix said, "Have you heard about the Forgotten Islands?"  And, that was that.  We were sold.
Hendrix did share his two biggest challenges with a typical Forgotten Islands charter were: 1. A guest asking when he or she will get to see a Komodo dragon (you need to go to Komodo or a zoo to see one).  2.  The site preferences between photographers and non-photographers (shooters often prefer fewer sites in order to spend more time with specific subjects).  Lauren and I decided to bring a group of photographers with us for the added site flexibility.
Appearances Can Be Deceiving
Fast forward a year and we are reunited with Hendrix at our departure city of Maumere, Flores.  The three of us catch-up a bit and then discuss the prevailing conditions at the various potential sites.  A quick huddle with the other guests and our initial itinerary is set.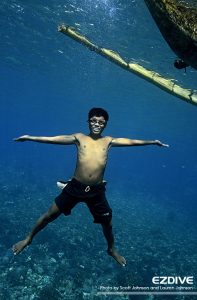 Smoking volcanoes are the theme for two of the "not been there and not done that before" days.  The Gunung Lewotolo (Ile Api) volcano on Lembata (Kawula and Komba'a Batu Tara volcano create surreal backdrops between dives.  The visibility over black sand, water-hardened lava and radiant soft corals at Komba Korner is spectacular.  Even better, Batu Tara provides a truly breathtaking dinner setting as red molten lava oozes from the crater and flows down to the sea while Indo Aggressor guests enjoy an outdoor, candlelight dinner under twinkling stars.  I bank about 10 years worth of romantic dinners in a single night!
When we arrive at Hot Property in Beangabang Bay, which is located on the southeast coast of Pantar, the second largest island in the Alor Archipelago, Hendrix pulls me aside and says, "You're going to love this place".  And, he is right.  At first glance, the nondescript slope of black sand and rubble appears unappealing and potentially very boring.  In reality, Beangabang Bay is the epitome of the "appearances can be deceiving" proverb.  What is usually described as a critter or muck dive, this site is rife with unusual creatures essentially hiding in plain sight.
Over 7 dives, I spot a wild menagerie of animals that includes thorny seahorses, robust ghost pipefish, a coconut octopus dragging a modular home of shells, zebra crabs with eggs riding on fire urchins, juvenile schooling bannerfish hiding among an aggregation of long-spined urchins, painted frogfish, Ambon scorpionfish and Berry's bobtail squid.  The highlight occurs as I photograph a seemingly fearless tiger mantis shrimp.  I carefully put my left index finger in the sand to steady myself and notice movement out of the corner of my eye.  Looking down, I find a flaring blue-ringed octopus a few inches from my hand.  The tiny, poison cephalopod's rings alternate from bright to pale blue and the texture of its skin morphs from smooth to a mixture of bumps and spikes as it warily watches me.
Holy Grails
Alor is yet another rugged volcanic island.  Friendly locals wearing hand-carved goggles and no fins buzz us on shallow reefs as they tend to picturesque fish traps or wield rudimentary spear guns for fishing.  Visits to other Alor sites yield two hard-to-find Holy Grails of the underwater imaging community: mandarinfish and Rhinopias.
A dusk dive at Mini Wall gives us the chance to document mating mandarinfish.  These gorgeous, but shy dragonets are ornately marked, vividly colored, scaleless and relatively small at six centimeters or less in length.  Mandarinfish generally remain hidden under coral rubble or within coral heads during the day, but an all-consuming desire to mate washes away their apprehension as the sun begins to set.
Once a female acquiesces to a male's passionate pleas, these normally reclusive creatures rise, side by side, shimmy against one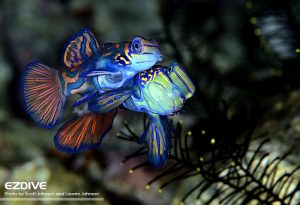 another, the gal releases her eggs, the guy sprays his semen and then they flip their respective tails to scatter the combined offering before returning to the protection of the coral.  Mandarinfish may repeat this unique, frenetic dance multiple times.  Each new tango boosts the likelihood of offspring, but it also increases the couple's vulnerability to predators.  After many frustrating, failed attempts to catch a couple gettin' busy with it, Lauren and I are rewarded with a shot of two ecstatic lovers above a newly-released clutch of eggs.
Mucky Mosque is one of many muckish sites along the northern coast of Alor's Kalabahi (Pearl) Bay and aptly named.  We back roll off the tender in front of a mosque and descend to a slope of coral heads, rocks, sand and discarded human items, such as shoes.  Natural treasures are bountiful as we are treated to a frenetic school of striped catfish, hunting broadclub cuttlefish, egg-laying bigfin reef squid and two weedy Rhinopias, one red and the other tan, out for an afternoon stroll together.  I track the regal specimens through my viewfinder and depress the shutter button as one of them dramatically yawns.
Our time aboard the twin-masted Indo Aggressor passes all too quickly.  The Forgotten Islands offered us a tremendous dose of the "spice of life" in the assorted wonders we experienced.  It's clear the name of this unique hidden gem of destinations should be changed to the Unforgettable Islands as we will never be able to forget our time here.
————————————————————————————————————————————–
Getting There
The Indo Aggressor's Forgotten Island charters typically embark from either Maumere, Flores or Saumlaki, Jamdena.  The international airport in Denpasar, Bali is the preferred gateway to Flores and the Makassar airport in Southern Sulawesi to Jamdena. Bali and Makassar can be accessed via a number of international hubs, such as Singapore and Jakarta. Garuda, Lion Air and Wings Air are regional carriers
Departure Tax
The departure tax is now included in the international airfare by the airlines.
Visa
Visas are usually valid for only 30 days from date of issue and cost $25 U.S. per person.
Language
Bahasa Indonesia is the official language.
Currency
The Indonesian Rupiah.
Electricity
220 volts AC, 50 Hz, with outlets that use Australian style plugs.
Liveaboard
Indo Aggressor – www.aggressor.com