Photo and Text by Perry Kuo
 "If Raja Ampat is paradise, Triton Bay would be the temple of paradise."
– Dr Mark Erdmann, senior marine biologist at Conservation International
Back in 2001, oceanologists from Conservation International surveyed the waters around Raja Ampat. Working with the State University of Papua they explored the area near the Bird's Head Peninsula then, five years later, continued to South Raja Ampat to survey Triton Bay and the nearby Iris Strait in Kaimana Regency.
In 2006, Dr. Gerald Allen noted over 330 different species in a single dive, breaking every known record for fish diversity. Exceptional species like the walking – or Epaulette – shark and Flasher wrasse, were later discovered and, in 2008, the Kaimana Regency announced that 6000 square kilometers surrounding Triton Bay would become a marine conservation area, prohibiting any illegal and improper fishing. Back then, residents in this newly created protected zone were minimal; only a few liveaboards passed through and the divers that visited were no more than 1000.
Moving forward to 2016 and Triton Bay Divers (TBD) opened on Aiduma Island in the Iris Strait. Apart from the Manado trained dive guides and chef, the owner and all the staff are natives, while the resort is co-hosted by Lisa from Britain and a Canadian Chinese, Jimmy. Both are dive instructors who had a lifelong dream of opening a dive shop in a diving paradise. The resort is small with just six bungalows for a maximum of 12 guests. There are big ceiling fans, but no air-con, although the shower runs with hot and cold water. Electricity is on from 6am to 11pm but plans are in place for solar power with a 24-hour supply. Three buffet meals are served daily, but due to the remote location, there is no phone signal, just slow satellite wi-fi to maintain contact with the wider world.
Diving days start at 8am, with two boat dives in the morning, often with a break on an un-inhabited island. Lunch is served before the afternoon dive around 3pm. The three boat dives are included in the dive package with an option for dusk and night dives.
Triton Bay diving stands out as one of the best 'last' places on the planet as it has almost every style of diving – macro, wide angle and even whale sharks. The only thing that's missing is a wreck. The main sites are in the Iris strait, lying between Aiduma Island and the West Papua coast. All are less than 30 minutes' boat ride away. Highlights include:
Saruenus Island lies In the middle of the strait. There are 5 dive sites, including the superb Little Komodo, Aquarium and Pintu Arus. Each of these has similar topography but their own special features. Little Komodo is perhaps the best site. Named by famed Larry Smith, who pioneered diving in this area before his untimely death. The site reflects an all-in-one site version of Komodo. With depths from 5 to 25 meters, the reef slopes have some of the most extensive dense black corals ever seen along with brightly coloured soft corals. Currents bring in numerous groups of fish, even giant groupers.
Aquarium, positioned to the right of Little Komodo, and Pintu Arus to the left continue the theme, both with a series of slopes, and diverse soft and black corals. When the currents run, large schools of fish like blue-striped snapper and monocle bream arrive and the corals can be spectacular as they feed in the moving water.
Bo's Rainbow is a small, shallow reef adjacent to Little Komodo. It is clad in soft corals and sea fans. Ten to fifteen bold Spanish mackerel live here along with macro creatures like purple skeleton shrimp, nudibranchs and pygmy seahorses. There's even a swim-through cave at around 1-5 meters.
Faukate Island is also known as Stumpy Rock and is the furthest dive site from TBD, about 30 minutes away. Divers can visit it on their way back from seeing the whale sharks at Namatote. Visibility here is usually good; there are many giant sea fans and wobbegong sharks have been seen.
TBD House Reef is just a few minutes boat ride from the jetty and is perfect for night and dusk dives. Around sunset, we set off to see one of the reefs most fascinating fish, Paracheilinus Nursalim or the Flasher wrasse. During sunset, to attract at female's attention, the male Flasher wrasse will spread its dorsal fin, and chase a female across the seabed. It's a truly chaotic courting scene and not an easy challenge for photographers.
Namatote Island is another unique feature of this region. An hour's boat ride away, the waters around the island are filled with Begans – floating fishing platforms. Fishermen catch small fish at night that in turn lure the whale sharks in to feed. After checking which Begans have attracted a whale shark, we set off at 6am to see them. Sometimes, as many as six are seen and – occasionally – with a group of dolphins in tandem. This pattern is similar to the better-known events at of Cenderawasi Bay and Derawan Island.
Gorgeous coral reefs, crystal clear water and endless amounts of bold fish paint an amazing picture for diving in this beautiful area. Most dive sites at Triton Bay are of no great depth, so you can enjoy long dives. Various pygmy seahorses, macro creatures, wonderful Flasher wrasse and huge whale sharks, are all available in just one trip. Surely from now on, the title "ultimate diving paradise" is not too much to claim!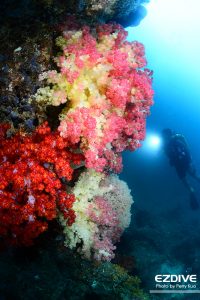 There are many more splendid dives easily reached from the resort. These include:
Batu Jatu
Batu in Indonesian means rock. This sloping rock is a good site to see pygmy seahorses on sea fans, and Satomi and Pontohi pygmies in the seaweed.
Batu Dramai
Rocks of various sizes are coated in soft corals, which bloom in a current. Fearless fish schools compete for attention with the Pontohi pygmy seahorse.
Christmas Rock or Tim's Rock
Discovered in 2008 by underwater photographer Tim Rock with similar geography to Batu Dramai but more black coral and schools of fish.
Orange Rock
Situated beside Christmas Rock and with a similar landscape, large colorful soft corals flourish in the current.
Pygmy Point
Off Aiduma Island and with sea fans that host a variety of pygmy seahorses, like Barbiganti, Denise and Satomi.
Engine Point
Discovered when an engine fell into the sea and a recovery was attempted with soft corals, sea fans and many more pygmy seahorses.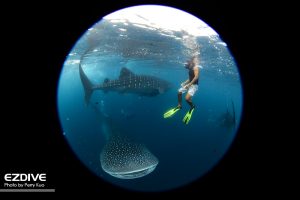 Getting there:
The airport for Triton Bay is at Kaimana on West Papua. Garuda and Lion Air have flights from Jakarta to Ambon, and onwards to Kaimana. Garuda offer a special luggage allowance for divers (2 bags at up to 43 kg per person). Lion Air allows 20 kg at most.
Flights usually arrive in the early morning. Transfers are then to the wharf taking 20 minutes. It is possible to stop at the Kaimana town market for snacks and fruit before a 1.5-2 hour boat ride to the resort. When passing Namatote Island, you can see the rock painting on the walls, proof of pre-historic communities in West Papua.
Dive Season:
From June to September, the resort closes due to bad weather. The best months are October until May. Between October and December, water temperatures are 26 to 28ºC, ideal for macro creatures. From December to May, the water warms to about 29-30ºC with less rain and better visibility.
Language:
English and Indonesian. The owner of TBD speaks Chinese.
Currency:
USD and Indonesian Rupiah. 1 USD = 13,500 Indonesian Rupiah.
Electricity:
Double round pin plug, 220V.
Dive operator:
Triton Bay Diver – www.tritonbaydivers.com