Japan is a dream for travellers from around the world who want to discover our beautiful culture, delicious food and exciting shopping. Surprising to many, however, is that Japan also has great diving from Hokkaido in the north to Okinawa in the south. Less well known – but equally fascinating – is Hachijo Island, an overnight sail south of Tokyo.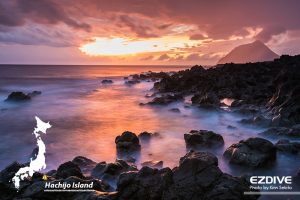 Text and photo by Kirin Sekito
Hachijo-jima (or Hachijo Island) is a lush, green, sub-tropical island in the Philippine Sea formed by two adjacent volcanoes. It is the most southerly of the Izu Island chain and about 50 minutes by plane from Tokyo International Airport or 10 hours by large passenger ship. This cheaper option leaves port at 22:30 and arrives at 8:30 the next morning.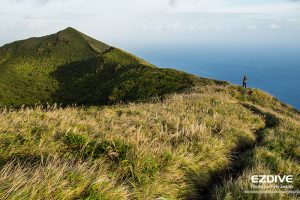 I arrived by a passenger ship and arrived at Sokodo Marina, where Masahiro from Arabesque Diving Center picked me up. We went straight to the dive shop to prepare for my first dive. Masahiro has been guiding on Hachijo for six years and two years ago he built his own dive shop on the southwest side of the island.
My first dive was 'Yaene', just five minutes from the dive shop and next to Yaene port. It was an ideal checkout dive and would be a great introduction to diving as well. Even though it was so close to the port, this site had amazing visibility and we saw heaps of green turtles, which always come here to feed.
Swimming about ten minutes away from our entry point, we found a large arch in the water at around 18m deep. It was covered in lots of soft coral with plenty of macro life. Around the arch there were many juvenile fish with more colourful fish in the seaweed and hiding around rocks. I saw a beautiful Mimic Filefish (Paraluteres Prionurus) hiding in the seaweed, looking up at me with those cute eyes.
After the 50 minute-long dive in 15-20m of visibility, I told Masahiro that I was impressed with the water clarity. He said, "really? That wasn't really nice. Tomorrow, I hope to show you 'the Hachijo blue'."
I remembered 'Hachijo blue,' a phrase often used by those who have dived in Hachijo, and wondered what it meant. The next day, the wind dropped and we went to 'Nazumado', the most famous dive site on the island.
Located on the northwest of the island, Nazumado is exactly where the Kuroshio Current hits the island, bringing clearer waters and
lots of fish life. I was hoping to see the 'Hachijo blue' knowing that this strong current travels from the far south bringing warm water and plankton from the tropics. Every day, we would check the internet to monitor its movement and time our dive to match its arrival: if the current is too far south of the island, the water would be cold and the visibility low. Luckily, during my stay in October, the current arrived and we had good visibility in warmer water.
We jumped into the sea; I took a deep breath and finally encountered the beautiful 'Hachijo blue'. We followed the wall with lots of colourful corals and heaps of fish life including the 'Wrought-iron Butterflyfish' (Chaetodon daedalma), an endemic fish that you can only see between Hachijo and Ogasawara islands. Shortly after, Masahiro signalled me with his bell, so I knew he had found something special. I followed him into the strong current and, at the depth of 23 metres he pointed at a little juvenile Japanese Pygmy Angelfish (Centropyge interruptus). It was only 5cm long and in that strong current, it wasn't easy to shoot.
The main dive style on Hachijo-jima is shore diving but if you prefer boat diving there are plenty of other dive sites around the island. Idesari on the northeast side has a beautiful arch at about 12m deep but you can go deeper if you dive on the east side of the arch. I was surprised to see a Crosshatch Triggerfish (Xanthichthys mento). Sometimes these will really get close to divers, forming a big school that swims around them.
Diving is not the only natural attraction on Hachijo. There is very good hiking around Mt Hachijo Fuji, which was named because it looks like Mt Fuji. The best way to explore this place is to rent a car and tour around the island.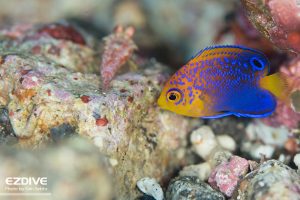 Getting There
By plane from Tokyo Airport (Haneda Airport). ANA has three flights per day and it takes about 45 minutes.
By Ship from Takeshibasanbashi (Hamamatsu-cho) with Tokaikisen, which leaves around 22:30pm every day and arrives next morning.
Visa
Check the government website www.mofa.go.jp/j_info/visit/visa/
Language
Japanese. English is not widely understood on the island.
Currency
Japanese Yen.1USD = 110Yen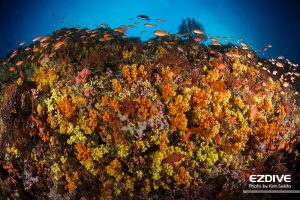 Electricity
The voltage in Japan is 100 Volt and electrical plugs have two, non-polarized pins.
Dive Operator
Kencha Rumah – www.divingbase.com/kencha/top.htm
Tokaikisen – www.tokaikisen.co.jp/english/
Diving Shop Arabesque – 04996 9 5838