As the site of Cebu's international airport, most divers know Mactan Island merely as the gateway to some of the world-class diving the Philippine Visayas has to offer. However, Mactan deserves to be a diving destination in its own right. With a combination of big stuff, macro, reefs, walls and wrecks, there is plenty to keep divers entertained.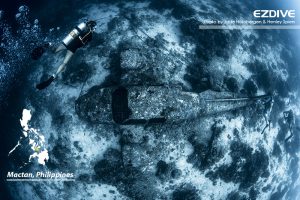 Text and Photo by Jade Hoksbergen and Henley Spiers
We kick things off at the Shangri-La Marine Sanctuary, which has regenerated spectacularly — once a dynamite fishing graveyard it is now a thriving reef, all thanks to the marine reserve created by Scotty's Dive Centre and the Shangri-La Resort. As we descend, our attention darts between the table corals standing majestically atop coral bommies and the fields of finger coral, which serve as intricate mazes for playful reef fish such as hawkfish. Just below the surface, elongated needlefish glide around our bubbles, their bodies slowly undulating in the search for sustenance. In the shallows, parrotfish and wrasse attack the coral en masse, taking microscopic bites of the least healthy parts; they are essential players when it comes to keeping this reef healthy. Further down, we are greeted by curious Midnight Snappers; their bodies are dark and dull from a distance but revealed as ornately patterned up close. Best of all is the large school of resident jacks; an imposing mass of silver bodies, their schooling behaviour, developed over centuries of evolution, helps protect them from marine predators. We are filled with optimism to find such a big school of fish just off the beach and barely a mile away from Cebu, the second largest city in the Philippines.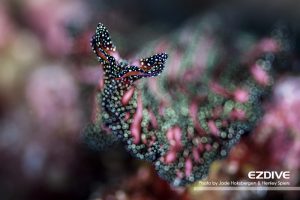 Macro obsessives are also well catered for here. Network Pipefish are seen slithering across the coral bed in abundance, their oversized eyes compensating for limited mobility. Anemones are here in healthy numbers too, and while they are homes to charismatic clownfish, they also host porcelain crabs and cleaner shrimps, which live together in symbiosis. Waving their appendages frantically in a kind of dance, the shrimp advertise their services. A lizardfish takes a break from hunting to have its mouth and gills cleaned, opening wide to display the teeth that make it one of the top predators on the reef. Cleaner shrimp eagerly climb inside, safe in the knowledge that the service they offer far outweighs their nutritional value.
The repercussions of human activities are more keenly felt at Tambuli, where we found the reef to be in poor shape. However, it is still a popular site for local scuba- and free-divers. Sunk to entertain divers, the plane wreck at Tambuli is indeed the main attraction and explains the popularity of the site. Not to mention, it acts as an excellent prop for underwater photographers! Upon closer inspection, what looked like a moving reef from a distance reveals itself as a school of juvenile convict blennies. Resembling a group of escaped prisoners in black-and-white stripes, they swam in unison, poking and prodding at the reef in search of plankton. Research has shown that they mimic the colouring of poisonous catfish in self-defence and will return to their burrows at night, where they dangle by their mouths from the roof of the tunnels, held in place by mucous threads!
At Kontiki, we escaped into the deep to find a beautiful underwater wall gleaming with sponges and healthy soft corals. Our guide pointed out a Giant Frogfish who has been residing there for the last two years. Jade swam in for a closer look, but soon the current made staying stationary for too long uncomfortable. We drifted along and marvelled at the colourful sea fans sprouting in every direction. Kontiki is also home to a huge shoal of sardines and, as we edged up shallower, the sun was suddenly blotted out by this mass of small fish. It is a spectacular and overlooked sight, as most people tend to go straight to Moalboal for the schooling sardines.
The next day, Henley donned his technical diving gear to explore the wreck of the San Juan. This old ferry is in Liloan Bay and sunk in 2000 without casualties either as the result of bad weather or, if local gossip is to be believed, as an insurance scam. With the top of the ship at thirty-something metres, one could dive it recreationally with a compromised bottom time. At a maximum depth of 50 metres and with the wreck being 60 metres long, you'll get much more out of the day by doing a couple of decompression dives with a healthy surface interval in between. The wreck has become home to schooling fusiliers and, over a couple of decades, a thriving marine ecosystem. With the milky visibility and lack of other divers, there is a real sense of adventure and exploration to this dive.
If you haven't completed your technical dive training but are in search of an adventure, your best bet is Marigondon Cavern. We dropped in on a strong current and dived down fast to 35 metres, where we found the sizeable entrance. Once inside, and sheltered from the current, we caught our breath and enjoyed the huge sea fans adorning the top and sides of the cavern walls. As we frog-kicked into the darkness, our lights startled a big, red sponge crab and he dashed away awkwardly, bashing about in bewilderment. We couldn't help but feel a little bad for disturbing this Marigondon resident. As we made our way out and back up along the wall, we paused to enjoy the vivid soft corals, well fed by the steady flow of nutritionally rich water.
Whether you fit the profile of an avid diver looking for the next dive destination, a tech-junkie thirsty for exploration or simply an underwater photographer on the look out for interesting marine life and beautiful underwater scenery, Mactan should be on your list! Mactan has long been regarded as a transit point for most divers, but is indeed a hidden treasure.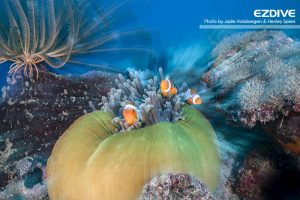 Getting There:
There are flights to Mactan Cebu International Airport (about 9km from the Shangri-La Mactan) from most cities in Southeast Asia.
Visa:
Most countries will not require a tourist visa for stays not longer than 30 days. However it is best to verify this with the relevant embassy before travel.
Language:
The official languages of the Philippines are Tagalog and English, but in Mactan you will mostly hear Cebuano, referred to as 'Bisaya' by locals.
Currency:
Philippine Peso. 1 USD = 53.64 PHP (As of 29 October, 2018).
Electricity:
220-240 volts AC. 'Type A' plugs are most commonly used. It is best to bring plug adaptors with you.
Dive Operators:
Scotty's Action Sports Network Inc.
www.divescotty.com