We all have it, that craving to drop beneath the surface, breathe, see, discover, explore and emerge again after an experience we thought would only ever be in our dreams. Yet every now and then that vision comes true – you stumble on a destination that really has the power to impress. We weren't expecting it, but Christmas Island has it.
Text and Photo | Beth and Shaun Tierney
This tiny Australian outpost is 2,600km north-west of Perth while her closest neighbour, Java, is just 360km away. Ancient seafarers may have sighted the island in previous centuries, but the first recorded landing was supposedly on Christmas Day somewhere in the late 1600's. Explorers were faced with thick rainforest and unknown creatures; they departed swiftly with fresh water and sea birds to feed their crew.
It wasn't until the late 1800's that Christmas was settled due to the potential for mining phosphates. From the air, you see the scars that created, yet these compete with a natural realm that is second only to the Galápagos Islands, with almost as many endemic species here including rare birds, unique bats and Christmas's biggest claim to fame, the red crab migration.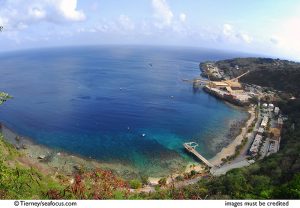 Day 1 and we set aside the landside temptations and headed out to sea. Just a few minutes from the dock, our boat was surrounded by an enormous pod of Spinner dolphins. We slid into the water to see hundreds, certainly more than we could count. A group of males were trying to mate with a female, a mother suckled her babe and a young male played catch with a plastic bag. The bag was disturbing but watching him toss it from his nose to tail with such glee almost mitigated its presence.
On to our first dive site at Perpendicular Wall; we descended and were promptly overwhelmed as the visibility was crystal clear and the corals breath-taking. Giant fans grew in parallel rows catching the light like solar panels and pointing out into the blue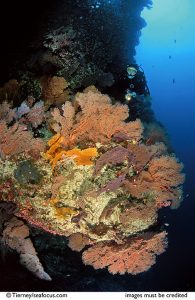 towards grey reef sharks, schools of jacks and midnight snapper. Up in the shallows small cluster bommies revealed colourful Christmas tree worms and the native giant hawkfish.
We ended the day wondering if all this was just a fluke, if a day of that calibre could happen again? We soon knew it could as almost every moment on or under the water was full of beauty. One of the most captivating dives was Thundercliff perhaps because it was a dive, a swim and a walk all in one. We descended into a sandy channel, swam into a wide mouthed cave and were mobbed by several hundred silver snappers. Our guide led us back into a dark cavern where we surfaced to admire stalactite formations before descending into another narrow passage. This led to a second, much larger cave, with cathedral-like structures. We swam to a beach, climbed onto some rocks, and demitted. Our next treat was a walk through the cave to a small pool of brackish water. Inside the pool is a rare red shrimp (as yet not named) that was attracted to our torch beams, plus a secret inhabitant that no one knows about until they've been.
Many divers are wary of cave diving but they are a remarkable – and safe – feature here. Coconut Point is another multi-faceted site that starts on a flat, hard coral coated reef with countless pyramid butterflyfish, Indian triggerfish, hawkfish and angels and the rare gold spot scorpionfish. A sheer wall drops past 60 metres, and we could see all the way down to where the sharks and tuna were hanging out. We diverted to a huge cavern with two openings. The light inside was bathed in an eerie glow that highlighted massive rounded rocks near the back of the cave. Shining torches about, we saw the most enormous lobsters nestled in the crevices.
Later, we had another major snorkelling event with some bronze whaler sharks. We peered at them from the boat until the guide asked why we weren't in the water. Grabbing our masks, we slid in to find three inquisitive sharks swimming right up to our faces, almost bumping into us. We were assured that they were simply curious.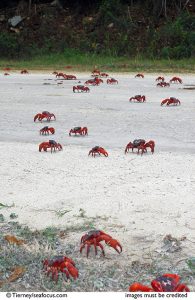 The bigger animals and impressive marine geography monopolised our time, yet there are some great critters. In Flying Fish Cove we spotted octopus, leaffish, puffers and strange jellyfish. A few hundred metres offshore, the bommie at Kelana's Mooring is where an endemic dragon moray hides amongst at least five other types. He takes some spotting but is a stunningly beautiful creature.
The island was definitely proving to being one of the most incomparable dive experiences we have ever had, but the rainforest and wildlife was waiting. Every afternoon, we drove to a different area to see amazing waterfalls, rocky blowholes, dense rainforest, countless birds, bats and crabs. We saw so many of the indigenous species here, especially the birds – the Golden Bosun, Abbots Booby, the Christmas hawk-owl and the Goshawk. And of course, there's the famed crabs! With 20 or so different species, there are simply everywhere you go – from the immensely naughty robber crabs, who literally do just that (don't put your backpack on the ground if you want to keep it!) to Ghost crabs and blue crabs. However, it's the red crabs that get the most publicity. Every year, around October (give or take a month) literally millions emerge from the forests to march down to the sea to spawn. A few months later the new-born crabs make their way back onshore and return to the rainforest.
And there's more, so much more, on this island, from beautiful beaches to quirky townships that display a mix of old colonial and modern Asian influences. The phosphate mine is still in operation, but was recently refused permission to expand. After many centuries of mankind pilfering from this incredible environment, priorities are slowly changing with a stronger focus on the wildlife. The majority of the island is a national park with many ongoing conservation projects including checking the reefs for bleaching and coral spawning, monitoring whale sharks that migrate through and protecting nesting turtles. There is even a successful breeding programme for the native Lister's gecko, previously thought to be extinct. The island takes great care to clean up plastic debris and old fishing line both on land and underwater.
We have been to Christmas Island twice now and count it as one of our best experiences – ever. OK, so dive facilities are minimal, although immensely professional, and accommodation options are few but comfortable. It's a rare and unusual destination but for divers who want the best that the world's islands and oceans can offer this, may well be it.  Well, it was for us.
Getting There
Flights departure from Perth (twice weekly) currently, also from Jakarta and from Kuala Lumpur but schedules of flights change frequently.
Diving Conditions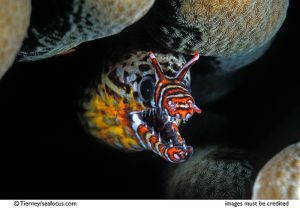 With no fishing industry and few divers, the only adverse effects are natural. The island is the tip of a huge volcanic mountain that rises from the 3,000 metres deep Java trench. Visibility is outstanding, sometimes over 50 metres.
More Information
The Tourism Association is www.christmas.net.au. Book The Essential Christmas Island Travel Guide by Beth and Shaun Tierney is available on the island or online.
Dive Operator
Wet'n'Dry Adventures         divingchristmas.com
Extra Divers                        extradivers-worldwide.com
Both will assist with accommodation bookings.