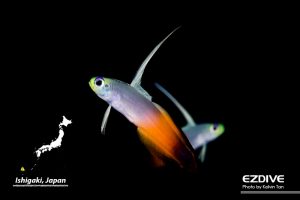 Ishigaki Jima (jima means island in Japanese) is situated in southern Japan being the main island of the Yaeyama Islands. It promises to be one of the best critter photography destinations in the country.
Text: Kelvin Tan HY
Photos: Marine House Seasir
If you have ever wondered where most typhoons start in Japan, well, this is the place. Having said that, the island is prepared even for a super typhoon; all windows are double glazed so indoors is absolutely safe when the 'time' hits. Ishigaki is also the birthplace of wagyu beef and locals believe they have the best beef in Japan and suitable for fresh sashimi.
Ishigaki is the only urban centre in the Yaeyama Islands, the site of the region's major airport and ferry terminal, as well as of lots of hotels, shops, restaurants and bars. There are several nice beaches with snorkeling and diving in the surrounding coral reefs. The snorkeling is good at nearly every beach, while diving is offered through the numerous dive shops with trip for all experience levels.
I took part in an event trip hosted by Marine House Seasir, where 20 photographers from China met to exchange ideas on underwater photography for a week. Before arriving in Okinawa for a short transit, I was greeted by a typhoon, which meant I missed all my connecting flights despite there being 3 flights daily to Ishigaki. Backup accommodation was arranged and everything was rescheduled in just 30 minutes.
Arriving in Ishigaki a day later than scheduled, it was all bright and sunny. The excitement and adrenalin rush for island life began with no further signs of the passing typhoon. Diving here is not resort style; everyone checks in at a regular hotel and the dive operator picks divers up from their hotel lobby every morning. It's a different style from the resort destinations I have visited.
On the next diving day, my group of eight met in the hotel lobby to start our itinerary and underwater photography. We were greeted by the local dive staff of Diving Team Unarizaki and were whisked off to the vans waiting to pick us up at the pier. From the hotel I stayed in, it was only a 5 minutes drive to where most dive boats were parked. On board, everyone started to fit their own equipment on their air tank; people who are used to Asian-style service, will see the difference in Japanese diving culture. Here, everything is self-service and after setting up, all equipment must be placed neatly in position with each diver having his or her own slot. I must say it is very neat, tidy and well organized. The dive boat was a big double-deck vessel that held 20 of us excluding the local dive team. We were all using big DSLR cameras plus we had four drone sets. Even with the mass amount of equipment on board, there was still plenty of space to walk around. There is a compressor on board, which the team helped fill after the dives.
Ishigaki is not so open to foreigners; English is not widely spoken and the Japanese are generally concerned about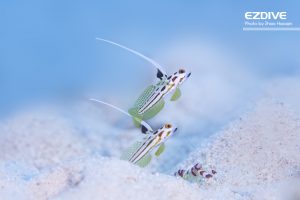 language communication barriers. Luckily for us, the Marine House Seasir staff are well versed in English and Chinese so all our dive briefing was translated from Japanese.
A typical diving day would start at 8am, with lunch served in bento boxes between dives. Usually the boat would travel out for about 30-45 minutes to the dive sites and complete the dives before returning to mainland. With two dives, our schedule would end around 2pm, while 3 dives would end about 5pm. The dive boats from Ishigaki would even go as far as Iriomote on the opposite island if requested.
Diving in Ishigaki is probably estimated to be 70% macro and 30% wide angle. Mantas are commonly spotted at those dive sites that have cleaning stations. Almost 60% of dive sites that we visited during the event had a backdrop of hard corals. In the winter months, the temperature averages 20ºC and summer is about 28ºC.
The dive sites we visited during the trip is were:
Day 1  – Taketomikita and Bitarounone
Day 2  – Mitsuishi and Oganzaki Toudaishita
Day 3  – Kuroshima and Ryugunone
Day 4  – Middle Book for two dives
Day 5  – Minokasago Kyuden and Manta Scramble
Among all the fantastic dive sites, my favourite was Middle Book, where I did two dives at 90 minutes each just to shoot the Yasha Goby (Red-striped goby), Shrimp Goby and Garden Eels. These were everywhere beneath the boat anchor point. This site is 11 metres deep on average, with a white sandy bottom only a little coral spaced far apart. It is a sheltered area with no current, making it perfect for long dives. I waited patiently for the gobies with their resident shrimp to appear from their hole, and I saw shrimp walking around the sandy bottom as though there were on a shopping spree. From what I observed, it seems they had no predators in this site; the whole sea floor was filled with holes about 10cm apart and in each hole was a family of gobies  – either Yasha gobies or shrimp gobies – and most had a resident shrimp with them. They were impossible not to spot.
Visibility on average was about 15 meters during my visit. Due to the previous passing typhoon, the sand was all churned up and strong winds were a factor when our team members were flying a drone on those few days when it was possible to get some fantastic aerial shots.
Some common and abundant subjects in Ishigaki included dartfish, garden eels, blennies, glassfish, anthias, dottybacks in different colours, cardinal fish of different kinds, anemone fish of different kinds, coral crabs, mantis shrimp, hermit crabs, manta rays and, of course, the Yasha gobies and shrimp gobies with their partner shrimps.
Summer has the best diving conditions, but is affected by typhoon season. In winter, you would find a whole range of different subjects due to colder waters. The plus points of diving in Japan are the quality of food and restaurants and it is very clean country, almost litter free. This means that it is almost impossible to find any rubbish underwater. It's the place where every season has different attractions.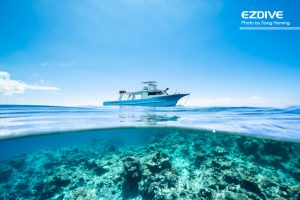 Getting There
Direct flights from Tokyo, Hong Kong, Shanghai and Taipei to Naha Airport in Okinawa take about two to three hours. There are three flights from Naha to Ishigaki every day.
Language
Japanese is the native language in Okinawa, Popular tourist spots, airports and usually have local information available in English, Chinese and Korean.
Currency
Japanese Yen (¥ – JPY). Credit cards are accepted in most areas.
Electricity
The voltage in Japan is 100 Volt, which is different from North America (120V), Central Europe (230V) and most other regions of the world. Japanese electrical plugs have two and non-polarized pins.
Dive Operator
Marine House SEASIR – www.seasir.com