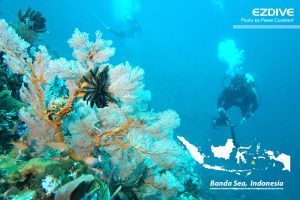 Despite the threat of Gunung Agung's imminent eruption, the Balinese Gods were auspicious and my flight to Timor went according to plan. I was heading towards Damai II, a beautiful wooden two-mast sailboat that would carry me from West Timor to the 'Forgotten islands' and then Triton Bay at the far end of the Banda Sea. What could possibly be more alluring for a diver in search of excitement?
Text and Photo | Pierre Constant
Our journey stared in Kupang, an important port and trading point in the Portuguese and Dutch eras, when the two colonial powers fought to control the spice trade in the 17th and 18th centuries. Kupang was also the final destination of Captain William Bligh and the survivors of the famed Mutiny on the Bounty in 1789. This distant Indonesian region sits over a complex geological area that is a significant part of the Indo-Pacific Ring of Fire. Our route would traverse 1,433 kilometres from west to east, taking us past a chain of small islands – the Forgotten Islands – that are all volcanically active.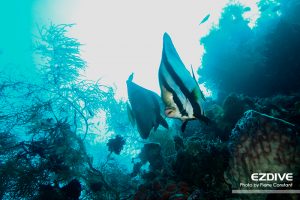 It was October, the beginning of the summer season. However, our first dive was a bit of an awakening when we were told, 'water temperature of 22°C expected…' Holly smoke! My 5mm wetsuit shorty might be insufficient. We approached Treweg Island as a pod of dolphins crossed the bow. Underwater, the swell and current were annoying, and visibility low, although there were many seafans and tubastrea with swarms of orange anthias. A ravishing black velvet angelfish caught my attention then Adri, our Indonesian guide pointed out a host of nudibranchs. The water temperature was 24°C after all, much more acceptable!
Our next dives at Beangabang on nearby Pantar Island alternated between small walls and muck diving on a volcanic slope where creatures included sea pens and tube anemones with cleaner shrimps or tiny crabs. A school of blue spot mullets passed by followed by bluefin jacks on a hunt. That afternoon, we walked ashore to visit an isolated village in a barren volcanic landscape. Inhabited by elderly people and children, a catholic church stood tall amidst a cluster of broken wooden houses. The atmosphere is like a ghost town, with goats and baby pigs roaming on volcanic sand or the cobblestone beach.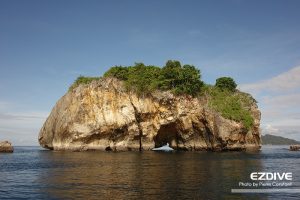 Sailing up the Pantar Strait before sunrise, everything seemed dry and burnt by the sun. Vegetation is sparse along the shoreline, but some trees nevertheless dot the slopes. Three white crosses are erected at Crucifixion Point, our dive site. The northward current still brings upwellings from the south but the water is slightly warmer. The wall was covered in soft corals, gorgonians and barrel sponges, typical of volcanic substrates. A little school of tuna flashed by, followed by neon fusiliers and Randall's fusiliers. Mandarin Wall, off Pura Island, has similar life, but also revealed oblong rattan fishing traps, weighted with stones. These are regularly collected by locals in their outrigger canoes. Later, at Pak Jan's village, it was all about rhinopias sightings – a reddish one, a pinkish one, a beige weedy scorpionfish and a yellow one with white specks. This bonanza of excitement was topped by a facetious mantis shrimp.
We departed for Wetar Island, east of Alor. The Banda Sea there is like a lake. 'This is the only time to sail these waters!' confesses Mus, our captain, 'otherwise the sea is pretty rough.' Damai stops in front of Reong, an uplifted coral islet looking like a Chinese hat with a flat top. A number of small caves are noticeable in the limestone at water level and the reef top gives way to a wall ornate with whip corals and a variety of sponges. Surprisingly, some of these were spawning with a cloud of sperm rising above like a fume. The water temperature had risen to 29°C, heaven at last!
Our next dive site was near a river mouth known for its infamous crocodile population. A pinnacle named Larry's Tower (after dive pioneer Larry Smith) was absolutely enchanting, plummeting vertically from 12 metres beneath the surface to near 40 metres. The marine life was spectacular, with everything from gorgonians and soft corals to schools of fusiliers, triggerfish and snappers. Two orange rimmed batfish zoomed in for a close look at us and back at the top, I found an exquisite colony of red and black anemonefish.
Our journey continued past a plethora of beautiful island sights – and sites! Each stop seemed to have a different and unique experience. At Nyata Island, a silvertip shark zoomed in on me at 35 metres, leaving me in awe. This beautiful fish certainly enlightened my dive! Due south of Damar Island, at Terbang Selatan, a slingjaw wrasse had me in hot pursuit. Nils Desperandum was a bit of a shock with no land at all, just a mere sandbar glittering in the morning light. We bypassed this to head straight out into the blue. A lone hammerhead shark swam by so we kept going until finally, a wall of hammerheads materialized in front of our eyes. Breathtaking! The visibility was low, and the hammerheads gone as fast as they appeared, but we were rewarded by another silvertip, coming from deeper water. What a spectacular shark that is. Keke Island is covered in green jungle. The drop-off had strong current and large school of bigeye jacks in mating display, black males and silvery females swimming side by side. Sperm and eggs were actively dispelled in the water. Quite an entertaining experience.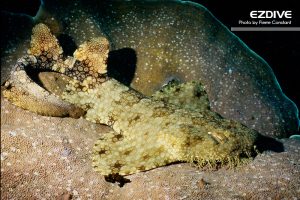 In my opinion, our next stop at Manuk Island was the highlight of this trip. Cone-shaped with a concave top, it's lush forest teems with colonies of brown boobies, red-footed boobies and lesser frigates. We were amused by inquisitive brown boobies checking Damai upon arrival. Underwater, the enchantment continued with the presence of literally hundreds of Chinese sea snakes. About a metre long, they are banded light brown and pale blue and seen foraging in every hole, getting together in knots, undulating in mid-water and even sneaking between your legs playfully. Although they are known to be highly venomous, they are not aggressive and go about their snake business hunting over the reef, coming up to the surface to breathe then returning to the deep, to sleep between the rocks.
Slightly north, Bui Island's sea mounts take us back to the theme of reefs decorated in soft corals and sponges and ringed by untold numbers and varieties of schooling fish. A chance encounter with a honeycomb moray is followed by that of a juvenile hawksbill turtle. A few divers even sighted a giant manta ray.
Early one morning, the dark coast of West Papua appeared backed by the Kumafa Mountains with peaks between 1,400-1,500 metres. Visible from a distance, a two armed waterfall is spilling out of a forested cliff straight into the sea. 'We'll be going there later, kids, for a cold water shower!' beams Andrina before sending us to dive at Mommon seamount. Another harvest of surprises included a hammerhead cruising at 35 metres followed by a majestic manta over the reef, Spanish mackerel and a large school of bigeye jacks in their timeless dance.
The black limestone coast is coated in pristine jungle with many adjacent small rock islands. We dived around these and in sandy channels to admire gorgonians, red whip corals and soft corals beneath overhangs. There were Napoleon wrasse and various angelfish, including the black-striped angel. A short way south is Namatote Island, where Andrina had negotiated access to a 'bagan' or traditional fishing platform. These have become an attraction for divers as they are used to attract whalesharks. With 20 bagans in the vicinity, we were lucky to have two whalesharks visit ours. One of our group was bumped unceremoniously – but comically – as he approached a whaleshark from the front. Hilarious! It's easy to forget that whalesharks have very poor vision.
French navigators, were among the first Europeans to explore this coast towards the end of the 18th century. However, the Dutch established the first settlement following a small expedition by the corvette 'Triton' and the schooner 'Iris', on what is now Triton Bay.
Triton Bay's incredible marine biodiversity was initially revealed when renown ichthyologist Dr. Gerry Allen recorded an amazing count of 330 species of fish on one single dive. Over 20 species of marine life were new to science, including the endemic Triton Bay bamboo shark (alias walking shark) and the Triton Bay flasher wrasse. The huge amount of freshwater flowing into the bay from the mainland contributes to the bay's high endemism; consequently it was declared a Marine Protected Area in 2008. Dive sites are mostly just outside the bay, along the Iris Strait and at Aiduma Island. Damai spent 3 full days in the area, with dives from Little Komodo in the north of Aiduma to Dramai Rock, off Dramai Island.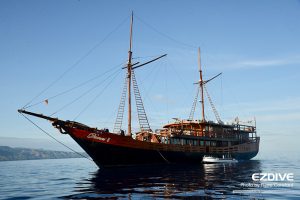 Little Komodo is an underwater snowy experience. As the name suggests, conditions are similar to those in Komodo. The prolific marine life includes soft corals, to schools of bigeye snappers, silver and ribbon sweetlips, even gold spotted sweetlips. The occasional tasselled wobbegong shark is also spotted at the base of boulders or under overhangs. Other parts of the Iris Strait have an abundance of black coral bushes that are white and resemble a winter landscape. These act as cleaning stations for many fish. Large black winged oysters attach themselves like fruits to the stems of black coral.
As for the elusive Triton Bay bamboo shark, nocturnal and rather shy by nature, I am sad to report a total 'no show'. To my great despair, of course, but as the story goes and closes, would it not be a nice excuse to come back?
Getting There
The international airport in Denpasar, Bali is the preferred gateway to Flores and the Makassar airport in Southern Sulawesi to Jamdena. Bali and Makassar can be accessed via a number of international hubs, such as Singapore and Jakarta. Garuda, Lion Air and Wings Air are regional carriers.
Visas
Visas are usually valid for only 30 days from date of issue and cost $25 U.S. per person.
Language
Bahasa Indonesia is the official language.
Currency
The Indonesian Rupiah.
Electricity
220 volts AC, 50 Hz, with outlets that use Australian style plugs.
Dive Operator
Dive Damai             www.dive-damai.com