In Dahab, colourful coral reefs meet a relaxed lifestyle. In this small desert town on the Sinai Peninsula, visitors immerse themselves into the clear depths of the Red Sea and the warm Arabic culture.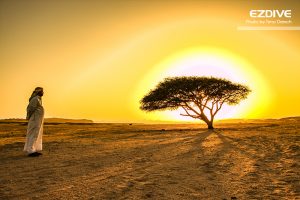 Text | Timo Dersch
Photo | Timo Dersch & Livio Fakeye
Free of gravity, we are floating over the shallow reef. Light beams from the surface dance like the reflections from a disco ball. A big octopus is sitting on a hard coral block peeking at us. Slowly his huge pupils follow the movements of our fins. We are diving through his garden – an extraordinarily beautiful garden. Colourful coral blocks stretch as far as the eye can see. Between, there are several sandy patches with something new to discover at every block you pass. A blue spotted stingray is digging for food in the sand.; he does not seem to notice us at first. A porcupine fish hides under the umbrella of a table coral; he saw us for long before we noticed him. And, as we approach a perfectly-shaped anemone with orange-coloured tentacles, the two clown fish that inhabit it become very excited trying to keep us away from their homes with hectic fin movements. Next, a school of Yellowtail barracuda passes and the dive is perfect.
'Welcome to Dahab, Habibi,' says Ahmed as he serves fresh lime juice. If Egyptians like you, you become a Habibi. Literally translated, it means 'cutie' but is used for both males and females. You quickly recognize the warmth of the population, which can be found throughout the whole country. But one thing cannot be found all over the country, and that's Dahab's special vibe – it is unique, different. In Dahab you do not sit in a desert hotel complex, you walk out the door and stroll through an oriental city with a bazaar, cafes, restaurants and beach bars. It feels like you have landed in a little enclave – a country within a country. A country in the country in the desert. For visitors putting their feet on Egyptian ground for the first time, this may not seem anything out of the ordinary. After all, at home, if you go out in the evening there are bars and restaurants. But if you have ever been to the South Red Sea or other parts of the country, you will know how isolated hotel life in the desert can be, and how little freedom there is.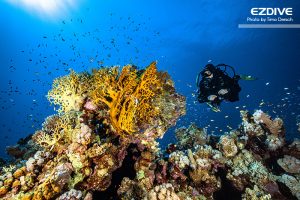 Not so in Dahab, here you can move freely and unabashedly. There are bike and motorbike rentals, which is not very common, because normally you would not know where to go in the desert. This freedom is appreciated amongst Egyptian tourists, as well as visitors from all over the world. The former Bedouin village near the lagoon has grown into a pretty little tourist town but it doesn't feel artificial. Shopping malls, water parks or McDonald's have never been seen here. Dahab does not want to be a second Hollywood in the desert like in Sharm el Sheik or Hurghada. Tradition has never left, coexisting harmoniously with visitors. A mosque next to a hipster cafe. A goat herder next to the beach promenade. And a real desert oasis, next to a quad bike rental.
Dahab life is so relaxed it's hard to believe that things still work, but they do. Taxi drivers are on time. There are no traffic jams. And the dive operations run smoothly and efficiently, especially at Aquanautic Dahab. German owner Hans Lange has years of experience working with local residents and he attaches great importance to his quality standards: punctuality, safety and customer-oriented service. His base has been around for 13 years, but recently became part of the successful Aquanautic franchise.
Hans also focusses on environmental sustainability and founded the NGO, EECAA, which is committed to a clean Dahab and a more eco-friendly diving approach. This is why the Dive Centre has a marine biology research station where university groups and scientists can research and exchange ideas because, on their doorstep, lies nothing less than the Red Sea, unparalleled with its hard and soft coral gardens. "The coastal reefs of Dahab are healthy and intact so, at crowded places like the Blue Hole or Bells, we have to be careful that they do not suffer too much from tourism," says instructor Simone Fraas. She is involved with the NGO and wants to initiate an environmental label to promote diving schools that follow the organization's guideline standards. In addition, they regularly organize beach and reef clean-ups. Dive guides from all over Dahab get together to free the reefs of trash. "Here in Dahab you hold together. It's a community in which we all know each other." She adds.
The small desert town is best known for the world famous 'Blue Hole' that drops straight down from the reef-top to a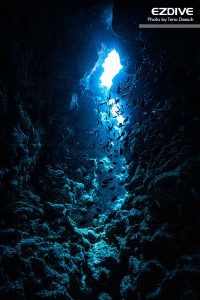 depth of 92 metres. At 55 metres, an archway leads out into the open sea. The hole attracts freedivers and scuba divers alike who all want to see the famous arch and the open sea beyond shimmering in the mystical blue. Many other Dahab dive sites are just as exciting. Wherever you enter the sea, you can expect a colourful coral paradise and, apart from the Blue Hole, none are crowded. An absolute highlight is the dive site Ras Abu Galum. There is no road to the protected area so you reach your dive by camel – the gigantic desert horse carries the diving equipment without a grumble. If you want, you are even allowed to ride it. "But be careful – hold on tight, or you'll slip off the saddle quickly," laughs Simone.
If you are lucky, dolphins or a turtle will join you on the dive. But even without them, the colours and shapes of the hard corals make every dive a very special, unique experience like from a picture book. The variety of fish life is stunning: clownfish, lionfish, scorpionfish, stonefish, barracudas, puffers, moray eels, groupers, damselfish – all are not uncommon on these reefs. The macro life pleases even experienced divers – nudibranchs, crabs, sand eels, tube worms, seahorses and all kinds of small animals to discover. You only need a good eye and patience while searching. With a total of 35 different dive sites there are enough spots to never repeat a dive.
At the end of every trip, it's a nice finish to treat yourself to a desert dinner. The Bedouins take you to a remote desert valley in the mountains. While the campfire is crackling, Bedouin tea and traditionally prepared chicken with rice, chickpeas and vegetables are served. A piece of the sand-baked Bedouin bread and the meal is complete. Under the sparkling starry sky, you dream about a journey through time in 1001 Nights, while the eyes of the desert fox are already peeking out from behind the rocks, waiting for the leftovers of the feast.
Getting there:
Many international airlines, like Turkish Airlines, Emirates and EasyJet fly to Sharm El Sheik Airport. From there you take a taxi to Dahab. The ride takes one and a half hours. The dive centre organizes shuttle buses.
Language:
Arabic. English is widely spoken.
Currency:
Egyptian Pound (EGP). 1 USD = 17.1 EGP
Electricity:
Northern European standard 220 V frequency 50 Hz
Dive Operator:
Aquanautic Dahab/Jowhara Hotel – aquanautic-dahab.com