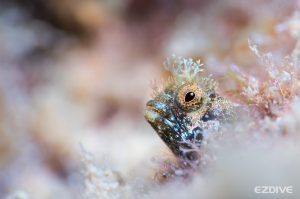 I ascend to the most spectacular scene in front of Pitons – two imposing volcanic spires – a UNESCO World Heritage site and symbol of Saint Lucia. Located at the base of the Petit Piton, is one of around 20 dive sites in Saint Lucia, all located along the sheltered western coast.
Text and Photo by Jade Hoksbergen
As a destination that seems to attract honeymooners, I have fallen in love with Lucia. More precisely, I have fallen for the wonderful collection of macro critters it has to offer after diving its waters for a year. I moved to Saint Lucia to close the distance with my fiancé, who was working as dive manager at a new dive shop based at the northern end of the island.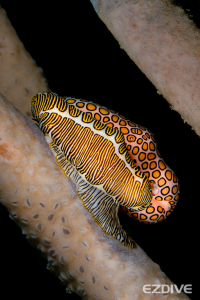 It was in Saint Lucia that I discovered my penchant for two things: blennies and macro photography. Research suggests that the Caribbean sub region houses the greatest diversity of western Atlantic blennies – there are as many as 127 species in the region, of which 103 are endemic. Blennies are a fantastically diverse group of bony fish. To add to their cute factor, blennies come in small packages, measuring only an inch or less in length!
My fascination with blennies grew as I started experimenting with underwater photography. Observing them through the macro lens made fish-stalking all the more satisfying as it seemed to magnify both their size and character! Their ornaments, bold color patterns and gallant courtship displays are some of the features that leave me gripped. The most intriguing species of blenny in Saint Lucia are of the tube-dwelling variety, typically found living in vacated worm burrows.
The spinyhead blenny is virtually guaranteed on pretty much every dive. These green, googly-eyed gargoyles are extremely territorial. Other species of blennies to look out for are the sailfin — recognizable for its distinct dorsal fin which tends to be larger in males, the red banner — a black blenny sometimes seen flashing its red dorsal fin like a flag (what an attention seeker!), and the more elusive Medusa blenny — distinguished by its speckled iris and the deeply branched cirri on its forehead which resembles a crown.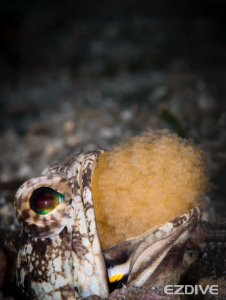 My personal favorite however, is the fascinating yellow-face pike blenny. They have elongated bodies, oversized jaws, and a samurai-like dorsal fin. One afternoon, in pike blenny territory, I witnessed the extraordinary courtship ritual of this species. This involved the males flaunting their prominent dorsal fins, bobbing in and out of their tubes at high velocity, and extending their jaws like underwater dragons whenever a female ventured close. Their desperation was apparent and I could almost hear them scream, "Pick me! Pick me!"
Keyhole Pinnacles is perhaps the island's most famous and visually impressive site and a must-do for visiting divers. The site comprises four volcanic peaks which rise from the depths and seem to mimic the famous Pitons on land! The site is also a haven for moray eels such as the spotted and goldentail species. They reside here in abundance, sheltering within the nooks and crannies of these volcanic peaks. Although they can be seen in many of Saint Lucia's dive sites, they seem to be particularly thriving at Pinnacles and are among the largest I've seen!
If you're a fan of turtles and keen to test your luck, Turtle Reef, located in Anse Chastenet, north of Soufriere, is a crescent-shaped plateau which drops off to a bottom of seagrass and sand. Keep your eyes peeled on the impressively large barrel sponges as you might just find a green or hawksbill turtle napping in them! Look towards the bottom of the sponges and you might find a yellowline arrowcrab, another trademark of Lucian diving. With a small triangular body, long spider-like legs and purple claws, these guys make the simple act of feeding look comical. Look even closer into the sponges and you might be lucky enough to find gaudy clown crabs. They're less than an inch long, come in a bold array of reds, oranges, and yellows and resemble walking pieces of art.
Aboard our dive boat, captain Warren announces that we have arrived in Anse Cochon Bay, home to two of Saint Lucia's most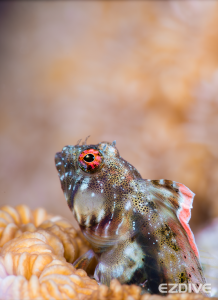 remarkable sites: Anse Cochon South and the Lesleen-M Wreck. Anse Cochon South resembles an underwater cherry blossom forest. A reef tinted by the purple and pink hues of sea plumes, this is where you can find the famous flamingo tongue. Although it is a snail, rarely do you ever see its shell as they are usually covered by a beautiful mantle, adorned with orange spots with black outlines. A less common cousin of the flamingo tongue, called the fingerprint cyphoma, can also be found here. It has been suggested that only one fingerprint cyphoma is found for every 10,000 Flamingo tongues, I didn't spend enough time counting to verify this statement, but the fingerprint cyphoma is certainly a precious find! The ultimate visual treat however, is to see a fingerprint cyphoma cuddling up with a flamingo tongue!
The Lesleen-M Wreck sunk in 1986 is an artificial reef encrusted with corals, sponges and impressive gorgonian fans, though the passage of time; attracting an abundance of marine life. There are resident reef fish, pelagic species, such as the great barracuda, occasionally come in to hunt on the schooling Boga (Haemulon vittatum), which from a distance resemble a cloud of silver glitter.
The ship itself lies upright with an open cargo area and minimal overhead hazard, which make it a wreck dive suitable for all levels. However, I'm usually guilty of spending most of my dive in the sand that surrounds the bottom of the wreck. Here, in the benthos, is where I've spotted some of the coolest critters in Saint Lucia. Down here you can find the yellow head jawfish, which come in a ghostly shade of yellow and blue and elegantly sways up and down from its burrow.
It's a cliche, but patience is key, as these ghosts can also be incredibly skittish. However, getting up close and personal with a male jawfish, mouth overflowing with eggs, makes the whole experience incredibly satisfying. Dusky jawfish also resides here and share this mouth-brooding practice.
Now I'm back living in the UK, with a hard drive full of underwater memories and consider myself lucky to have lived in such a beautiful place — it is a natural wonder both above and below water, which the welcoming, good-natured Lucians are lucky to call their motherland.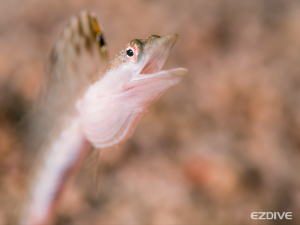 Travel info
Getting There:
There are flights to Hewanorra International Airport (located in Vieux Fort, southern tip of the island from the UK, North America, and Europe.
Visa:
Tourist visas can be attained on arrival for a 28-day stay. However, holders of UK, US, Canada, Taiwan, Hong Kong, Singapore and many EU passports benefit from a visa waiver programme. This is a useful link to check for visa requirements https://saint-lucia.visahq.com, however it is best to verify this with the relevant embassy before travel.
Language:
The official language of Saint Lucia is English and the local dialect is Saint Lucian Creole French.
Currency:
Eastern Caribbean Dollars or US Dollars. 1 USD = 2.70 XCD
Electricity:
220-240 volts AC. Electrical sockets (outlets) in Saint Lucia (St. Lucia) are the "Type G " British BS-1363 type.
Dive Operators:
Dive St. Lucia – www.divesaintlucia.com
Scuba Steve's Diving –  www.scubastevesdiving.com
Island's resorts typically have their in-house dive shop, such as Anse Chastanet's Scuba St Lucia, www.ansechastanet.com