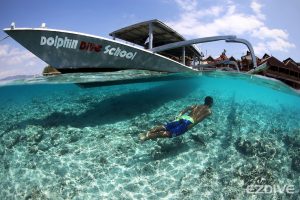 Lombok: this beautiful island is located between two of world's top travel destinations, Bali and Komodo in Indonesia. It has great diving conditions and a unique cultural heritage blending Balinese, Javanese, Buginese, and even the occasional touch of Arabian.
Text by Randi Ang
Photo by Irwin Ang and Randi Ang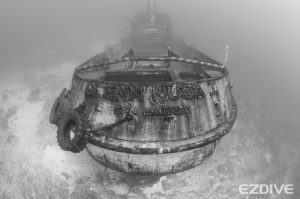 Lombok lies in West Nusa Tenggara province and is known to many as Bali's quieter cousin. The islands are a similar size but Lombok is culturally different and, despite its close proximity, has a much smaller population of just 3.3 million people. For travellers and divers, Lombok's popularity grew over recent years as an international airport opened in 2011.
Topographically, the steep slopes of Mount Rinjani dominate Lombok. At 3,726 metres, this live volcano is the highest point on the island and the second highest volcano in Indonesia. It's most recent eruption was in May 2010, which saw lava flowing into the caldera lake at its pinnacle.
Lombok is surrounded by many small islands, which are known as 'gilis' in the local Sasak language. The most popular of these are Gili Air, Gili Meno and Gili Trawangan, a cluster that lie off the north west coast collectively referred to as The Gilis. Diving and snorkeling are the top activities, but they are also a wonderful place to rest and relax with accommodation ranging from budget hostels to luxury hotels, resorts or villas.
There are three main diving areas around Lombok, including several bays in the south, Sekotong in the southwest, and the Gilis. The best season is from March to November with water temperatures ranging from 26-30°C. Diving is relatively easy around Lombok so it's a great place to get certified.
At the Gilis, there are dive sites littered around all three islands. Styles vary but there is some drift diving around Gili Trawangan, while turtles are a highlight around Gili Meno. In fact, turtles are prolific and friendly everywhere so can be seen on most dives. There are also two photogenic wreck dives, the most popular one being the Bounty Wreck.
Not far from the Gili Islands, there is a unique dive site at Kecinan Bay, on the Lombok mainland. Some dive centers call it Seahorse Bay. It is diveable most of the year and is a good location for macro enthusiasts with calm water and mixed topography: sandy bottom, seaweed, rubble and shallow reefs. The unusual Costasiella kuroshimae sea slug is often found in the shallows. This is fondly nicknamed the 'Shaun the sheep' or 'Leaf sheep' sea slug as it looks like a cartoon lamb.
On the southwest side of Lombok, the waters near Sekotong are a treasure trove of dive sites, many of them only recently
discovered. This is another ideal place for critter hunting with many small islands off the coast ringed by sandy bottoms, coral reefs and gentle slopes. Gili Rengit has two dive sites with beautiful reefs that are home to the Bargibanti pygmy seahorse. Nearby, on Gili Layar, is Will's Beach, it's sandy seabed rich with nudibranchs, crustaceans and octopus. There are several more gilis that are worth diving – Sunken Island has beautiful reefs while critter hunters will love Gili Gede, Gili Poh, Gili Lontar, and Gili Asahan.
Belongas Bay, Kuta, Tampah and Gerupuk Bay make up Lombok's third diving area. The dive sites here are all reached from the south coast, and are more varied than elsewhere. Closer to shore there are gentle slopes, walls and even a cavern at Belongas Bay. However, heading offshore, there are some challenging dives that are not recommended for beginners, as there can be strong currents and a stronger surge. Magnet Point is famous for hammerhead sharks and the Blue Hole for a cave dive. Gili Sarang is known for schooling devil or mobula rays, while the pinnacle at Cathedral Point often has lot of sea snakes. The season on south coast runs from around June to September, when the water temperature drops to below 25ºC and attracts the larger species.
The eastern side of Lombok is the most quite region and rarely dived, although some say there is potential for diving. There are many small gilis – Bidara, Kondo and Petagan in the central area, Lawang and Sulat further north. The coral reefs around this area are rich and colourful, while many coastal bays are said to be ideal for underwater macro photography…So much of Lombok is yet to be explored, only time will tell what is there.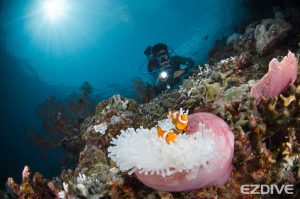 Getting there
Air Asia fly direct from Kuala Lumpur (KLIA2) 3 times a day
Silk Air fly direct from Singapore
Direct flight from Jakarta everyday: Garuda Indonesia, Citilink, Lion Air, Batik Air
Direct flight from Surabaya everyday: Garuda Indonesia, Citilink, Lion Air
Direct flight from Bali everyday: Garuda Indonesia, Lion Air, Wings Air
Fast Boat from Bali (Padang Bai Harbor, Serangan, Amed) everyday
Visas
All Asian countries are visa free for visiting Indonesia.
More details: https://en.wikipedia.org/wiki/Visa_policy_of_Indonesia
Language
Indonesian languages in local area, and basic English can be understood
Currency
1 USD = 13.300 IDR (Indonesia Rupiah)
Electricity
220/230 Volts AC 50Hz, 5 amp 2-prong with round pins plug. Consider bringing adaptors with you, although they can be purchased locally.
Dive operator
Dolphin Dive School Lombok – www.gililombokdiving.com
Odyssea Divers Lombok at Cocotinos Sekotong – www.odysseadivers.com