The brand-new year has arrived and we are getting used to our "new normal" diving routines… We have to allow more time before and after each of our crosscountry trips, start to slow down our pace and, at the same time it seems, we must learn to be patient so we can "sit tight, then assess." (Quote from the film "Don't Look Up")
In the meantime, why not assess our features in this issue? We've got the author of the Guide to Cebu , Henley, introducing you some secret dive sites in Cebu all awaiting discovery. Pierre takes you to Brazil for a taste of the mysterious caves, describing how he felt when he dived there. And Monique shows you where she lives – Pico Island – which contains rich biodiversity and raw nature above and underwater.
Before we dive in again, make sure you stay "dive fit" as Simon recommends; Alex once again shares his stunning underwater images, teaching you how to press the shutter at the right moment. For our freediving readers, Timo explains the reasons for Static Apnea and shares his tips about it.
Editor-in-Chief
Vita Liu
---
CONTENT
---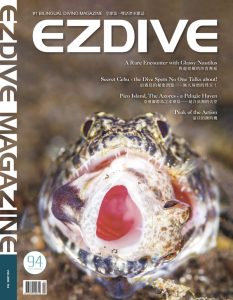 COVER STORY 
It was towards the end of a dive in Lembeh that my guide came swimming up to me, frantically gesturing for me to follow him. He duly led me to a lizardfish that had a shrimp goby in its mouth, in the process of devouring it. I quickly set my exposure and watched over a minute or so whilst it engulfed its meal. I took a few shots, but something was missing from the scene. But just before I ran out of air the Lizardfish started to apply more pressure with its jaws causing the Goby to open its mouth, as if screaming for help. These were the standout images from the sequence, capturing the Peak of the Action.
By Alex Tyrrell
---
GEAR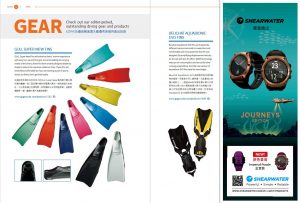 ---
INTERVIEW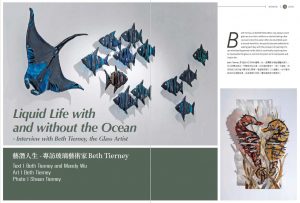 Liquid Life with and without the Ocean – Interview with Beth Tierney, the Glass Artist
By Beth Tierney, Mandy Wu
---
ENVIRONMENT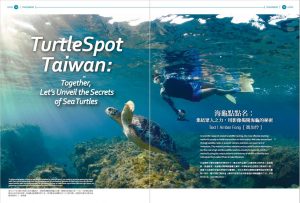 TurtleSpot Taiwan: Together, Let's Unveil the Secrets of Sea Turtles
By Chialing Fong
---
MARINE LIFE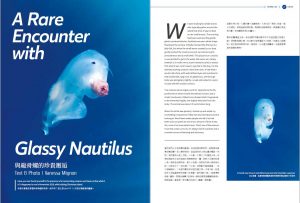 A Rare Encounter with Glassy Nautilus
By Vanessa Mignon
---
DESTINATION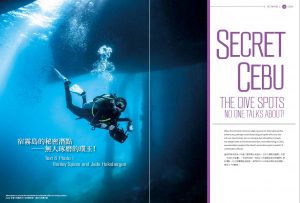 Secret Cebu – the Dive Spots No One Talks about!
By Henley Spiers, Jade Hoksbergen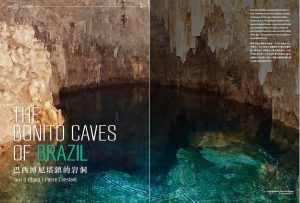 The Bonito Caves of Brazil
By Pierre Constant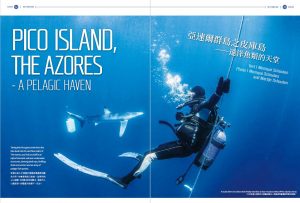 Pico Island, The Azores – a Pelagic Haven
By Monique Schouten
---
FREEDIVING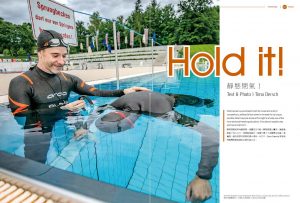 Hold It!
By Timo Dersch
---
WORKSHOP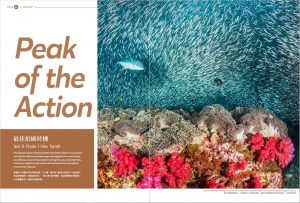 Peak of the Action
By Alex Tyrrell
---
TRAINING 
Want to Stay Dive Fit? Join the Club!
By Simon Pridmore
---
DIVING SAFETY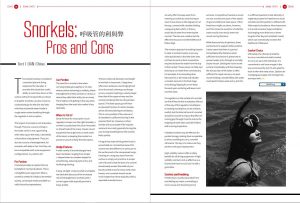 Snorkels: Pros and Cons
By DAN China
---
PORTFOLIO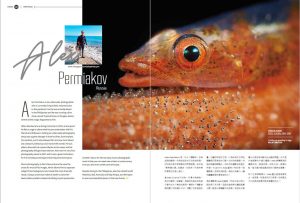 Alex Permiakov, Russia
---
EZDIVE Digital Magazine
EZDIVE is the world's first bilingual diving magazine and the largest Chinese diving portal in Asia Pacific! Distributed to 18 countries with nearly 89,000 members.
EZDIVE is the most subscribed magazine for diving professionals and divers. Since 2006, EZDIVE has built a great reputation as the only bilingual diving magazine in Asia. EZDIVE provides divers the most desirable contents including the hottest and latest gear introduction, environmental issues, interesting marine life, and of course, the diving destination.
EZDIVE is now officially online for subscription! There are four apps you can choose:
Dooland
183 Read
Magzter

Hami Bookstore
You can also download the apps in both Android and iOS app stores. (Please note there might be a regional limitation.)
---
EZDIVE Print Magazine
gogoscuba E-Commerce
Single Issue
One to Three years subscription (Six Issues per year)
Shopee
Single Issue
One to Three years subscription (Six Issues per year)
Weidian