Many of us are lucky enough to have had our two jabs (Covid-19 vaccines) now, and we are all ready to hit the road once the travel bans are lifted. But where we should go? Are those we have yearned for dive sites opened yet? Well, allow our EZDIVE contributors to give you some ideas before 2022. First, Henley is taking us to Kandooma Thila, one of the premier dive sites in Maldives, location of the world's largest population of reef mantas. Then, local professional photographer Alex endorses Richelieu Rock, Thailand as a place that satisfies both macro and wide-angle photographers. And last, La Palma in the Canary Islands is also making its debut in EZDIVE, and Timo reports on the exciting dives and varied marine life.
Also in this issue, Ipah Uid Lynn exhibits her nudibranch photos collection to EZDIVE readers while Shane explains why seagrasses are a major key in fighting against climate change. Steve shares his wreck photography tips, and most
importantly, in my point of view, Beth tells us how to get prepared before a dive trip, as safety is always the prerequisite to ensure we get to keep diving.
Editor-in-Chief
Vita Liu
---
CONTENT
---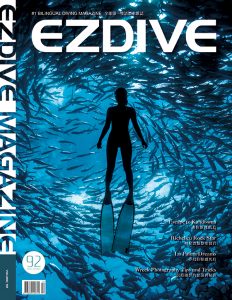 COVER STORY
It was a beautiful clear day on Balicasag Island. Perfect for diving with little current and clear visibility. As soon as we arrived, I put on my gear and started looking for the school of Jackfish. Usually, they would hang out at the Black Forest reef. So I swam around a few times, then I saw a couple of Jackfish; I followed them then there it was, the big school of Jacks. I dove in the middle of them, and when I reached the bottom, it was dark. As I looked up to shoot the model, there was a gleam of light.
By Martin Zapanta
---
BOOK CLUB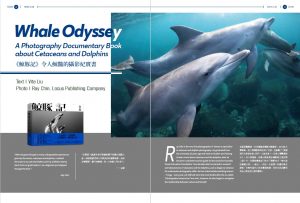 Whale Odyssey – A Photography Documentary Book about Cetaceans and Dolphins
By Vita Liu
---
GEAR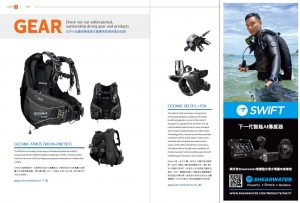 ---
ENVIRONMENT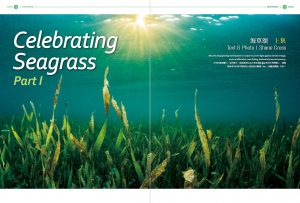 Celebrating Seagrass Part I
By Shane Gross
---
MARINE LIFE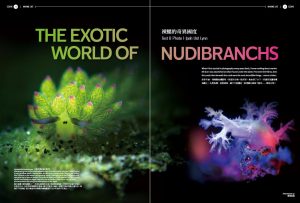 The Exotic World of Nudibranchs
By Ipah Uid Lynn
---
DESTINATION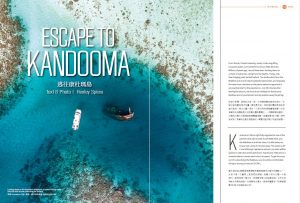 Escape to Kandooma
By Henley Spiers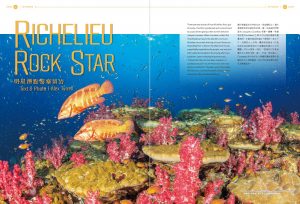 Richelieu Rock Star
By Alex Tyrrell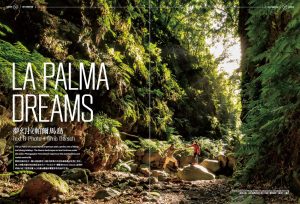 La Palma Dreams
By Timo Dersch
---
FREEDIVING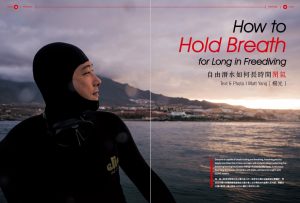 How to Hold Breath for Long in Freediving
By Matt Yang
---
WORKSHOP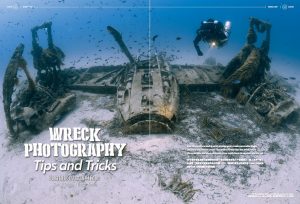 Wrech Photography Tips and Tricks
By Steve Jones
---
SPECIAL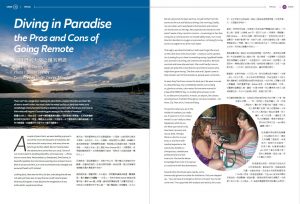 Diving in Paradise – the Pros and Cons of Going Remote
By Beth Tierney
---
TRAINING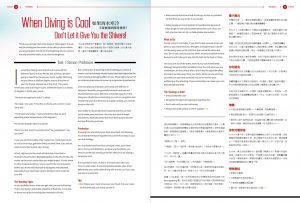 When Diving is Cool, Don't let it Give You the Shivers!
By Simon Pridmore
---
DIVING SAFETY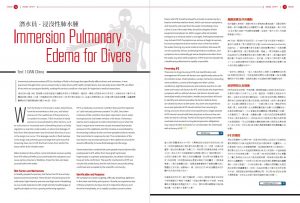 Immersion Pulmonary Edema for Divers
By DAN China
Diving Medicine Science Q&A
By Scott Smith, EMT-P, DMT
---
PORTFOLIO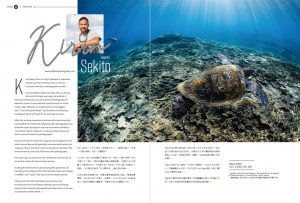 Kirin Sekito, Japan
---
EZDIVE Digital Magazine
EZDIVE is the world's first bilingual diving magazine and the largest Chinese diving portal in Asia Pacific! Distributed to 18 countries with nearly 89,000 members.
EZDIVE is the most subscribed magazine for diving professionals and divers. Since 2006, EZDIVE has built a great reputation as the only bilingual diving magazine in Asia. EZDIVE provides divers the most desirable contents including the hottest and latest gear introduction, environmental issues, interesting marine life, and of course, the diving destination.
EZDIVE is now officially online for subscription! There are four apps you can choose:
Dooland
183 Read
Magzter

Hami Bookstore
You can also download the apps in both Android and iOS app stores. (Please note there might be a regional limitation.)
---
EZDIVE Print Magazine
gogoscuba E-Commerce
Single Issue
One to Three years subscription (Six Issues per year)
Shopee
Single Issue
One to Three years subscription (Six Issues per year)
Weidian
---