In this issue of the magazine, you will get a peek at Palau's tropical vistas, the rich biodiversity off the north east coast of Taiwan and a haven for underwater photographers – Moorea in the South Pacific. I am pretty sure this is the debut for Moorea in EZDIVE and I hope you will put it on your bucket list.
As coral bleaching is getting worse every year around Taiwan, Taiwan Environmental Information Association (TEIA) started a marine conservation act for all – check it out and sign up if you are also an enthusiastic conservationist. Again, freediving guru Matt Yang shares his experiences about Frenzel equalization along with a reminder from our columnist Simon Pridmore about the importance of oxygen when diving. In addition, get well-prepared by reading the column 'Diving Safety' if you are intending to try current diving in the future.
Finally, we complete this issue with Zola Chen's artistic cetacean photos in black and white, and open the second half of this year with faith and hope for the future.
Editor-in-Chief
Vita Liu
---
CONTENT
---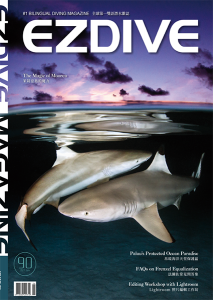 COVER STORY 
Just after sunset under the calm surface of a shallow lagoon in Moorea, French Polynesia, two blacktip reef sharks momentarily come together to create a unique composition enhanced by the reflection above. This image was achieved by using a fisheye lens, large dome port, and dual strobes.
By Renee Grinnell Capozzola
---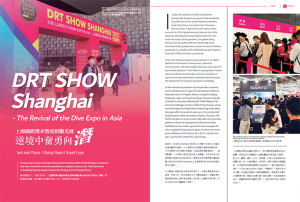 EVENT 
DRT SHOW Shanghai — The Revival of the Dive Expo in Asia
By Diving Resort Travel Expo (DRT SHOW)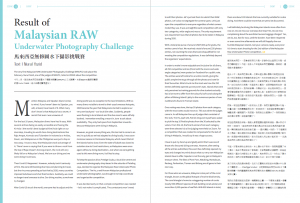 Result of Malaysian RAW Underwater Photography Challenge
By Nurul Yazid
---
GEAR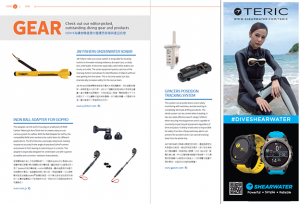 ---
ENVIRONMENT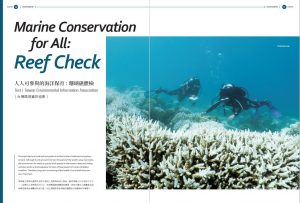 Marine Conservation for All: Reef Check
By Taiwan Environmental Information Association
---
MARINE LIFE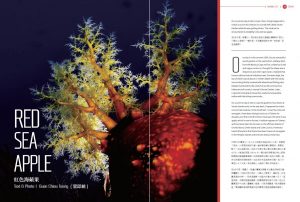 Red Sea Apple
Guan Chiou Toong
---
DESTINATION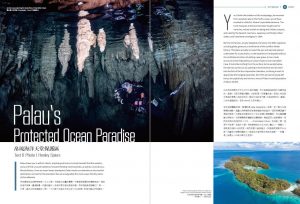 Palau's Protected Ocean Paradise
By Henley Spiers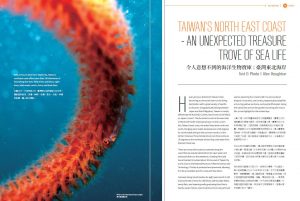 Taiwan's North East Coast – An Unexpected Treasure Trove of Sea Life
By Alex Houghton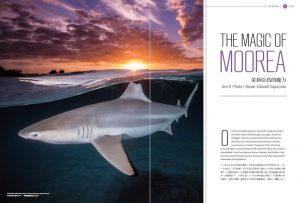 The Magic of Moorea
By Renee Capozzola
---
FREEDIVING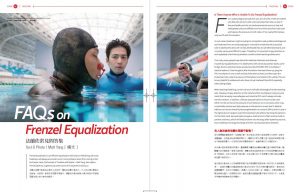 FAQs on Frenzel Equalization
By Matt Yang
---
WORKSHOP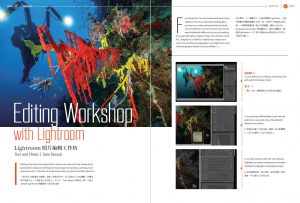 Editing Workshop with Lightroom
By Timo Dersch
---
TRAINING
This Diver Needs Oxygen
By Simon Pridmore
---
DIVING SAFETY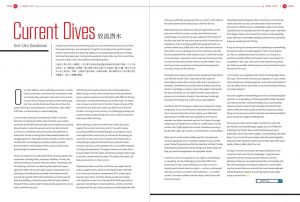 Current Dives
By Jim Gunderson
---
PORTFOLIO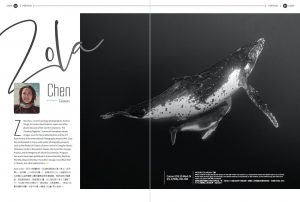 Zola Chen, Taiwan
---
EZDIVE Digital Magazine
EZDIVE is the world's first bilingual diving magazine and the largest Chinese diving portal in Asia Pacific! Distributed to 18 countries with nearly 89,000 members.
EZDIVE is the most subscribed magazine for diving professionals and divers. Since 2006, EZDIVE has built a great reputation as the only bilingual diving magazine in Asia. EZDIVE provides divers the most desirable contents including the hottest and latest gear introduction, environmental issues, interesting marine life, and of course, the diving destination.
EZDIVE is now officially online for subscription! There are four apps you can choose:
Dooland
183 Read
Magzter

Hami Bookstore
You can also download the apps in both Android and iOS app stores. (Please note there might be a regional limitation.)
---
EZDIVE Print Magazine
gogoscuba E-Commerce
Single Issue
One to Three years subscription (Six Issues per year)
Shopee
Single Issue
One to Three years subscription (Six Issues per year)
Weidian