I understand it how frustrating parts of our lives can be due to the current travel restrictions, and knowing these might not go away anytime soon. However, do not let the pandemic also restrict your imagination as well as the desire to explore more about the underwater world.
Through our breath-taking cover photo, taken by Timo, you can imagine you were there to witness Tolga Taskin set a new record (75m in 2mins, 4sec) for a breath holding deep dive under the ice. This issue also includes more freediving topics such as freediving destinations in Malaysia, freediving safety and an in-depth interview with Matt Yang, another freediving World Record holder. In addition, our diving destination reports are as exciting as ever so you can be carried away by the story along with the beautiful photos. Lastly, underwater photography master, Lin Qing, once again shares his knowledge and work with us about blackwater shooting.
No matter whether you are a scuba diver or freediver, I hope this issue brings you joy at the beginning of this year, 2021.
Editor-in-Chief
Vita Liu
Contents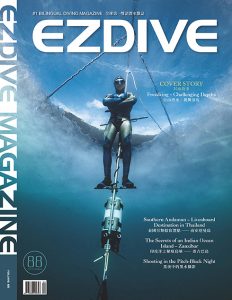 COVER STORY
In Lake Weißensee, in the Austrian Alps, the freediver – Tolga Taskin from Germany dove with his sledge down to a depth of 75 metres. There was a lot of tension in the air when the 29-year-old plunged into the two degrees Celsius cold water. Two long minutes and 4 seconds later a smiling and cheering face with a white mask popped up through the water surface in the middle of the triangular shaped hole in the ice. The safety diver slapped onto the water with joy. 75 metres is now the new limit to break when attempting a deep-dive-record under the ice.
By Timo Dersch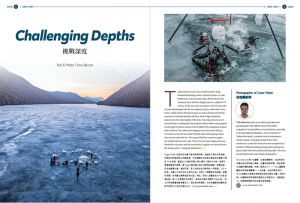 DESTINATION 
Southern Andaman – Liveaboard Destination in Thailand
By Alex Tyrrell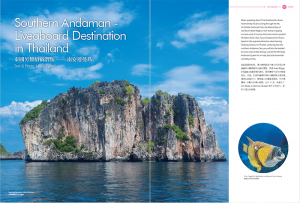 The Secrets of an Indian Ocean Island – Zanzibar
By Timo Dersch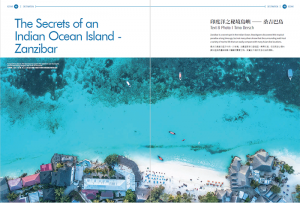 The Lusitania Disaster
By Vic Verlinden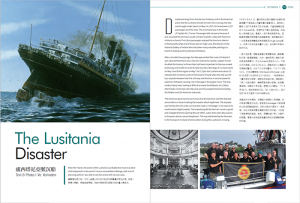 FREEDIVING 
Freediving Destinations in Malaysia
By Azua Shafii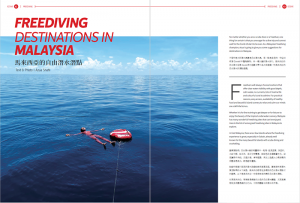 MARINE LIFE
World of Crustaceans
By Ipah Uid Lynn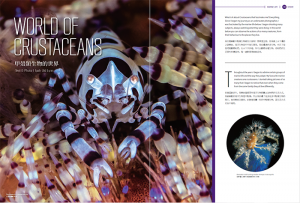 TRAINING 
Defensive Diving
By Simon Pridmore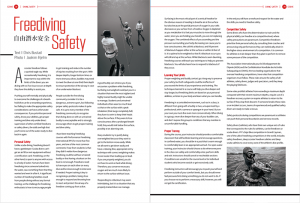 GEAR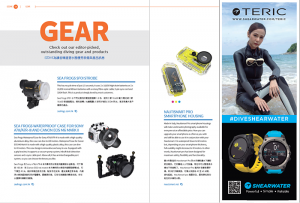 ENVIRONMENT 
Protecting Turtles at Lissenung
By Grant Thomas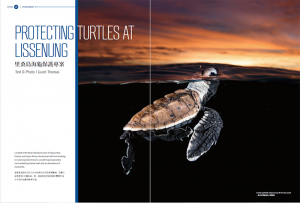 WORKSHOP 
Shooting in the Pitch-Black Night
By Lin Qing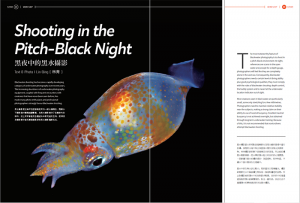 INTERVIEW 
Matt Yang: a Multi-faceted Freedving Guru
By Matt Yang and Vita Liu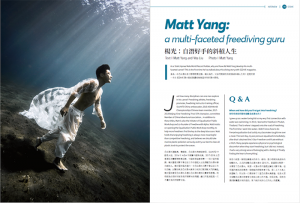 PORTFOLIO
By An Ng, Malaysia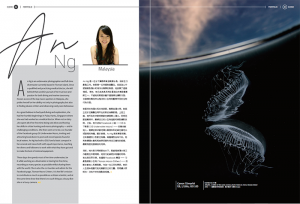 DIVING SAFETY
Freediving Safety
By Chris Bustad and Joakim Hjelm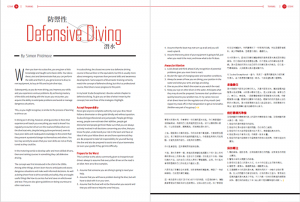 BOOK CLUB
The Diver Who Fell from the Sky
By Simon Pridmore and Tim Rock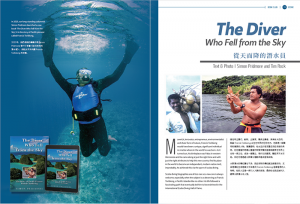 EZDIVE Digital Magazine
EZDIVE is the world's first bilingual diving magazine and the largest Chinese diving portal in Asia Pacific! Distributed to 18 countries with nearly 89,000 members.
EZDIVE is the most subscribed magazine for diving professionals and divers. Since 2006, EZDIVE has built a great reputation as the only bilingual diving magazine in Asia. EZDIVE provides divers the most desirable contents including the hottest and latest gear introduction, environmental issues, interesting marine life, and of course, the diving destination.
EZDIVE is now officially online for subscription! There are four apps you can choose:
Dooland
183 Read
Magzter

Hami Bookstore
You can also download the apps in both Android and iOS app stores. (Please note there might be a regional limitation.)