In this issue, EZDIVE is greatly honored to team up with gogoscuba in a influencers interview project. Altogether there will be four internet celebrities in diving world to share with us their stories, namely, 'Studio-3' Behind-the-Scene photographer Denny Hsieh, island traveler Lynn Mo, 'Stark Underwater Photography' founder Stark Yu, and underwater photographer Peggy Chiang. They present marine beauty in their own ways, allowing everyone to appreciate the various faces of the ocean.
Text | Stefano Wang and Kelly Lee
Photo | Denny Hsieh, Lynn Mo, Stark Yu, Peggy Chiang
---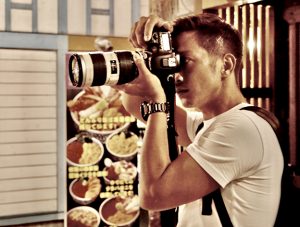 Denny Hsieh
Studio-3- Behind-the-Scene photographer
Referral Code:

seastardenny
 I will try to leave unique memories for every encounter in my job…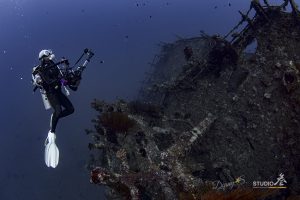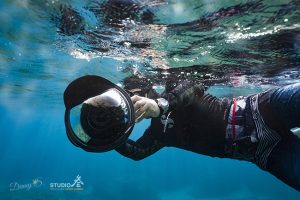 Q: Why do you turn to the underwater world after having worked as a professional tour guide for so long?
A: As a tour guide, I was always under pretty high pressure, so I needed to channel out my stress through some sport, and the extreme sport—diving was a perfect choice. My first diving experience was at Ishigaki Island. Totally overwhelmed by the beautiful scenery I had never seen before, I fell for the underwater world at once.
Q: Can you talk about your current position as a Behigh-the-Scene photographer in Studio-3?
A: My primary work is to photograph behind the scenes. I have always been fascinated by marine professionals, the intent look of whom is likewise glamorous both above and under water. There is a Japanese saying 'Friend for life', which means encounter of a lifetime, and I will try to leave unique memories for every encounter in my job.
Q: You were previously involved in the creation and publication of the book Hokkaido Tourist Guide. If you have the opportunity to publish a book about diving tourism afterwards, what would you like to write about?
A: I would like to write about Taiwan's diving environment and culture for a wider audience. I also hope that it will not just be a reference book, but tell the story of every marine professional in Taiwan.
Q: How does the experience as a professional tour guide for over a decade impact on your diving life?
A: I would look at things differently. For example, to try to understand the local culture better, I would stay a few more days and interact with the locals after diving abroad. When humanity steps in, every dive is not just a dive, but a life experience.
Q: Which dive trip abroad impress you most?
A: Every single one of them, and even the same site keeps surprising me each time. I cherish every dive, for you never know what to expect from the trip.
Q: Do you think it will be easier to be able to shop on gogoscuba before the epidemic subsides?
A: Definitely, since it is a credible purchasing channel for divers. Say if I get used to certain brand, I can just go online and place an order now, without having to purchase specially from a foreign website.
---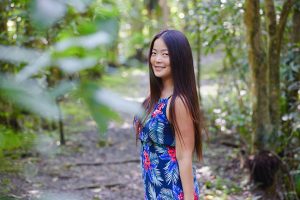 Lynn Mo
Author of Great Blue Wild in Taiwan
Referral Code:

loveocean
 Readers' concern for the ocean was what kept me going…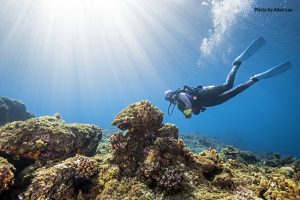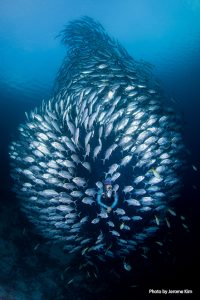 Q:What made you switch from journalism to diving and start advocating marine conservation?
A:After graduation, I worked as a travel journalist for a newspaper since 2011 and often traveled to different places to cover stories and meet different people and things. The first time I got in touch with diving was in Penghu in 2013. I had an extreme fear of water and felt frustrated, but after I forced myself into water, all the fear and frustration were dispelled by marine beauty, particularly by the stunning corals and tube worms. From then on, I was no longer terrified by the ocean and started to advocate the importance of marine conservation to the public.
Q: Last year you published the book Great Blue Wild in Taiwan. Can you talk about this experience?
A: Actually, it was Rhythms Monthly who offered to collaborate with me, a freelancer, on a book project in 2017, and I created some in-depth features and put together a book on underwater issues in 2020. The book is a miniature of my life, a record of what I've witnessed in the ocean over these years. It was an interesting experience, and I was inspired by the talks with readers in presentations I gave after the book was published, and their concern for the ocean was what kept me going.
Q:What is your opinion on the future development of the diving industry in Taiwan?
A: Diving is one of the water sports, and is now growing steadily. I love seeing more people to grow fondness of diving and then to be close and to love ocean because of diving. However, not only the diving activities are in vogue in recent years, but also the other water activities. Coming along with problems of marine zoning and management, for the sea is not diver exclusive. How to regard the environmental load and distributive use must be well-addressed in future development.
Q:The propagation of environmental issues is time-consuming and difficult. What is the biggest trouble for you?
A: Those who care always take care, but those who don't still don't care. In order to make a difference, we decided to build up strength, allowing people to tell their ocean stories in different ways, and hoping to take effect in a more comfortable and balanced way. Chen Renping, the CEO of Hiinstudio, Dylan Chen, the CEO of Taiwan Dive, and I are going to establish 'Marine Conservation' online course this summer and we hope to lead the public to know and protect the ocean together.
Q:In addition to diving equipment sales, gogoscuba has also established a platform (Dive Planet) for sharing marine knowledge, what is your view on it?
A:Thank you for your diligent work! The present-day social media generation is all about interaction. They gather online, some people posting underwater photos, others sharing their own diving experience, offer chances of creation and communication to the public, so that they will form a deep bond and attract more people. Of course, it can also help people to understand and care for the ocean.
---

Stark Yu
Founder and photographer of 'Stark Underwater Photography'
Referral Code:

domistar02
I would say the appeal of the photography is the feedbacks. It is subtle and real, and you can really feel whether the other person loves your work or not…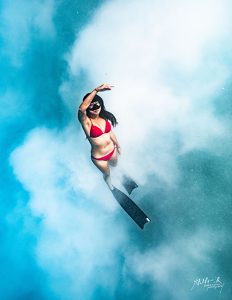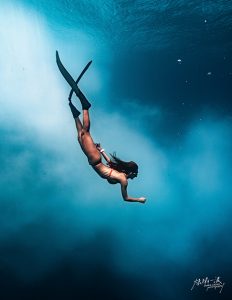 Q: As a diving celebrity with tens of thousands of followers, can you share with us the story and future plan of 'Stark Underwater Photography'?
A: The original intention of 'Stark Underwater Photography' was to help people to get greater photos, so we held many sharing sessions to teach basic retouching skills for the public. Gradually we started to guide people on photographic tours, and our team has grown bigger and bigger. Our future plan is to set up a working platform for photographers, where people can find the right photographer or customer on it.
Q: What is the appeal of photography to you?
A: I would say feedbacks. It is subtle and real, and you can really feel whether the other person loves your work or not. I purposely specialize in portrait photography, because scenery and creatures don't register on IG to give me the most direct feedback and praise.
Q: Who do you think is responsible for the shooting result, the photographer or the model?
A: Both, they are complementary. Excelled at swimming or not, anyone shooting underwater can misbehave at times, but this can be made up with post-production techniques. I want the models to feel comfortable during the shooting process, so I will take active interaction to help them relax.
Q: What is the biggest problem or frustration you have encountered so far since you have been involved in underwater photography?
A: I was just an amateur photographer at first, and realized that I still had a huge progress to be made after I came into contact with underwater photography. Later, I learned from many senior photographers and started to get to other photography equipment, which inspired me to solve problems that came in my way.
Q: What do you think of gogoscuba, an e-commerce company for diving equipment and a platform for sharing diving knowledge?
A: It's really great because I can ask or answer questions on it, and the hashtag is easy for users to search. I can also read the articles on the platform to learn more about the diving community and to open my mind.
---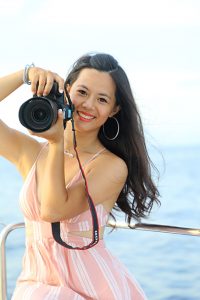 Peggy Chiang
Underwater photographer
Referral code:

wonderpeggy
I felt like making the underwater splendor known to the public…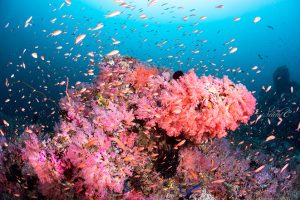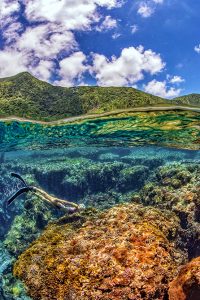 Q: How did you enter the world of diving?
A: When I was a kid, I lived in my grandmother's seaside house near Shen-Ao Power Plant. There I had a great time playing and swimming almost every day. Gradually, I found out that I was good in water and took swimming classes in elementary school. In college, I enrolled in the elective course of Open Water Diver (OW), and then went to Green Island for the Advanced Open Water Diver (AOW) course. At that time, Green Island had excellent visibility, with the soft corals in the south and hard corals in the north so breathtaking that I fell in love with the underwater world thereafter.
Q: How do you become an underwater photographer?
A: After diving for some time I felt like making the underwater splendor known to the public. So I started to experiment with underwater photography and slowly found out that it is exactly my heart's desire. In the beginning, I was just a novice underwater photographer who traveled around with a compact camera; but after that I had more opportunities to work underwater, I began to try various new kinds of photography equipment, to communicate and learn from the photographers from the underwater photography workshops.
Q: What did you learn from your recent underwater photography exhibition?
A: Before long I had my first photo exhibition with Canon. To be honest, I was flattered and honored to receive the invitation. I loved the active atmosphere of talking with people at the exhibition. Many people showed special interest in my work, and every one of them was full of ideas, which benefited me a lot.
Q: What was the most impressive shooting process for you?
A: It must be shooting a goby in Okinawa for nearly 80 minutes. At the time, I was fascinated by the way it spit bubbles, but I was unable to capture the right moment due to the limitations of my camera. Desperate from many failed attempts, I even tried to ask him to spit once more! The shooting process was quite therapeutic, and when I surfaced to check the photos, every one turned out to be a pleasant surprise, and I realized that a critter tiny as such can also be truly amazing.
Q: What kind of appeal do you want to make to EZDIVE readers?
A: The most basic you can do is to choose sunscreen products carefully or put on some clothing instead, such as hats and oversleeves. If you want to use sunscreen, please use those made of ocean-friendly materials, for certain chemicals can be harmful to the ocean and even aggravate coral bleaching. In daily life, please also minimize the use of air-conditioning, electricity, and the like.
Q: Do you think it will be easier to be able to shop on gogoscuba before the epidemic subsides?
A: Of course, it offers a more diversified way for divers to purchase underwater equipment, and its fast shipping service is quite appealing to me. With the target product in mind, you can make a convenient purchase at a good price, and collect bonus points at the same time, which, in my perspective, is the biggest advantage of this platform.
---

About gogoscuba
In order to stimulate the positive communication and development in diving industry and to offer an online social network exclusively for divers, gogoscuba was established in 2020. There are two platforms under gogoscuba including online store (gogoscuba.com) and gogoscuba wiki (wiki.gogoscuba.com).
gogoscuba E-Commerce directly collaborates with diving equipment brands, suppliers and agents so that it can bring products to customers with more compatible prices and better protections. gogoscuba now offers nearly 2,000 products from more than 50 brands, it is the largest diving equipment online store in Taiwan.
gogoscuba Wiki is an open online forum, which aims to promote diving culture by providing knowledges of ocean and diving safety. No matter you are a diving beginner, an experienced diver or a diving instructor, this is the place where you can learn or share opinions freely. Currently there are hundreds of articles on gogoscuba wiki, the content covers diving, ocean, marine life and divers' stories.
gogoscuba takes account of membership benefits. It has established a complete membership upgrading and point rewarding system. As long as you spend more on gogoscuba, you can enjoy the lower price; and as long as you publish on gogoscuba wiki, you also get points. In addition, those who are instructors or dive stores can get free membership upgrade by uploading their certificates. On the other hand, gogoscuba advocate environmental awareness. They reduce the use of plastic, the packaging process of products is simple, and they try to use recycled boxes or environment friendly packaging materials. gogoscuba is happy and will continue working with more environment friendly brands to promote the importance of a sustainability.
Based on the concept of professionalism, integrity and sustainability, gogoscuba hopes to gather diving enterprises and sharing diving resources, gogoscuba will become the link between each role in diving industry, create a more comprehensive diving ecosystem with all partners.
gogoscuba E-Commerce
gogoscuba wiki
---
Use the Referral Code to get
5%

off on gogoscuba!
---