Everything a macro photographer could ever wish for – including the ledgendary Lembeh seadragon – awaits in Anilao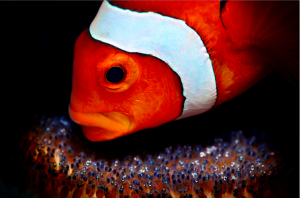 Text / Carol Lim
Photo / Dennis Corpuz
The 4th Anilao Underwater Shootout, 22 – 28 November 2016, is an annual competition showcasing the best in macro photography. Organised by the Philippines' Department of Tourism, Dive Market Development division, the initiative seeks to plant Anilao firmly on the macro dive map with 133 contestants from 17 countries registered for the event.
The 2016 competition is judged by an all-star panel of six renowned photographers including Stephen Wong and Takako Uno, the award-winning husband-and-wife dive journalists from Hong Kong; Jason Isley, managing director of Scubazoo; Scott Tuason, author of his latest book Black Water Open Blue; Greg Lacocq, 2016 Natgeo Nature Photographer of the Year and Takaji Ochii, dolphin and Pacific Islands photography extraodinare.
In over 600 entires that were submitted, "divers (have) homed in on social media to emulate the style of their favorite photographers and standards are now much higher," said Tuason.
Competition hack – How to win at photo contests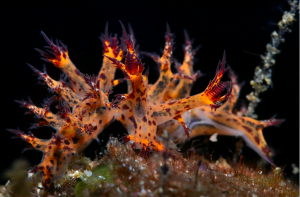 EZDIVE bore witness to the entire judging and selection process to bring you tips and quick hacks on how to impress the judges in each of the categories.
The main takeout – Do take careful consideration when submitting your photos. Make sure you pick the correct category (e.g. Too many entires were submitted in marine behavior genre that were obviously non-behavior shots).
Here are tips by category as follows:
Macro: In macro photography, lighting techniques are paramount. Since this is the most popular category, style and a unique eye for framing is the key to winning shots. Judges lamented that there was a lack of entries with soft-focusing and slow shutterspeed/open aperture.
Marine Behavior: For marine behavior entires, empahsis has to be on unique marine behavior and wildlife interaction in its natural environment. Technique and composition is key to a strong and powerful shot.
Nudibranch: There are over 3000 species of nudibranchs in Anilao, and technical details are important. The photo has to be different to stand out; it doesn't matter if the subject is rare or commonplace, the critter has to be composed well. We noticed that the judges were particularly upset and uneasy when a nudibranch portrait was cropped short at its tail.
Fish Portrait: Images have to be tight whether the fish is singular or in pairs for fish portraits. If there is too much negative space, it is not considered a portrait. Most appealing are upward shots with "eye-zor" sharp detail (the catchphrase used by judges) as the eyes draw the viewer into the portrait. In compositing portraits, judges always have the eye for 'something different" and new to the table.
Creative Macro: Lighting is the star of the show and against all urge and popular belief, photoshop is not the key to winning shots. Lighting, creative photographic techniques and background framing is what it takes to nail this category.
Portfolio: This is a prestigious genre and a means of showcasing a photographer's style; the ability to shoot more than a flukeshot photo. It also has to be diverse, yet easily recognized as the photographer's unique style at a glance (especially on Facebook). The judges seem tired of too many photos that spotted a black background.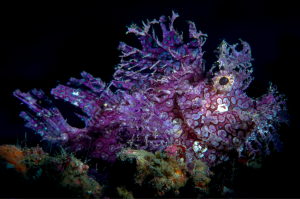 Where to find The Incredibles
With over 40 dive sites to choose from, Anilao is the perfect desintation for macro photography.
Erik Goossens, a Belgian, has been to Anilao seven times over the past four years and has never been to Lembeh. "Why should I?" said Goossens; you can find everything here."
Let's dive into three of the top sites:
El Pinoy – El Pinoy reef is a busy throughfare for boats that anchor just outside El Pinoy Dive and Leisure Resort. It does not sound like an ideal dive site, but under the waves are plenty of micro critters. This nondescript sandy substrate, with occasional patches of pulsing Xenia coral, unveil tiny flamboyant cuttlefish, halimeda pipefish and matis shrimp are on show to keep photographers busy snapping.
Red Rock – The namesake bommies here are filled with fish and interesting interactions on every dive. Cowfish head butt each other for supremacy over the reef and a mummy puffer tried deflate its ballooned baby by crewing on its head in an attempt to prevent it from ascending. Sting rays, frogfish, snappers and colourful nudibranchs pervade the wonderful vista.
Secret Garden – Photographers will be thrilled to find both varieties of the rare ornate and ghost pipefish. Other oddities such as rhinopias, cuttlefish, scorpionfish and mantis shrimpscan also be found along the rubble slope from 5 – 20m of this amazing patch reef. There's even a concrete rectangular structure where cardinalfish with eggs in their mouths take shelter.
There is no shortage of dive resorts in Anilao. It has accommodation and dive resorts that suit every budget from backpackers to five-star. The resorts are located along the perimeter of Mabini with the farther resorts nestled on the mountain cliff facing the South China Sea. So while amenities of every resort may differ, every reveller to Anilao is treated with the same fiery sunset show every night.
More and more resorts are now catering to underwater photographers, even the basic accommodation offer camera rooms and dedicated baths for cameras.
Anilao dive guides are brilliant spotters who are sensitive to the needs of underwater photographers. Many of them are excellent photographers themselves after rubbing shoulders with visiting professional photographers. They will not only find critters for you but also recommend how to best shoot the critters.
With frequent and direct flights to Manila, and easy access to Anilao from the airport, warm weather, and excellent dive guides, friendly resort staff, and relatively cheap diving, Anilao is sealing the deal to be the world's most favorite macro photography destination.
Getting There
Anilao is about three hours' drive from Manila. Most resorts are happy to arrange private transfer from and to the airport. Cebu Pacific and AirAsia offer flights to Manila from many Asian cities including Taipei, Hong Kong, Shanghai and Beijing. Visitors can also catch flights by major airlines like Cathay Pacific, Singapore Airlines and Qatar Airways.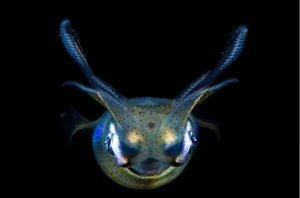 Visas
Visitors from Japan, South Korea, Singapore, Thailand, Vietnam, and Malaysia do not need visas for stays of up to 30 days. People from Macau and Hong Kong can stay up to 14 days visa-free. Chinese mainlanders and Taiwanese need to apply for tourist visa.
Language
English is one of two official languages and is widely spoken. The other is Tagalog.
Diving Season
November to May is considered the best season for diving in Anilao because it is the dry season in the Philippines. July and September can bring some devastating typhoon to the region. However, in between typhoon forecasts, you can still find divers in Anilao. The average water temperature is between 28-30 deg C, but can go down to 24 deg C in January or February.
Currency
US$ 1 = 44 Philippine Pesos. Although dive operations will gladly accept US Dollars, it is important to save some pesos for departure tax payable only in cash. Money exchange is fairly easy; tourists can change money in Manila, Anilao and major resorts.
Electricity
220V, 60 Hz, type A two-pin plug.