Dive into the best of both worlds in the United Arab Emirates as it borders both the Gulf of Oman and the lower Arabian Gulf.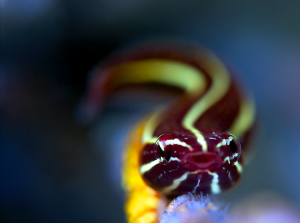 Text and Photo by Iyad Suleyman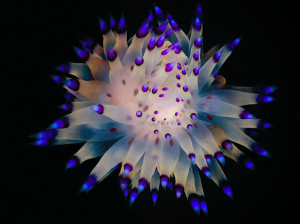 Take your pick in the United Arab Emirates – Explore wrecks filled with macro life in the waters of the Arabian Gulf on the West Coast, or plunge into the inviting tropical coral reefs on the East Coast.
Arabian Gulf wreck diving is just a 30-minute boat ride away. The west coast of the UAE does not have much of a coral life to boast of, and often, poor visibility caused by the shallow waters and sandy bottom of the Arabian Gulf can be a bane. But when visibility is good, divers get treated to the most interesting dive on the wrecks of Zainab and MW Ludwig.
The east coast on the other hand, is more lively with a proliferation of both soft and hard corals teeming with colorful tropical marine life. The famous dive sites are Martini Rock, Dibba Island, Car Cemetery, Hole in the Wall and Snoopy Island. There are also wrecks on offer with Inchcape 1 and Inchcape 2. All sites are near to shore within a 10-15 minute boat ride.
My favorite dive site is Car Cemetery, it is an absolutely fantastic spot for macro diving. As its name suggests, Car Cemetery is a graveyard of wrecked cars at the depth of 17m, created in 1988 as an artificial reef. There are about 200 vehicles here covered in algae, soft corals and crinoids and the nucleus of the site covers an area of about 60sqm.
With not-so-perfect visibility, it's best to take your time and look carefully for small creatures such as Omani clingfish hiding among featherstars, shrimps, seahorses, nudibranchs and cardinalfish. With so many varieties of resident blennies, the site could well have been named Blenny Paradise.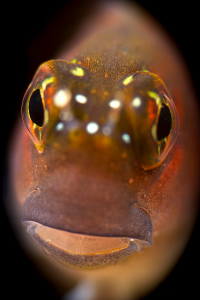 If you are planning to shoot blennies, my advice is: once you locate one, explore its environment as they live in tight communities, close to each other in a nook and cranny nearby. Like Gulf Blennies, they are easy to find, but they change homes a lot and love to explore other holes. Even so, there will always be a homebody that is always found in the same abode.
The water is warm all the year round from a cool 22°C in February to a warm 34°C in August. Although land temperatures in the summer months can be very high, diving is still possible. The weather on the east coast can be different from that in the west. Wintertime is mostly choppy in the Arabian Gulf and calmer in the east coast, so there's always a Plan B on hand. The best months for diving and photography would be April, May, September and October, when water temperatures are at its most comfortable. The rare critters make their appearance in January and February, when water temperatures are below 24°C.
On a recent dive at Car Cemetery, I discovered an amazing subject for super macro photography: a tiny ladybug with unique pattern in golden, red and black spots. These ladybugs (amphipods) are found on whip corals, and at approximately 1-2mm, you can only spot them through magnification tools. To photograph them, I used a 100mm macro lens with a wet diopter.
The wreck Inchcape 2 is an impressive structure sitting upright in 20-22m with its bow facing 90°. The best way to enjoy this wreck is to go down the buoy line connected to the port side of the stern. If you move slowly around the vessel, you can find great subjects for macro shooting, such as seahorses, transparent gobies on whip corals, nudibranchs, striped eel catfish, pipefish, crinoid squat lobsters, shrimps and many more.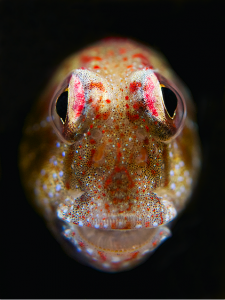 Martini Rock is a colorful dive site covered in orange and purple teddy bear corals. The north side of the rock is the deepest, going down to 22m, while the rest of the site is at about 13m. Martini Rock is an excellent for macro photography with a variety of cleaning stations, home to hawkfish, pipefish, blennies, gobies, squat shrimps and cowries. There are also clumps of featherstars that deliver shrimps, Omani clingfish and nudibranchs. Look carefully at sea urchins with photogenic partner shrimps.
There are a number of dive operators operating in hotels located in the big cities of Khorfakkan and Fujairah along the west coast. I had a great experience with Al Boom Diving  (Le Meridien Al Aqah), Divers Down (Miramar Al Aqah) and Scuba 2000.
Diving the east or west coast of the UAE is straightforward – simply locate a dive operator that meet your needs and book a day trip of up to three tank dives. Most dive centers in the east coast can accommodate transfers for guests living on the west coast. It's an approximately 2-hours drive from Dubai to Fujairah.
Getting there:
There are three international airports in Dubai, one in Abu Dhabi and one Sharjah served by Asian carriers including Philippine Airlines, Korean Air, Thai Airways, Singapore Airlines, Malaysia Airlines, Cathay Pacific and Garuda Indonesia.
Visa:
A 30-day visa on arrival is available to nationalities of the People's Republic of China, Hong Kong, Japan, Malaysia, New Zealand, Singapore and South Korea. Citizens of other Asian countries are required of a prearranged UAE visa.
Language:
The official language in is Arabic, although English is widely spoken and understood.
Currency:
1 USD = 3.65 AED
Electricity:
The voltage in the UAE is 220-240 Volts, 50 Cycles. The socket type is the three-pin British system. The prongs are square.
Dive Operator: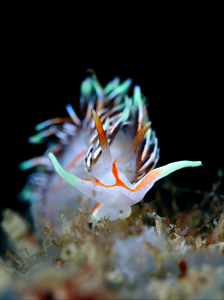 Al Boom Diving: www.alboomdiving.com
Divers Down: www.diversdown-uae.com
Scuba 2000: tel.: +971 (56) 130 80 10
Seven Seas: tel.: +971 (9) 238 74 00
Diving Center by Sandy Beach Hotel: tel.: +971 (9) 244 50 50