In the middle of the Sulu Sea in the Philippines, the atolls of Tubbataha have been under draconian protection for more than 30 years. Unspoiled by harmful human action, these coral reefs, classified as a UNESCO World Heritage Site, attract incredible wildlife.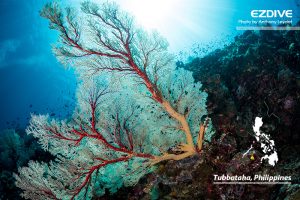 Text & Photo | Anthony Leydet
In the heart of the Coral Triangle, the Philippine archipelago is home to some of the richest marine life on the planet. Protected for more than 30 years, the atolls of Tubbataha, far from anything in the middle of the Sulu Sea, serve as a sanctuary with pristine and perfectly healthy coral reefs.
This marine reserve, classified as a UNESCO World Heritage Site is swept by ever-present currents and home to a multitude of pelagic species. With stringent protection, few divers have the privilege of enjoying this jewel, a true model of marine conservation. As a marine biologist and underwater photographer, I had the opportunity to conduct some workshops and seminars about marine life while on board the Discovery Adventure in May 2019.
In the Sulu Sea, almost 150km from the coast of Palawan, the sun is rising and the sky is already full of sublime colours. The horizon is endless and just separates the sky from the sea. You can only guess at the outline of the atolls, offering an azure blue ribbon that seems to stretch over a distance whose end you can't see. We arrived here, in the middle of nowhere, after a ten-hour sail from Puerto Princesa, with its sweaty heat and blazing sun.
'Here' is the Tubbataha Reefs Natural Park, a curiosity since they are the only atolls in the Philippines. Two atolls (North atoll and South atoll) are accompanied by Jessie Beazley's reef. They are the result of the activity of extinct underwater volcanoes, the Cagayan chain. In the Sama language (spoken in the southern Philippines), 'Tubbataha' refers to 'a long reef exposed at low tide.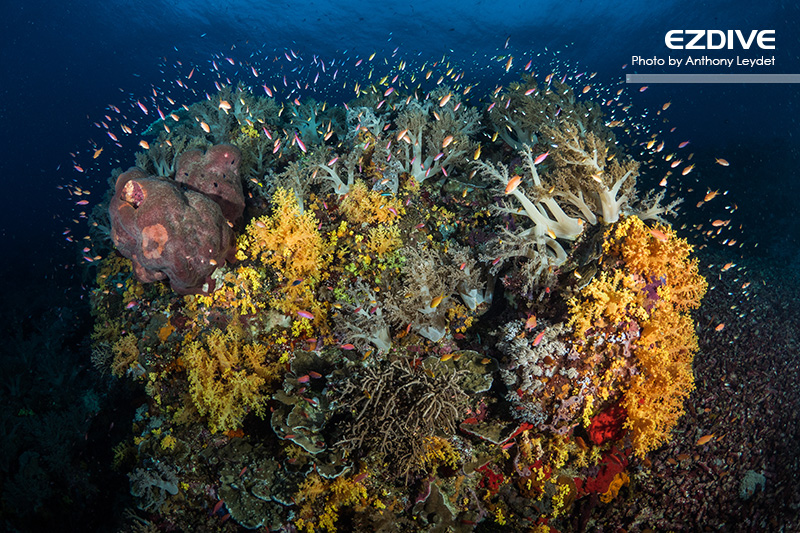 Because of their remoteness from the nearest islands, these coral reefs were once naturally protected from overfishing, as boats were not advanced enough to make such a crossing. But with the evolution of fishing boats, the first threats arrived bringing cyanide or dynamite fishing, which is destructive to ecosystems.
The swift response to protect the site ensured it was classified as a marine reserve in 1988 then in 1993, the atolls were listed as a UNESCO World Heritage Site. The Tubbataha Reefs Natural Park is delineated by a triangular area of 970km², almost as large as Hong Kong.
A Privilege to Dive in Tubbataha
Diving these atolls is a privilege because diving is only allowed for 3 months of the year, from mid-March to mid-June when conditions are optimal and the sea generally looks like a lake. There are few boats authorized to travel here – less than 20 – so only about 3,000 divers per year have the joy of immersing themselves in these waters. Dive crews and divers must respect the rules to the letter! The rules are strict, and everything is done to ensure that divers have as little impact as possible on the environment. From the first evening, during the crossing, a clear and precise briefing is by the Discovery Adventure team.
No touching, disturbing, collecting – divers must be here only as a spectator. Common sense should be applied everywhere and our guides make it clear that no one should land anywhere underwater. In the end we get used to it, because even as a photographer, I would not have put a finger or a knee on the bottom during these five days of diving.
Diving in Tubbataha becomes an incredible opportunity to observe coral reefs in perfect health and balance, which is obvious from our first immersion. The underwater life is flourishing and for good reason – we find almost half of the world's known coral species, or more than 360 species out of 800! And about 600 species of fish. The Coral Triangle in all its splendour. Once under the surface, we no longer know where to look. Your eyes need to be everywhere, not only on the reefs, but also in the blue, but also above your head or towards the bottom of a drop-off. There's always something to see.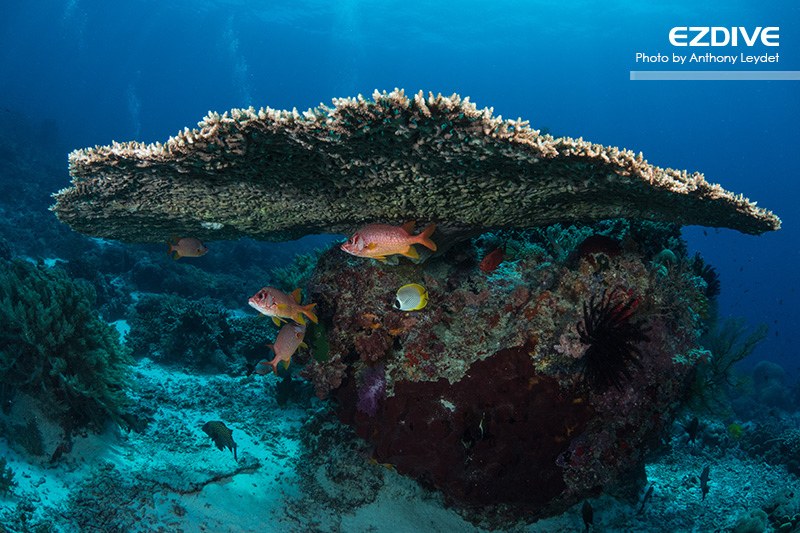 A Shark Sanctuary
Sharks are everywhere in Tubbataha, where a good dozen species have been recorded. This is exceptional! Even if it is unlikely to see so many during five days of diving (but not impossible), we still see many whitetip reef sharks, black tips, silvertips and grey reef sharks. And, of course, the one that is most desired (for us, until the last dive!) the famous whale shark. Other species include tiger sharks, threshers, nurse sharks and even hammerheads. Rays are also present and we had the pleasure of crossing the path of a beautiful reef manta ray.
Rangers Station – Tubbataha's Guard Tower
The park is under the protection of a dozen rangers permanently stationed at their base camp, the Rangers Station. This is located on a small sandbank south of the larger North Atoll. The team, composed of military personnel, coastguards, divers, employees of the Municipality of Cagayancillo and members of the Tubbataha Management Office is under the leadership of Angelique M. Songco, called 'Mama Rangers'. Together, they play a monitoring and repression role against fishermen and poachers and also conduct scientific studies and clean-ups when necessary. They sometimes carry out actions such as the eradication of Crown of Thorns starfish, which can be a real threat to corals.
Enchanting Show Underwater
These healthy reefs show all their potential and are full of life. The currents are sometimes very strong so most dives are drift dives, giving a view of the entire reef and you can see the constant animation. In the middle of corals, or giant gorgonians, the biodiversity is impressive. Fish, solitary, in small groups or in compact schools, occupy every space; squadrons of jacks or barracudas are a real spectacle. On almost every dive, a green turtle or hawksbill turtle crosses our path. There are so many Napoleon wrasse and schools of young sharks and the presence of a phenomenal number of juveniles is obvious. Fewer divers come for it, but macro lovers have their cherry on the cake; in the south-east of the northern atoll, some gorgonians are the refuge of tiny pygmy seahorses!
Diving for 5 days on the reefs of Tubbataha is an exceptional adventure, and a chance to witness the successful conservation policies carried out by the Tubbataha Management Office.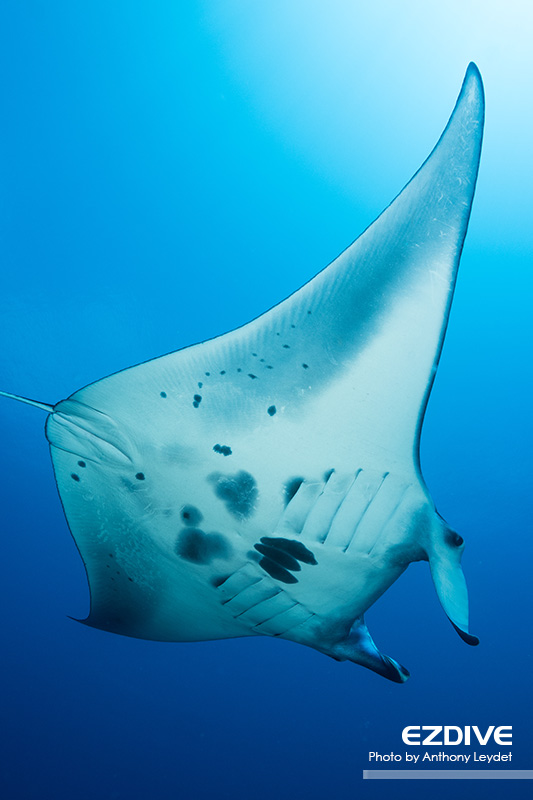 Travel info
Getting there:
Flights with many airlines (Cathay Pacific, Emirates etc.) to Manila or Cebu International Airport. The latter is recommended as it is easier to transfer to domestic flights with Philippines Airlines.
Diving Level required:
Due to the sometimes strong currents, these dives are less suitable for novices. Good buoyancy is essential.
Visa:
VISA required for Chinese citizens (except in special cases). Electronic Travel Authorization for citizens of Taiwan.
Language:
Filipino (Tagalog) is the official language, but English is well spoken everywhere.
Currency:
Philippine peso.
Electricity:
Most ships are equipped with 220 volts with international plugs. Check before departure.
– Dive Operator –
Discovery Fleet – www.discoveryfleet.com
Tubbataha Management Office (TMO) – tubbatahareefs.org/dive-operators