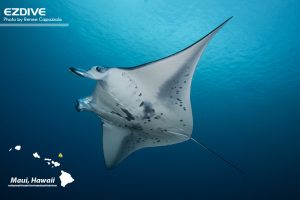 A manta ray swims near the surface in Maui, Hawaii at Honolua Bay.
Photo and text by Renee Capozzola
Consistently named as one of the world's best islands and with over 2.5 million visitors last year, it should be no surprise that Maui is one of the world's top dive destinations. Maui is part of the Hawaiian island chain in the north Pacific Ocean and is over 3700 kilometers from the closest major land mass. In fact, the islands of Hawaii are the most isolated population center on the face of this planet! Because of Maui's extreme isolation, almost one-third of the marine life is endemic, meaning it is found nowhere else on earth. Furthermore, due to strong legal protections, green sea turtles can be seen on almost every ocean encounter. With warm water, consistent clear visibility, abundant marine life, and little to no current on most dives, your hardest decision may just be where to get wet!
Maui offers both excellent boat and shore diving. Because there is such a wide diversity of sites, it is helpful to separate the boat diving from the shore diving.
Boat Diving
Most boat charters depart from west Maui at Lahaina Harbor or South Maui at Kihei Boat Ramp. You can also find trips from Ma'alea Harbor, which is about halfway between Lahaina and Kihei. Almost all tourists stay in either the general region of west Maui, which includes world famous Ka'anapali Beach, or in south Maui, which includes Kihei, Wailea, and Makena. When electing to go boat diving, there are three main sites that should be at the top of your list: Molokini, Lanai, and Molokai:
Molokini
A marine sanctuary since 1977, Molokini is the state's premier dive and snorkel location. Rising sharply over 40 meters from sea level, its crescent shaped crater is actually the tip of an extinct volcano. Inside the crater lies a lush reef protected from the wind and waves where over 200 species of fish — many endemic to the Hawaiian islands — call home. Frequent visitors include whitetip reef sharks, barracuda, garden eels, moray eels, frogfish, bluefin trevally, and a variety of tropical fish. More experienced divers can also access the "Back Wall," which is a drift wall dive famous for its dramatic drop off where larger sharks, rays, and big fish may swim by. Due to its offshore location, visibility is gin-clear, with over 150 feet being the "norm." Molokini is easily accessed from all three main harbors.
Lanai
While there are many excellent dive sites around the neighboring island of Lanai, Lanai is best known for its "Cathedrals," or large underwater chambers, which are actually enormous lava tubes. Both "First Cathedral" and "Second Cathedral" will give you a unique opportunity to swim inside these huge black rock grottoes where schools of fish and sometimes whitetip reef sharks can be found. The Cathedrals are suitable for novice and experienced divers, and Lanai is best accessed from Lahaina Harbor.
Molokai
If you are an advanced diver, then a trip to Molokai can round out your dive schedule. Note that Molokai can only be accessed from Lahaina Harbor. This is the among the most thrilling of the Maui area dive sites, and is where you go to get a chance to see the year-round schooling scalloped hammerhead sharks. These sharks frequent Mokuho'oniki Rock at "Fish Rain," which has amazingly clear visibility. Although shark sightings are not guaranteed, you have a good chance of seeing the hammerheads, especially during the summer and fall. Because the water is deep and currents can be swift, divers need to be experienced and have their own safety sausages and dive computers.
Shore Diving
Independent divers looking to set their own schedules and save some money can rent tanks from local dive shops and take advantage of the tremendous shore diving available on Maui! Three of the best shore diving sites are Honolua Bay, Black Rock, and Makena Landing.
Honolua Bay
Honolua Bay, which is located at the northwestern tip of Maui, is a pristine marine preserve characterized by huge lobe corals and accessible between the months of May and October. During the rest of the year, due to its exposure to the northwest swell, this becomes a popular surf spot. Its shallow depth (maxing out at about 12 meters) and lack of current make this a novice site. However, it does entail lugging your gear down a 150 meter dirt path and entering from a rocky shoreline. Make sure you swim out about 50 meters to the reef on the north side. Here the marine life is more plentiful and may include turtles, moray eels, scorpionfish, octopus, manta rays, and whitetip reef sharks.
Black Rock
Black Rock, which is located in front of the Ka'anapali Sheraton, is an easy shore dive or snorkel, maxing out at roughly ten meters depth. Not only is it a great critter dive, but you are almost guaranteed to swim up close to the many green sea turtles who live here. Some other common animals include spotted eagle rays, moray eels, squid, frogfish, scorpionfish, whitetip reef sharks, and schools of goatfish. Black Rock is actually at its best during nighttime. Just after dusk, the numerous moray eels and large congor eels come out to hunt. You can enter this site from either the Sheraton beach or from the north side.
Makena Landing
Makena Landing, located on the south side of Maui, is likely the most accessible site on the island, with an easy, sandy beach entry, shower and restroom facilities, and adjacent free parking. It is also one of the most dependable places to see green sea turtles. The depth of this site is about eight meters and there is a nice little "cave" or lava swim through at the turn around point for most divers. Here, you may see turtles or whitetip reef sharks inside. Although this is a novice site, it is advisable to get here early before the trade winds and waves pick up in the afternoon.
There are also many more outstanding dive sites to visit, either by boat or from shore, so when visiting Maui allow at least one week or more to experience a diversity of ocean encounters. Maui also boasts a number of exciting land activities, including hiking through a rain forest, biking down a volcano, ziplining, and just laying on one of Maui's beautiful beaches, regarded by many as the best in the world! Once you become acquainted with Maui's intoxicating charm, you may find yourself planning your next trip here before you even leave this magical place.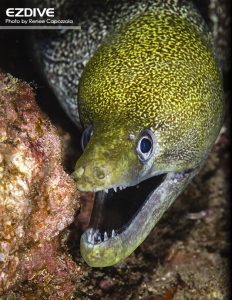 Getting There
All major US airlines fly into Maui (OGG) nonstop from Los Angeles (LAX) and San Francisco (SFO); from Asia, will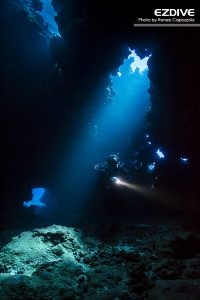 need to connect through Honolulu (HNL) and then take Hawaiian Air to OGG. JAL, ANA, and Hawaiian Air fly nonstop into HNL from Narita (NRT); China Air flies direct into HNL from Taipei (TPE).
VISA
38 countries fall under the Visa Waiver Program (VWP) and don't need a visa for visits less than 90 days. Taiwan, Singapore, Japan, and S. Korea are part of the VWP but countries such as China and Indonesia which are not part of the VWP will need to obtain a Visa.
Language
English
Currency
USD
Electricity
120V; 60Hz, US outlets (plug types A&B)
Dive Operators
Lahaina – Lahaina Divers – www.lahainadivers.com
Kihei – Ed Robinson's – www.mauiscuba.com
Ma'alea – Maui Dive Shop – www.mauidiveshop.com