Have you ever watched the documentary film My Octopus Teacher? In this issue of EZDIVE, we follow Kate around the kelp forests of Cape Town in South Africa, where this amazing underwater spectacle is located. Further east, on Lady Musgrave Island in the southern Great Barrier Reef, you'll have the chance to witness the hatching of sea turtles just like Katie did. Next, Henley delivers a great 'underwater action movie.' You'll see what I mean when you see his photos of gannets on Shetland, to the north of Scotland.
Cephalopods are mysterious and dreamy with their faint blue glow. It is often said that blackwater photography is like stars shining in the darkness of night, so our contributor Alex shares his tips on blackwater photography without holding back. Finally, if you're learning freediving, you may be struggling with equalization. Harry offers some advice on how, with practice, you can overcome this common problem for new divers.
With only a few months left in 2022, have you completed all your diving plans for the year?
Executive Editor
Mandy Wu
---
CONTENT
---
COVER STORY
This photo was taken in May 2019 in Puerto Galera, the Philippines, near White Beach. A few minutes into a fantastic night dive, Joseph (the guide) calls me insistently by pointing his light at me; curious I approached and, in total disbelief, I see this Coconut specimen hiding in a shell. My emotions are very strong but I calm down enough to think about how I should best capture that moment… I prepared a snoot and Joseph immediately understands and helps me. Thanks to him I was able to take this wonderful picture.
By Giancarlo Mazarese
---
GEAR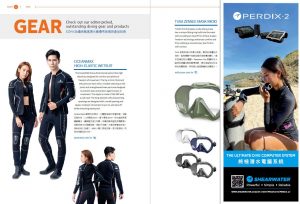 ---
ENVIRONMENT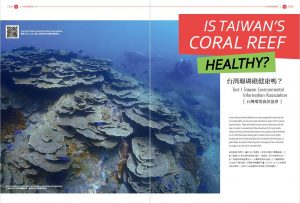 Is Taiwan's Coral Reef Healthy?
By Taiwan Environmental Information Association
---
MARINE LIFE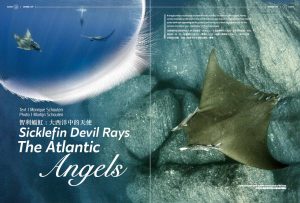 Sicklefin Devil Rays: The Atlantic Angels
By Monique Schouten
---
DESTINATION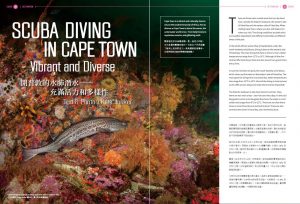 Scuba Diving in Cape Town – Vibrant and Diverse
By Kate Jonker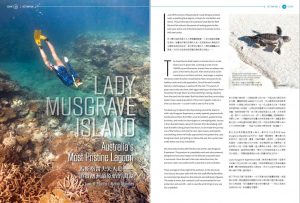 Lady Musgrave Island — Australia's Most Pristine Lagoon
By Katie Dundas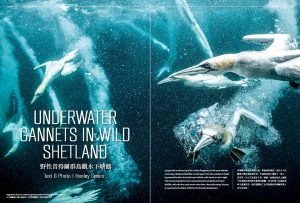 Underwater Gannets in Wild Shetland
By Henley Spiers
---
FREEDIVING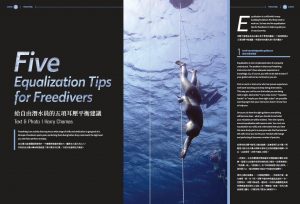 Five Equalization Tips for Freedivers
By Harry Chamas
---
WORKSHOP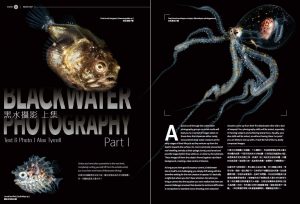 Blackwater Photography Part l
By Alex Tyrrell
---
SPECIAL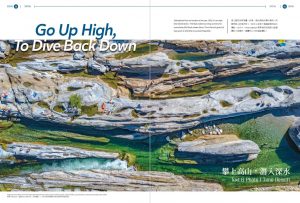 Go Up High, To Dive Back Down
By Timo Dersch
---
TRAINING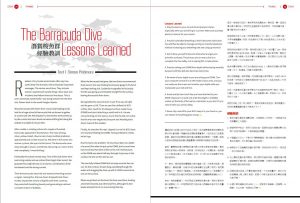 The Barracuda Dive – Lessons Learned
By Simon Pridmore
---
DIVING SAFETY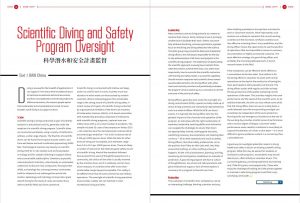 Scientific Diving and Safety Program Oversight
By DAN China
---
PORTFOLIO
Simone Caprodossi, Italy
---
EZDIVE Digital Magazine
EZDIVE is the world's first bilingual diving magazine and the largest Chinese diving portal in Asia Pacific! Distributed to 18 countries with nearly 89,000 members.
EZDIVE is the most subscribed magazine for diving professionals and divers. Since 2006, EZDIVE has built a great reputation as the only bilingual diving magazine in Asia. EZDIVE provides divers the most desirable contents including the hottest and latest gear introduction, environmental issues, interesting marine life, and of course, the diving destination.
EZDIVE is now officially online for subscription! There are nine apps you can choose:
Dooland
183 Read
Magzter

www.magzter.com/publishers/EZDIVE
Hami Bookstore
bookstore.emome.net/Stores/index/1/11E000/new/0100335750
books.com.tw
www.books.com.tw/web/sys_melist/mebook/MAG0014090
Pubu
HyRead
ebook.hyread.com.tw/Template/store/magazineSubscribe.jsp?jid=845
Rakuten Kobo
www.kobo.com/tw/zh/search?query=ezdive
MyBook
mybook.taiwanmobile.com/search/q/EZDIVE
You can also download the apps in both Android and iOS app stores. (Please note there might be a regional limitation.)
---
EZDIVE Print Magazine
gogoscuba E-Commerce
Single Issue
One to Three years subscription (Six Issues per year)
Shopee
Single Issue
One to Three years subscription (Six Issues per year)
Weidian