Vania Kam is well-known for few reasons – she won plenty of underwater photography awards, she joined the underwater coral check project, and she is the Examiner/Master Trainer for diving agency DIWA. No matter how you know her name, let's listen to what she got to say.
Text | Mandy Wu, Vita Liu
Photo | Vania Kam
Q & A
How did your underwater photography journey start?
During my DSD in Phuket, Thailand, I met an American instructor who is very knowledgeable about ocean. He is a professional photographer in Hollywood in the United States. Later I went to Sipadan to learn Open Water and Advanced Open Water scuba diving courses from him, and he encouraged and instructed me to shoot underwater images, I have been taking photos underwater since then.
What's the charm of underwater photography for you?
Much marine life behaviour is going to happen just once in front of you, you get to freeze that moment if you capture it. If not, maybe no one would ever be able to witness that moment. As for me, underwater photography is not just to capture the image but to represent the greatness of that moment in an artistic way.
According to you, what it takes to get a good photo?
I would say patience and observation. Plenty of people see a photo and think it's easy to take, but in fact, many photos may that seem not quite special sometimes take a long time. For instance, I had waited eight days for a half-half photo of a lemon shark swimming in front of a dive boat–successful only on the last day of the dive trip. Skills are definitely important, but more important for many are patience, and observation.
How to develop shooting skills?
Shoot more, practice more, discuss more with others and ask more questions. When I set off to shoot, I just packed my camera and went out to the sea, without any knowledge on shooting skills. For a long time, I couldn't figure out the correlation between aperture and shutter until I went to Tonga to shoot whales. As I examined the photos on dive boat, I found them all blurred because the whales swam too fast. So I wondered why everyone could get clear photos except for me. I asked the experienced ones on the boat and then compared the Exif of their photos with mine, and suddenly I was enlightened and understood the correlation between the two.
How to choose the right equipment for underwater photography?
I think the response of small cameras is not as fast as large cameras, especially when you are shooting a fast-moving subject of a quick-disappearing behaviour, chances of getting a clear picture will be much lower. For those new to underwater photography, this will strongly affect their sense of achievement. If you really like to take pictures, have acquired certain knowledge on shooting, and are willing to invest, I recommend
that you go directly for DSLR camera, because the skills for small cameras may not be very applicable for large ones. But if you do not need to output large photos, ask not too high on image quality, and also hesitate to spend a large sum of money on equipment, then you can choose from TG/Sony/Canon small camera series.
What impressed you most in photographing marine life?
The most impressive thing I once photographed was a transparent juvenile eel. In postproduction when I examined the photos, I found its internal organs so clear that I didn't believe I had seen other photos with clearer internal organs during the search for the ID of this juvenile eel. But the most memorable for me was the whale. I could feel the presence of soul inside their body when I gaze at them, as if they knew that we were looking
at each other. I once heard them singing underwater in Tonga; as their songs penetrated through my body, I felt the vibration of that voice and my whole being. It is inexpressible through images, and you must experience by yourself.
How do you feel about postproduction?
Like many other photographers, I am very much in pursuit of perfection and want to show people real and perfect photos. I have also participated in and won the championship of the Philippines RAW Underwater Photography Challenge, so when my photography has been acknowledged, I have no fear for criticism and scrutiny. In order to present fantastic underwater images, I think it's important to do basic postproduction, such
as adjusting white balance and contrast, without compromising the authenticity.
Have you encountered any bottlenecks in photography?
Taking each fish as example, I may have taken a lot of photos from similar angles, dependent on what I see on each dive. But really, it is hardly a bottleneck. I enjoy every dive so far. Every dive is a good dive. But if I were to give an example, I would rank the killer whale trip to Norway as the most embarrassing experience. Since the Liveaboard operator was inexperienced and misjudged where and when we went into the water, I ended up with only one photo of killer whale on the surface, which truly made me feel sad.
I saw on your Instagram that you participated in the coral check project this year, what was your motivation?
It was the first time I organized a team by myself, and I hoped that by documenting the coral species here, I could contribute my share and help the underwater conservation work. If you participate every year, you will really notice the changes in the corals, and you can push the local officials to take conservative actions.
In the field of underwater photography, what are your plans for the future?
I want to make some series of documentary photos. On the topic of environmental protection, for example, I may make a series of photo collections related to shark fins, or garbage underwater.
///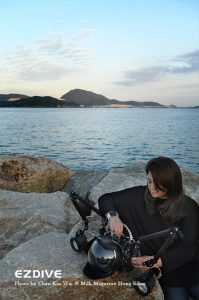 Vania Kam visited Guam at 14-year-old with her parents; she also experienced her very first Discovery Scuba Diving (DSD) during the trip and became fascinated with the ocean. She was
certified as an Open Water scuba diver in 2009 and since then, she goes to shoot underwater images during leisure time. Until now she has won 37 international and national photography awards, her works have been published and exhibited around the world.
www.facebook.com/VaniaKamH2Ography
Instagram: @vaniakam